Inkling_Boy
Stone Miner
Join Date:

7/9/2015

Posts:

74

Minecraft:

Why should you know?

Member Details
So, you know how Elytras have a plain boring texture. I think banner patterns can be put on Elytras. Besides, banners don't have many uses other than for decoration and to make your shields look cooler.
Yep... nothing really exciting on this picture. Doesn't even match the Elytra sprite's colors.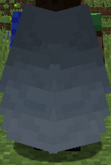 Now, the questions...
What about people with a cape?
If the user has a cape, and puts on a banner patterned Elytra, the Elytra would still have the cape texture. If you turn your cape off, the Elytra's texture will switch to the banner pattern.
What would it look like?
The spine part of the Elytra would be the base color of the banner. The front and back of the Elytra has the banner pattern.
What if the Elytra can no longer work?
Simple. Just repair it and the pattern would still be there.
Adding new patterns
Let's say you're bored with your Elytra pattern and want to add a new one. You don't have to travel to End Cities to retrieve another one, you can simply add a pattern that covers the previous pattern. You will get the banner pattern that used to be on your Elytra back after adding a new banner.
How to craft
Put your banner next to an Elytra in a crafting GUI. Then you can retrieve the Elytra. The item sprite will look the same, but under it, it would show what patterns were used to make the banner, just like shields and regular banners. Once put on, the banner texture will show on your Elytra.