Boltreon

Diamond Miner
Join Date:

12/26/2012

Posts:

732

Location:

Under your bed.

Minecraft:

Boltreon

Member Details
Since we just got our first little taste of what 1.9 will be, It is very possible that this could be something that has already been planned. Nonetheless, here is the suggestion.
Spectral Torches!
In the recent 1.9 snapshot, we got a lot of features. Dual wielding, end cities, new mobs and different types of arrows. The types of arrows were based around potion effects but one arrow was unique and it was named the Spectral Arrow. This arrow makes a mob 'glow' when it is hit with this arrow.
So I thought, hey, how about Spectral Torches.
Spectral Torches act like torches but are different in the sense that they make mobs 'glow' when mobs are within a 7 block radius of the torch. They take the same time to break as a torch. They also affect players. They stack up until 64.
Crafting Recipe:
Mockup of Spectral Torch Sprite:

Mockup of the spectral effect: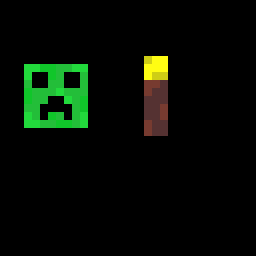 TLDR:
A spectral arrow that works forever but only works with mobs in a certain radius.
So yeah very short, simple suggestion. Please leave some feedback and don't be afraid to point out any flaws with the idea.
Thanks for reading!