Crafty_Angyl

Diamond Miner
Location:

Treed by creepers, out of arrows

Join Date:

4/28/2014

Posts:

707

Location:

Treed by creepers.

Minecraft:

Crafty_Angyl

Member Details
I will be editing as things are pointed out and added or removed.
EDIT: The fog is now a replacement for the rain. When it rains everywhere else, it fogs in the Moorlands.
Many early comments mention Giants because the original topic mentioned that this would be a good biome for Giants. They have since been removed. For those who have not heard about Giants, you can read more about them on their dedicated wiki page linked below.
http://minecraft.gamepedia.com/Giant
Moorland. Terrain-wise a very plains-like biome of smooth, rolling hills and mossy cobblestone, but instead of rain it fills with a dense fog or mist that cuts off your visibility at around 18 blocks. The fog makes it harder to see your target the farther it is from your current position until it is simply gone from sight, which would be just past the 18 blocks. Mobs can see you at 15, making it a challenge to run around when it's fogging out. And Endermen can see you from much farther than 18 blocks so you can't see them through the fog. You can't see them, but they can see you. Things that produce light, like torches and spider and endermen eyes, stand out a little longer, but they also fade away.
I don't know how to code to make a more natural looking fog effect that starts where you're standing and gradually thickens, so the closest I could come up with to demonstrate the effect of having your vision cut off is setting the Chunk Render Distance all the way down to 2.
Skeleton.
Creepers.
Zombie.
Same as when it rains crops grow faster and the sun, moon and stars are blocked from view when it fogs. Everything is tinted in a bright gray during the day and nighttime visibility is even worse. The fog does everything that the rain does. It hurts snowmen, puts out fires, and mobs don't burn during the day, but unlike rain you can't hide from fog under a tree or in a house or a cave so fires don't work anywhere. Skeletons being white might be a tad harder to spot in the fog. And if you tick off one zombie there's no telling how many are out there that you can't see just waiting for a target.
Potentially when it is foggy furnaces don't work and torches don't glow, but that might be taking things too far and make the Moorland less vanilla friendly and more like a mod.
The fog doesn't reach up to block y225, rather it stops at 20 blocks above the average ground height of the biome. I like the 20 block deep fog because you can build a home above it and stand on your balcony watching the faded silhouettes of mobs wandering under you. You could be standing in the rain on a mountain looking down at a large patch of settled fog surrounded by forests far below, which is actually extremely realistic.
In a Moorland M there could be a little oak tree here and there, similar to the flecking of trees on the Extreme Hills, and the hills would be a little rougher as found on Plains M. A Moorland Edge could have thinner fog and greater visibility similar to the way Jungle Edge has only smaller trees if an Edge biome is wanted, but I'd rather have a thick, sudden wall of fog.
Alright Now, ENOUGH About The Freak'n Fog!
ONTO THE REST OF THE BIOME!

To distinguish the land further from the Plains Biomes the idea of using Mossy Cobblestone, Podzol, and Mycelium have been brought up in the comments. Mossy Cobblestone makes a LOT of sense because of all the humidity. But Podzol is nearly always found in wooded regions, so for podzol to exist the area must have once been covered in forest. This doesn't make much sense on a Moorland so I'd rather not have it.
Sparse trees, Heather, Mossy Cobblestone, and a lone block of Mycelium.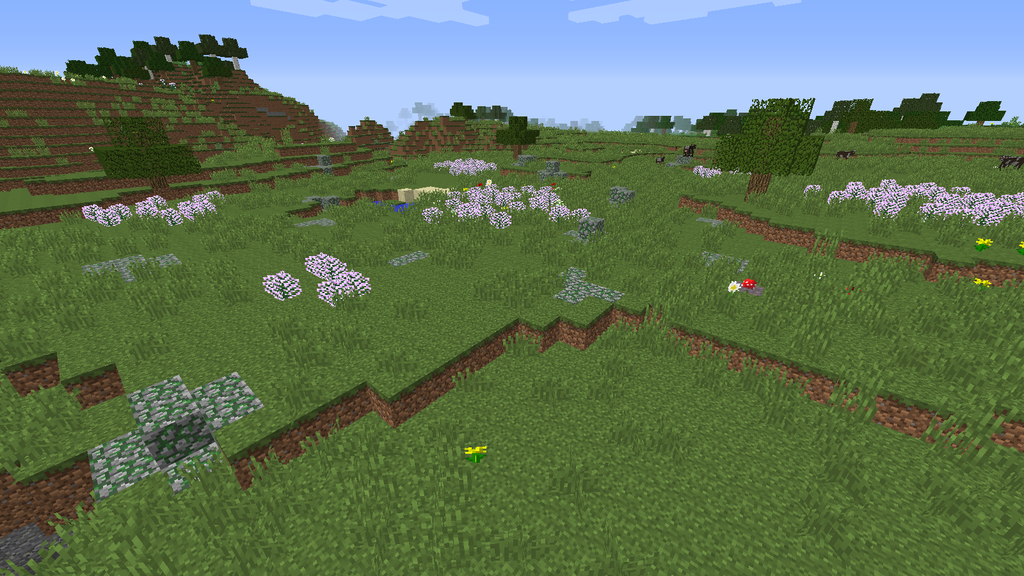 Also For awhile there I thought Mycelium was made of decaying wood, but have since read up on the subject and found that this is simply not the case and that Mycelium is nothing more than the fruiting body of the fungus. So the original plan to have Mycelium found growing around logs for stumps would be inaccurate. It would be far more realistic to have very rare individual blocks of it with a single mushroom randomly placed out in the open. This alone would make the Moorland worth investigating. The Mushroom Biome is so rare that it would be nice to have another source of Mycelium. It'd still be rare and you'd still need Silk Touch (or a dirt bridge) to take it anywhere, so why not?
One little rare block of Mycelium hiding in the grass, it's position advertised by a traitorous red mushroom.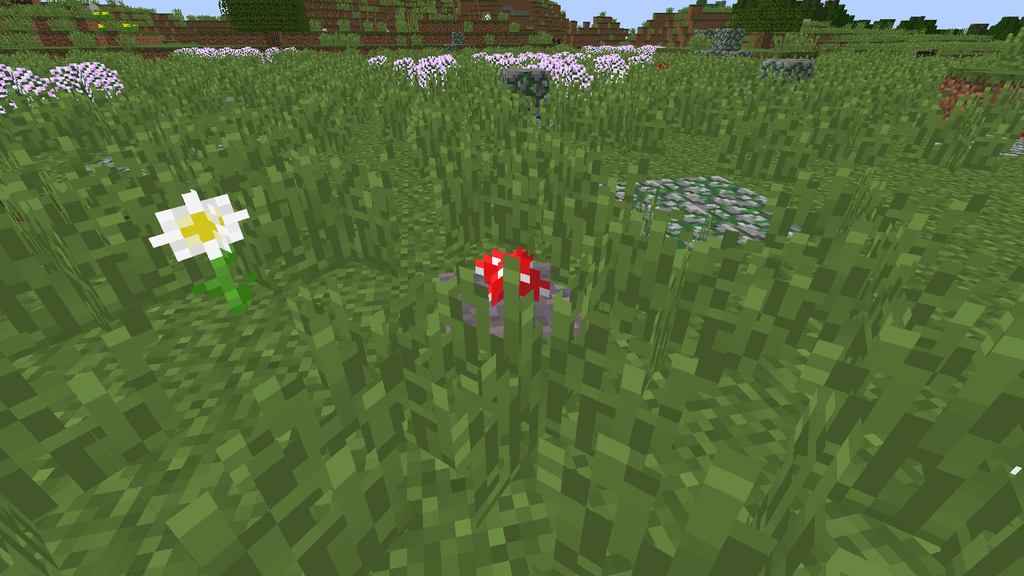 Heather, the pink flower in the first attached picture, is a biome-specific plant. It just makes dye and is found in patches like the tulips in the plains, but more common. There are moors so covered in heather that all you can see is a sea of pink.
First attempt at Heather. I need to make the pink darker.
I'm looking for input and criticism to help hammer this out.
Hopefully these pictures give a better visual for the fog effect than the spoilers.
Ice and Fire: Dragons in a whole new light