saintsalive
Redstone Miner
Join Date:

1/17/2011

Posts:

531

Member Details
The Eight-Billionth Pet Suggestion
Introduction
Let me get this over with - yes, I know how to use the search feature. Yes, I did search. And I found 7,999,999,999* pet suggestions. 3/4 of them were good, but I also noticed, about half of them were practically unintelligible, consisting of something like "we shud have pets where we put coller on and they dont disseppeer follow us around and we feed then grains are meat and everythin an craft tham a bed form woll." So, I am here to add the eight-billionth - nothing too horribly new, but food for thought.
*May be an exaggeration and also is most likely not true
So, why pets? First of all, they're fun. Who wouldn't want to have a chicken, cow, pig, sheep in a glass cage? Can anyone say slimes? Second of all, they could be of use, especially tamed hostile mobs. Imagine having a spider guarding your door!
But can't we already have pets? Well sure. Spend ten minutes leading a cow into a glass cage only to have it despawn a few days later. If you're lucky, it won't despawn for a while, but it's not the same. You constantly know it will go at some point. Maybe build a mob trap? So you get ten random pigs every night. Or you get a sea of mobs, totally crowded and out of control. What about mob spawners? Those are fun, but not really *your* pets since they are just generated every once in a while, but still despawn. Also, that requires hacking, and while hacking is fine and dandy, some of us would just rather play it and do what you can do in game.
By the way, this is a serious suggestion. I apologize to all whom I offended with my Biebercraft joke. I was not meaning to cause chaos, just to make a joke for those who thought it was funny.
But on forth to the suggestion at hand!
Collars
So, this may be the most unoriginal idea ever. This has been suggested so many times it's not even funny. So I'll just give a quick run-through of the different kinds of collars and the mechanics, as you're probably bored seeing this.
Leather Collar
[]
[]
[]
= 1 leather collar
[]
[]
Where
= Leather.
The simplest and easiest to wear out of the collars. When placed on a tamed animal (I'll get there), it holds for ten game days (where 1 game day = one day, one night) before breaking.
Enforced Collar
[]
[]
[]
= 1 enforced collar
This collar is a bit of an improvement over a leather collar. It costs one extra leather and, of course, an extra iron ingot. Since it is enforced with iron, it lasts for 25 game days when placed before breaking.
Iron Collar
[]
[]
[]
= 1 iron collar
[]
[]
The iron collar is probably the ideal collar. It lasts for 60 days, or two whole game months, when placed on a tamed animal, and doesn't cost you too many materials. The enforced iron collar is a bit better, but this is the standard.
Enforced Iron Collar
[]
[]
[]
= 1 enforced iron collar
The enforced iron collar costs two extra leather and lasts 70 game days. Kind of a rip-off, but if you feel like wasting the leather for an extra ten days, that's your move.
Diamond Collar
[]
[]
[]
= 1 diamond collar
[]
[]
The diamond collar is, obviously, the best option. It lasts forever when placed. However, it's going to be a pricy luxury to have Fluffy the chicken's collar never wear out.
Gold-plated Diamond Collar:
[]
= 1 gold-plated diamond collar
For show-offs only. Not any better than a diamond collar, since that is the best anyways, but gold-plated. Woo.
Waterproof collar
= 1 waterproof collar (of any type)
Where
= any given collar.
This waterproofs a collar so it may be put on squids. Durability is as usual.
Tagged Collar
[] [] []
[]
[]
[]
[]
Where
= any given collar
Where
= Sign.
By creating a Tagged collar, placing it on an animal will prompt you to name them. Unlike a sign, only one line will be provided for you to type. Their name will not appear on the collar, but instead on a bar above their head, such as players in SMP.
Lit Collar:
[] [] []
[]
[] = 1 lit collar
[]
[]
Where
= Tagged Collar
Lit collars are unique. They allow you to give the mob a source of light that follows it wherever it goes. The collar you craft it from must be tagged, since the torch needs somewhere to hang - however, you will not be prompted to name it, since the torch takes up all the space on the tag. When you place a lit collar, there is a 1/10 chance that the mob you place it on will spontaneously burst into flames from improper placement. Be careful, and more importantly, confident. Alternatively, you can fill the blank parts of the crafting table while crafting a lit collar with glass, so you can put it on a squid. Instead of 1/10 chance of it bursting into flames, there is a 1/10 chance that you will lose the collar.
But I'm probably boring you with all these recipes, so I'll get on to how it works.
Collar Mechanics:
The mechanics are as usual. Craft the collar, hold it, and right-click it to apply it to a tamed animal (again, I'll get there). To remove the collar, right-click again, without an item in your hand. The collar will be removed and put into your hand, but it will retain any damage it has taken in the time it has been worn, with an HP bar similar to tools.
Once an animal is tamed and has a collar, it will not despawn. The collar lasts for its set amount of time until it wears off. Once it wears off, the animal will last one day and one night without danger of despawning before it becomes wild again. Once it becomes wild again, it has the chance of despawning, and becomes untamed if it was hostile. Basically, it just becomes a normal mob again. If you manage to catch it before it runs away and/or despawns, but after it becomes wild again, it must be tamed again.
Speaking of taming, I'll explain that.
Taming
Of course, taming mobs is required, even the passive ones. You can't just stick a collar on some random animal and be done with it. Then we'd have griefers going around and tagging every random animal so they could lag the server down with tons of mobs, and plus, if the process were too simple, it wouldn't be fun.
In order to tame a mob, we need to feed it something it likes. It can't be something as simple as one thing of seeds, but we're not going to bake a huge batch of bread to impress Mrs. Piggy. So, we're going to need to craft up some food.
Passive mobs and grains
Here is a recipe for simple grain:
= 3 grain
Grain is the most commonly used mob food, since it tames pigs, cows, sheep, and chickens. It is, however, the weakest form. Feeding an animal mob (chicken, cow, sheep, pig) grain will only give you a 1/3 chance that it will become tamed. So we need a stronger form, maybe a bit more expensive, but stronger.
= 3 nutrient grain
Where
= 1 egg.
Nutrient grain is enforced with the nutritional value of egg yolks, but finding that extra egg might take a while. There is a 2/3 chance that any one feeding of nutrient grain will tame an animal mob.
= 1 aroma grain
Aroma grain attracts animals with its sweet scent. When you feed an animal aroma grain, it will always be tamed.
You will know when your mob is tamed because it will make a popping sound, like collecting an item, and the mob will jump happily into the air, oinking/squawking/mooing/baa-ing. If the mob is not tamed, you lose the item, but you don't get the mob's undying affection.
Just like with collars wearing off, remember, when you tame a mob, you have one day to claim it with a collar before it goes wild.
Squids
: Squids are nothing unusual. Feed them fish to tame them at the same rate as grain on land animal mobs. Cooked fish have the rate of nutritional grain.
Special Attributes
Chickens
- Chickens, when tamed, will drop eggs at 2x the rate they did when wild.
Sheep
- Sheep, when domesticated, always drop at least one wool but never drop more than 4 when sheared. If provided food, they will grow their wool back.
Pigs
- When a tamed pig is slaughtered, it returns at least one pork, always. Mean, but an incentive to domesticate, and good for farmers.
Cows
- When a tamed cow is slaughtered, it returns at least one leather, always. Again, mean, but useful for farmers.
Breeding Passive Mobs
Breeding is not overly complicated, and I will not make tons of variables with different attributes. It's quite simple. If there are two tamed mobs of the same type within 4 blocks of each other, there is a 1/30 chance each day cycle that they will spawn a new mob of that type in their general area. The new mob will be tamed automatically and will last for two days without a collar before becoming wild.
Aggressive mobs and meats:
Aggressive mobs are a different story. Being bloodthirsty, they won't settle for any grain. They want meats!
The most obvious tame-able aggressive mob, aside from Creepers of course, are spiders. They're powerful, fast, and would be a real good force on your side. Chaining one out to a post (I'll get there) in front of your house would make sure no one messes with you, at least unless they are well armed of course. One on each side, they probably wouldn't dare anyway.
So, first of all, you cannot tame a spider during the day. Attempting to do so will have the opposite effect - it will be scared, and attack you. You must tame a spider at night, when it is aggressive. In a way, you must prove to the spider that you are worthy of being its master. (Note - if a spider was chasing you last night, and it becomes morning, and the spider is still aggressive, this works too. As long as the spider is in a violent state of mind, you can tame it.) You should approach the spider, and it will try to attack you. Throw some meat in its direction:
It must be raw. Spiders don't enjoy cooked meat. They like the juices.
There is a 1/4 chance the spider will be tamed. If it is not tamed, it will pause for a moment to eat the food, then continue to attack you. If it is tamed, it will cease to attack you and become passive. Bring lots of pork, it might take a while. DO NOT attack the spider back. If you do so, it will erase all chances of taming it. Just keep your distance as well as possible, throw lots of meat, and make sure you have enough health to weather the blows. Even the fastest runner will get nipped a few times.
Once the spider is tamed, it will stop trying to kill you, and you can place a collar. This does not mean it will stop trying to kill others, though. That's what makes these different than just any old spider during the day. Once you tame a spider, it cannot be tamed by anyone other than you. The invading army can't just drop a bunch of pork by your house and sneak past. And here's the best part: a domesticated spider does 1.5x the damage to intruders. If you hit a domestic spider, its collar will break out of pure rage, and it will become aggressive again. The 1.5x damage still applies, so watch out, pet abusers.
Creepers
Now, Creepers. You either love them or hate them. Some people's ideas say screw pet creepers, and others give you the option to stick a tag on a creeper and have it instantly become a mushy gooshy playtime pet. I haven't yet seen a post suggesting pets that seems to compromise in this area. I will try.
Creepers will not just settle for any regular meat. As seen by their drops, they love Sulfur. Many fanfics/Minecraft science ideas have them relying on it as a nutrient. So, lace some meat with sulfur.
[] [] []
= 1 sulfur-laced pork
[] [] []
Now you're ready to go Creeper taming. Best done from a high place while a creeper is below. Wait for a creeper to come along and throw some sulfur-laced meat at it. It will pause to eat it, and a 1/3 chance will have it being tamed, and you can tag it.
Tamed creepers are not explosion proof. They simply will not explode around you. Anyone who gets too close will still trigger the creeper. So if you want your house guarded by creepers, they better be pretty far away, or your walls better be made of obsidian.
If you attack a tamed creeper, it will become aggressive and explode on you. You lose your collar, too.
Skeletons and Zombies
I don't think skeletons and zombies should be tamed like pets. They are humanoids and undead creatures - it would just be weird. I don't disagree with domesticating them somehow, bringing them over to fight on your side, but building them collars and taming them with food just seems out of place in this thread. Maybe zombies, but not skeletons.
Special Attributes
Spiders
- When tamed, spiders drop string at the rate that a wild chicken drops eggs.
Creepers
When creepers are tamed, they will drop sulfur at half the rate that a wild chicken drops eggs.
Slimes!
Slimes are so awesome, they get their own chapter. Slimes are such strange creatures that they barely fit under the animal category, and so rare that owning one has to have a reward.
First of all, BIG slimes can only be tamed by feeding them other mobs. Sorry, Mrs. Piggy, but you've gotta go. If a big slime is given any given domesticated animal mob, it will gulp it down and become a useful weapon, like a spider. Slimes, when big, can be vicious, as we well know. Just be warned - big slimes cannot be tied down to anything. Normal collars will slip through their gelatinous bodies, and leashes will just slide away (Leash explanation coming up soon!).
This is where you have to be ironic. To tame your slime, you'll have to kill another one.
OR - I have another idea, concerning slimes - once a slime is tamed, it may drop slime balls at the rate of half of a tamed creeper's sulfur drop rate. Basically, 1/4 of a wild chicken's egg-drop rate. So if you keep a slime around, without a collar, you'll eventually be able to make one with no slime death required.
But onto the collar.
[]
[]
[]
[] = 1 slime-infused collar
[] [] []
Where
= any given collar
Where
= Slime ball
But we're not done yet. The collar may be slime-infused, sure, but it'll just sink into the slime and dissolve like any other collar. THE BLOB, ANYONE!? DUN DUN DUN.
We simply need to protect the collar.
= 1 slime collar
Where
= 1 slime-infused collar.
The slime collar will now be able to be placed on a slime. If you want to keep your slime on a leash, this is crucial.
But what if you don't want to use slime balls? SPA, anyone? Will your slime despawn from the lack of collar?
Not to worry. Slimes are rare enough where they will NOT despawn, ever, if tamed. No collars needed.
BUT! But but but. If the slime does not have a collar, it will lose its sense of loyalty. It won't attack you, granted, but it won't attack anyone else, either. So if you want a guard slime (but really, who would?) you'll need a slime collar.
Medium slimes are the same as big ones. A mob must be sacrificed to tame them. Slime collar needed.
Little slimes are a different story. All collars work on them, but remember, they can't attack, no matter what.
Leashes
So you've tamed a pet. Now what? You're not going to just let it wander around, are you? If you build it a cage or a pen, that's fine, but what if you want spider guards? Or, what if you simply want to walk the pig?
You can leash a tamed mob by creating one of two types of leashes.
Hand leash
[] [] []
]" title="-<->" />
[] [] []
Where
]" title="-<->" /> = string
Where
= any given collar.
The hand leash allows you to bring a mob with you wherever you go. Simply equip it to a pet like a collar and the pet will follow you around until it either wears off or is unequiped. The animal will never stray more than five blocks from you. This can be useful for moving mobs around.
When a hand leash is unequiped, it will return the collar and the string, but not the stick, making leashes cost, but not too bad.
Lasso
[] []
]" title="-<->" />
]" title="-<->" />
]" title="-<->" />
]" title="-<->" /> = 1 lasso
[] []
]" title="-<->" />
Where
]" title="-<->" /> = string
The lasso is used like a hand leash, but it works also on untamed land animal mobs. This makes it easier to bring a pet back to your place, or into a pen, before you tame it so you don't need to always have a collar on hand, or a leash for that matter. While lasso'd, a mob will not despawn. To unequip a lasso, right-click the mob again. A lasso will be auto-unequipped after 5 minutes of use. A lasso, when removed by either method, will drop only 4 of the original 5 string.
Locked Leash
Locked leashes are useful for confining a mob to one spot, such as a guarding position at your door. Craft them like this:
[] [] []
]" title="-<->" />
[] [] []
Where
]" title="-<->" /> = string
Where
=
Where
= any given collar.
To use a locked leash, hold it, and right-click a mob, then right-click the place you want to attach it to. Fence posts work best. The place of attachment may not be above the mob, unless it is a fence, and even then it must be on the level that the mob is on. You cannot pin a mob to a cliff and go ha, ha, ha as it swings around. It must have somewhere to stand. When a mob is leashed to a block, it can go up to 5 blocks in any direction, provided there are not ledges, which the leash will prevent the mob from falling off.
Conclusion
Phew! That was a lot of work. This was my first big suggestion, so feel free to constructively criticize me. I'm all open for it, as long as you're not mean. TL;DR also should not be posted, please - if you didn't read it, how can you fully criticize it?
Thanks for reading, and hope you enjoyed it!
Sig Banners
Sig banners are here! Copy & Paste into your signature to show your support! Eight billionth time's the charm!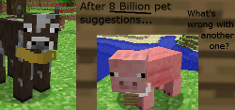 [url=http://www.minecraftforum.net/viewtopic.php?f=1&t=154779][img]http://i241.photobucket.com/albums/ff249/saintsalive/sigbannerlittle-1.png[/img][/url]

[url=http://www.minecraftforum.net/viewtopic.php?f=1&t=154779][img]http://i241.photobucket.com/albums/ff249/saintsalive/sigbanner22.png[/img][/url]