Wasthereonce
Full Stack
Join Date:

1/16/2013

Posts:

68

Member Details
Now I know what most people are thinking, this is going to be the longest list of garbage ideas ever. Not to worry! I have thought out most of these ideas and want to go into further detail on each of them. Some of them you have probably heard of, and some of them may be brand new to you. But please, hear this out, it'll be worth your time! Lets get started!
I'm going to divide this into about 7 different categories, focusing on the major aspects of the game:
I. Blocks/Items
II. Mobs
III. World Generation
IV. Villagers & Villages
V. Enchantments
VI. Brewing
VII. Aesthetics/Details
I. Blocks/Item Additions
1. Seamless Stone Slabs
The right block should be introduced into minecraft. It provides the look of stone half slabs without having to place 2 slabs. I've watched videos of people with these blocks and they look very nice. The recipe for these beautiful blocks in the crafting bench could be two stone vertically or two stone half slabs vertically. They are sleek, modern, and would be a great addition to the game. If you agree, please help me and you bring this block into vanilla Minecraft.
2. A different Crafting Table to keep items in
This Crafting Table is from a mod called Tinkers' Construct. The only difference from a normal Crafting Table is that it can keep items in its slots after you exit it. No more forgetting items on the floor! You could keep recipes in it so you would never forget them. A major help for anyone who has to check the Minecraft Wiki all the time.
3. Cloud Blocks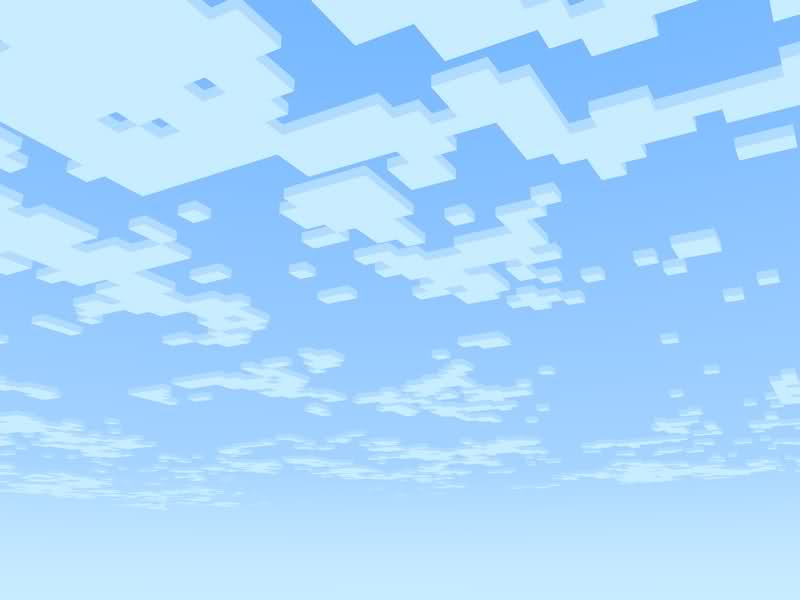 Imagine a block that could catch you and save you from fall damage. A cloud block could catch you like a sign with water above it (a great replacement for that by the way). Cloud blocks could be crafted from Ghast Tears or they could just be found high in the sky. Doors, windows, or even fall-catching platforms, Cloud Blocks would be visually pleasing and very useful.
4. Magma Cream Spring Blocks
Everyone has heard of the Slime Block and how useful they are, but I always felt like they needed some cool counterpart. Why not Magma Cream Springs? Crafted from 9 Magma Creams, these springs could launch you up in the air. They could even be controlled by redstone, which would control the height they could spring you to. For example:
No Redstone signal = Fixed set height to bounce to
Full Redstone signal = Double the fixed height
They would look like Magma Cubes when they jump, lava and all. A very interesting idea indeed.
5. Troughs
Troughs would add more of an automated process in the game, but I think having to manually place it inside would make up for it. The basic idea is that you would place 2 Cauldrons next to each other and could fill them with wheat or other breeding items to have your livestock breed on their own without having to directly feed them. Troughs could also be filled with water, for aesthetic purposes or to fill up 6 bottles with water.
6. Lapis Lazuli Pot/Vase
This is a regular Minecraft Pot. I couldn't find a good picture, so just imagine a pot or vase made of Lapis Lazuli. I mean, in the real world that is what the blue rock is mostly used for. There aren't many uses for it besides enchanting and dyeing different items, but making a vase could give you a new way to display your beautiful flower collection. Basically the same as the pot except being made with 3 Lapis pieces and maybe a different shape or texture.
7. Polished Netherrack
Need Nether Brick? Fine. Want to keep an eternal fire? Great. Want a building block? Please. Netherrack is one of the ugliest textures in the game and is SO overused in the Nether. But I have a solution. Like the Granite, Andesite, and Diorite Block, Netherrack also needs a Polished version. Having it be everywhere in the Nether, I feel it's a necessary addition.
8. Minecart Couplings
Minecarts are part of a unique mechanic in the game that can be used for transportation and numerous other functions. But they can get a little crazy at times. Stray carts on the track or going on a journey with a friend, minecarts need a way to connect. Having a minecart coupling could solve that problem. It could be crafted with 3 iron ingots in an upside-down bucket pattern with a slime ball in the middle. You could make trains using furnace minecarts as an engine to pull instead of push. There are a lot of different uses, so this addition could be substantial to revolutionizing the minecart mechanics.
9. 3 Torches + Cake = Birthday Cake
CAKE!!!! Who doesn't like cake? I think Minecraft should just have a simple way to celebrate a birthday or special event. That's where the Birthday Cake comes in. Basically, it's just a cake with candles which can be blown out to make a regular cake. But, it's the aesthetic idea of it that makes it a simple, but clever idea to add to the game.
10. Iron Chests
Some may think this is just bringing in a feature from a mod. But do not fear! It is simply another variant to a regular chest. It adds explosive resistance to protecting your items and can look great in any build! There are iron trunks in real life, why not in MInecraft?
11. Floating Torches
+
This idea is personally one of my favorites and would look really good at night. Placed like Lily Pads, these torches would float on the water and add a fantastic ambiance to any build involving water. Craft it by placing a wooden bowl and a torch with each other. They could even bob like the bobber that is casted using a fishing rod.
12. Apple Pie
Apple Pie! Like the Pumpkin Pie, Apple Pie is found in the stomachs of many! It can be crafted as shown and seems like an obvious idea to the game. Using 3 apples in its recipe, it could fill 6 hunger bars, but have a low saturation value.
13. Brick Oven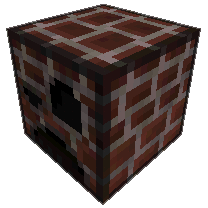 This image is from Redpower 2 and is used to make metal alloys. The Brick Oven would look similar to this, and add a different furnace option to the game. They look very nice and would fit in better than a regular furnace in some builds. They just add more options for the player to use and would fit in nicely with the other ideas in this list.
II. Mobs Additions/Changes
14. Mummies
So, the idea here is that they would spawn (either from a spawner or just in the boundary) in a Desert Temple. They drop normal Zombie drops, but they could also drop paper. These guys would protect the treasure inside and make it a challenge like the Ocean Temple instead of the grab-n-go factor it seems to have. When I find a Desert Temple, I just dig down one of the side walls to the TNT, grab the pressure plate, and clear out the chests. I'm sure many of you do the exact same. I feel if they had more of a purpose, the structure would be worth more of my time.
15. Baby Chickens should be Yellow Chicks
Something about this makes them so cute! Little chicks like this would make you think twice before killing a Chicken. These little guys would replace the big headed, freaks that are currently Baby Chickens. Raising a farm could never be better than having a few of these guys running around!
16. Naming Baby Animals or Villagers keeps them as Babies
I always thought a Baby Pig would make a great pet, but they always grew up and it made them not as cute anymore. My proposal: if you name a baby animal or villager, not only will it not despawn, but it will also remain as a baby. Adding this mechanic would give players a new way to take care of their little friends (especially when they don't have friends =( ).
17. Pigs produce 2-3 offspring when bred
Pigs aren't as useful as some other mobs, such as Cows providing Milk and Leather, or Chickens giving feathers, as well as their meat. The only reason to have Pigs is for their food, which rivals that of Steak, and for that collect-'em-all factor that the game has. If they produced more offspring, it would not only make them superior to Cows as a food source, but would provide a reason to keep your pink friends around.
18. Tie animals up using leads and tripwire hooks; also emits a redstone signal
+
Leads and Tripwire Hooks. Very simple concept. If you tie up an animal or mob to a tripwire hook, it emits a redstone signal. This could be used for numerous things including enclosing the animal with pistons, turning on a light to show that it is in fact where you left it, or some other clever idea. Tripwire hooks were forgotten from when they were introduced, but they should definitely be given more features. This is a great start to that.
19. Charged Creepers should rarely spawn in Hard Mode
This is a suggestion I've made and it is such a great idea. Here's the Charged Creeper pitch from my post:
"What is the one mob that everyone forgets is in the game? What do the noobs not know about? This is a simple answer: Charged Creepers! Charged Creepers, if you didn't know, are creepers struck by lightning. Lightning has to hit a creeper that won't despawn before you see or encounter them. It also has to survive the initial lightning strike. I label the Charged Creeper as a lost feature, simply because you never see or find one. The only thing that's really promoted the popularity of the Charged Creeper are the map makers that edit Charged Creeper spawners into the game (which don't normally occur in vanilla mincraft). So, I stress to the people reading, and Mojang, to help promote rarely spawning Charged Creepers into Hard mode. What's harder than a creeper that can kill you through your Iron Armor while also destroying half of your house?
Only the Charged Creeper."
Now than ever they are useful to get the numerous mob heads you need to make a banner how you want it. People have made HUGE farms that try to get a Creeper hit by lightning, to little success. Zombies and Skeletons get armor. Spiders get Potion effects. Creepers should get Charged!
III. World Generation Additions/Changes
20. Nether Volcanoes
The Nether is pretty bland. But imagine a huge Volcano with some sort of dungeon or treasure inside. Another reason to explore the Nether, these Nether Volcanoes could be guarded by the numerous mobs in the Nether, and present a real challenge to even a veteran Minecrafter.
21. Choose Multiple Biomes for Custom World Settings
This is a small feature but a needed one. When creating a custom world, you either have to choose one biome for your world or every biome. Adding a configure option for biomes to the menu would give more options in creating a custom world.
22. Hardened Ice scattered in caves of Spiked Ice Biomes and other themes to caves
Imagine caves full of Packed Ice in a Spiked Ice Biome or with Big Mushrooms and Mycellium in a Mushroom Island Biome. In Jungles, Grass, Vines, and Ferns would litter the caves and add adventure to the game. Basically, this would add themes to a caves depending on the biome and a reason to go to another biome, to have a completely different caving experience. Caves under Oceans could be filled with water, but have more ores. Caves in a Snow biome could have Snow layers and maybe even Snow Golems! Desert caves would have patches of Sandstone and Sand. Mesas would have all different kinds of colors of clay. The possibilities are endless.
23. New Wood Type: Ebony
New Trees! These Ebony trees would rarely spawn in Savannah and Jungle Biomes. Their planks would look like charred wood, and would add something new to build with. There saplings would drop less than Jungle trees, and would make them rare. Would you believe how many times I used the word "would"? HA!
24. Fallen Logs in Forest Biomes
When they added logs that could be turned, I thought that Mojang was also going to add fallen logs to the Forests. That was not the case, and I knew that I would never understand why. Something about a fallen log adds a history and character to the land. But for now, it remains bland.
25. Moss like the Twilight Forest Mod has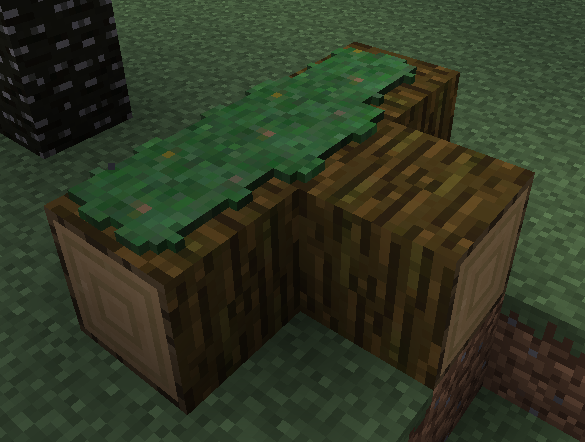 The first time I saw this moss, I was amazed. It adds detail to the Forest, even though the Twilight Forest mod is amazing in itself. It could be put on fallen logs mentioned in the previous feature, and it could be exclusive to a certain biome like a Forest Biome as a reason to explore.
26. Abandoned/Overgrown City Biome
I always felt like there should be some sort of abandoned city biome for some reason, but it makes sense. Imagine that the Villagers had to leave these cities for some reason, and left everything behind. Now they are scattered across the world in their small colonies called Villages. These biomes would be VERY rare. They would also have left-behind Iron Golems and Wild Ocelots. Exploring this city would add a new level of adventure to the game, and again give a player a reason to explore, which is something Mojang has always wanted. They are slowly getting there.
27. Mushrooms are generated and can be placed on tree logs
So, the idea is simple. Mushrooms should be generated on trees. Not just on their leaves, but on the trunk of the tree as well. Very simple addition, but very needed.
28. New Wood Type: Willow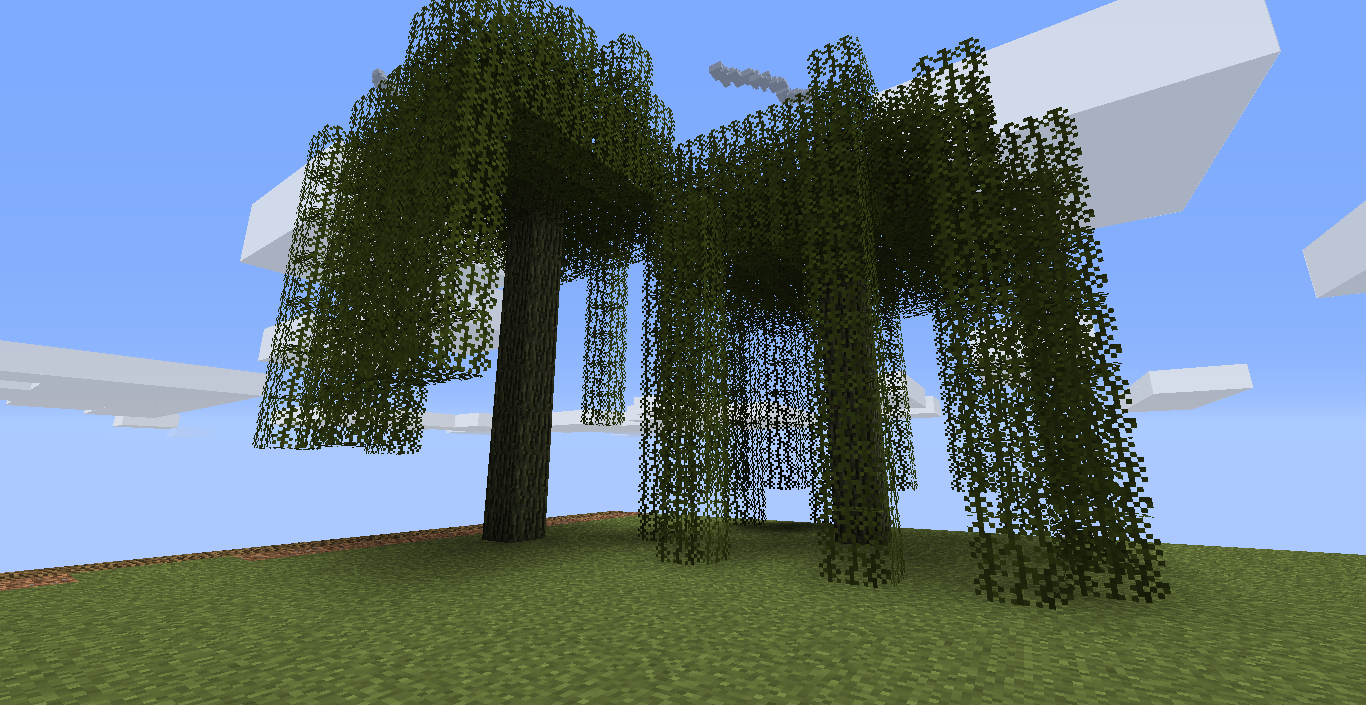 Willow Trees would look very nice in Minecraft. You can find them in Swamp biomes and rarely along Rivers. They would have leaves that look like Witch's Hair (or green Dodder), so a light yellowish-green. Their logs would be darker green, and give dark green planks. It would be perfect around a Witch Hut!
29. Sandstorms/Dust Storms in Deserts/Mesa respectively; Separate from Rain/Snow Weather
There are never any visibility issues in a Desert. Enter one during a Thunderstorm and you're completely fine. Let's change that. These Sandstorms would impair your vision, but wouldn't occur too often. This is a real-life phenomenon; it only makes sense to be added to the game.
IV. Villagers & Villages Changes/Additions
30. The Green Villager is added
The infamous Green Villager, but what does he do? He would have a few career options including a Florist and a Topiarist. The Florist would buy and sell different flowers. The Topiarist would buy and sell leaves and shears, maybe even saplings. "More beauty with our prices" would be their slogan.
31. Fletcher buys 36-40 feathers; Tier 2 trade
The Fletcher doesn't buy feathers? Why? I feel as if they need another trade and feathers need another use. Being a Tier 2 trade, you need to trade at least once to access it. Simple, but needed addition.
32. Different and Rare Variations of Villager Towns and Buildings
Look at this picture and tell me we don't need more variety in our Villager's lives. I feel the towns need more detail as to which profession a Villager has. The 3 buildings that do this the best is the Church, the Blacksmith, and the Library. These are the only careers that are represented the best. The young Villagers will never want to become Farmers or Butchers. Then their economy will fall apart. So we need more variations and varieties in what careers are represented in the Village.
33. Shift + right-click to name a Villager with a Name Tag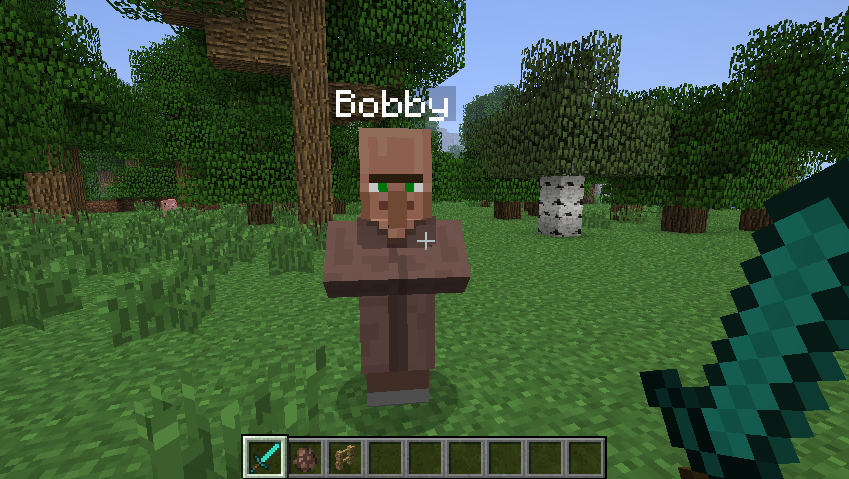 Eh! Bobby! Why can't we do this in singleplayer? Obviously, we need to be able to name a Villager. Using Shift + Right-Click should make you able to rename a Villager. Again, simple but needed.
34. Buying Colored Wool from a Shepard Villager should be given in Increments of 8 or 16
Bad deals, man. You get 1 Wool for 1-2 Emeralds? Ripoff... But, we can solve that if we fix the problem. This is a simple change, which I think is fair.
35. Cure a Witch to make a Special Alchemist Villager
Now this would not ruin the Brewing mechanics because it is a costly process. You have to give her an Enchanted Golden Apple under the effects of a weakness potion. And she will slowly transform into the Special Alchemist Villager, which you could trade for potions not found anywhere else in the game (maybe).
V. Enchantment Changes/Additions
36. Adding Fortune to a Hoe should give more crops when harvesting
We can all agree that the Hoe needs more uses. If we use it to harvest crops, that could be the use! Adding the Fortune enchantment to a Hoe would give more potatoes, carrots, and wheat after harvesting. This would give you more of an incentive to pick your crops instead of washing your crops into hoppers for example.
37. A Quickdraw Enchantment for the Bow
The Bow has needed this since it got changed to be drawn back. Minecrafers have asked for this for a while, and this could drastically help in a PVP situation. It would help you draw back the Bow faster, and be a rare enchant.
38. Fortune on Shears make Sheep drop more Wool
Shears are very useful, and Sheep need shearing. Ever since you could put Silk Touch on Shears, I always wondered if Fortune would be added as well. Getting more Wool would fill up your chests and make me a happy guy. Bad reason, I know.
VI. Brewing Additions
39. Cauldrons can combine up to 3 Potions together, to give 3 combined back; Removes Modifiers (Maybe)
This is a early version of the Brewing mechanics. I'm not saying that Mojang should reimplement this, but combining potions could be pretty interesting. Especially if more potions are added. Combining effects would not give all the modifiers, but maybe a rare chance to get one of them.
40. Ink Sacs brew a Potion of Blindness
Ink sacs aren't useful anyway. Using them to brew a potion gives you a reason to hunt them. Blindness could be used on mobs to disorient them. This is an important part of the game, that can currently only be accessed through commands.
41. Using Gunpowder with a Bottle of Water or a Base Potion gives a Splash Potion of Water
Basically, you could use these to extinguish fires. That's the only use.
42. Cauldrons can hold Lava and emit light
A Cauldron should be able to hold Lava to add a new way to light up the world. A small aesthetic change, but very useful in builds.
43. Poisonous Potato brew a Potion of Nausea; eating a Poisonous Potato gives the Nausea effect
The Poisonous Potato. Currently a waste of an item, this initiative would change that to make them cause Nausea and make them the Base Ingredient to make a Potion of Nausea. Potato farming would have a purpose again. Hooray!
VII. Aesthetic Changes/Additions
44. Iron Bars, Glass Panes, Fences, Trapdoors, Buttons, Pressure Plates, etc. should have Water inside their space when water is next to it
This may be controversial, but it adds a lot to underwater builds especially. It fills that empty space with water and gives water the ability to flow through some blocks. A very pleasing feature for many.
45. Placing a Bed on top of a Bed creates a Bunk Bed
The legs of the top bunk would connect to the bottom one, creating the bunk bed. It would be nice to have sleepovers and give builders a nice option to make cool rooms even cooler.
46. Get 4 Carpet from crafting 2 Wool
It makes no sense to get 3 Carpet from 2 Wool. I mean, really? Makes more sense to get an even number from an even number. And that's why you should get 4 Carpet from 2 Wool, not 3.
47. Leads connect to Boats using Shift + Right-Click
Have you ever tied up a boat with a rope to a dock? Of course you haven't! You play Minecraft! But Minecraft won't let you tie up your boat to a dock. Using a lead, I propose that you can. Using the infamous key combo of Shift + Right-Click, you can attach the Boat to the Lead and then attach it to a Fence or #18. Very simple, very effective.
48. Sparks appear when Minecarts rapidly slow down
Sparks from a Minecart? Ingenious, I know. It's just something small that could add the magic touch to the game.
49. Nametag + Dye = Colored Nametag
Having color is one aspect that Minecraft has covered. But a colored nametag could add something unique like sorting your mobs, or knowing what mob it is without seeing it directly. Possibilities = Endless
50. Leaves with a Snow layer on them should have a frost gradient
All this means is that frost would drape over the leaves until the Snow layer is gone. Kind of like Grass does when it has a Snow layer on it.
You Made It!
So did I (barely). Thanks for reading, and remember to vote for your favorites. Personally, I like the Abandoned City and the Nether Volcano. It just adds so much to search for, which is what Minecraft is about. Kind of, not really. Anyways, thanks for reading.