yellowparrot
Coal Miner
Join Date:

1/11/2011

Posts:

118

Member Details
Come on, wouldn't it be awesome to be able to drive around in minecraft in a Monster Truck, running over enemies, animals, and plants? Well, I thought about it for a while, and I came up with these recipes for the different parts you will need to build your own, of course, IF this suggestion even makes it to the drawing board.
Diagram: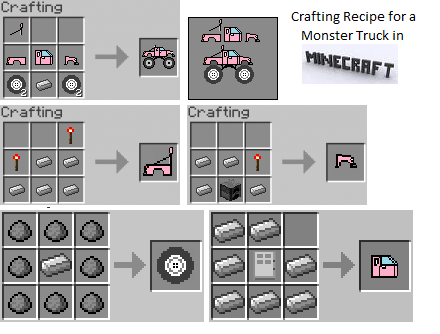 What you will need:
- Four monster tires - Recipe Included - Nine Pieces of Rubber
- One standard size truck cab - Seven pieces of iron
for the body, and two iron doors
- One front end engine compartment - Four pieces of iron
for the body, two electric lanterns
for headlights, and a furnace
for a clean, coal-burning engine.
- One truckbed with rollbar rack - Five pieces of iron
for the body, and four lanterns
for taillights and rollbar lights
- An extra piece of iron for the chassis extensions and driveshaft
This would make a great extra project for you to be able to complete in Minecraft, for the hearty explorer and vehicle enthusiast alike. A land vehicle in this kind of game would be a great addition, and make transportation a lot easier. I really hope that you will at least consider this suggestion for future use in your game. Thank you for your consideration.
Features:
- Two block high wheels allow you to climb walls and terrain with ease (up to two 1/2 blocks)
- Headlights and taillights that automatically come on after sunset for night driving
- Ability to run over enemies and animals, sometimes killing them (does three hearts damage)
- Right click engine compartment with coal to provide fuel. Enter vehicle by right clicking the truck, and use normal directional keys to drive.
- W for the accelerator, A and D for steering, and S is brake, or reverse if you're at a complete stop.
- (Possibly?) Have the ability to carry goods in the back of the truck
- Engine keeps running until out of fuel
- Can be damaged to the point of being wrecked. But it is possible to salvage what parts are left, and start over, by destroying the remains.