FishFruit
Redstone Miner
Join Date:

8/13/2014

Posts:

638

Location:

Antarctica, or New zealand

Minecraft:

JamMe14

Member Details
Introducing a new mob, the Kiwi bird! In real life, kiwis are the size of chickens, lay the biggest egg in proportion to their body of any bird, eat grubs, worms, and seeds, are endangered as well as nocturnal, and normally live in swamps and temperate forests!

Now, this is how the minecraft version works:
Apperance: (Updated!):
The kiwi bird looks similar to the Chicken, but slightly larger. It's legs are beefier and darker, while its feathers are dark brown. It has no visible wings, and it's beak is long and sticks straight out. It also has four whiskers sticking out of it's beak. It's head is in front of it's body, opposed to on top of it like a chicken's
Kiwi:
Spawning:
Have a 1/64 chance of spawning in forest and swamp biomes, as well as nearby rivers. They also have a 1/256 chance of spawning in mountains, plains, roofed forests, and beaches. This is because they're endangered, and also because many people have complained that they would overrun the world
Drops: (Updated!)
2-3 Kiwi feather (used for kiwi cloaks) 0-2 Bird meat (works the same as
chicken meat, but dosen't poison the user, and has only 1 saturation,
instead of 1.2)

I have 3 kiwi feather models: you guys choose which to use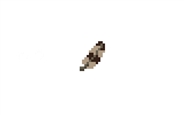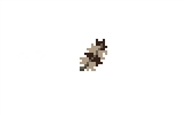 Breeding:
Kiwis will sometimes breed with one other kiwi, making it their forever mate until it, or its mate, dies, then it will breed with other kiwis again after 5 days. Kiwis only breed when they are within 64 blocks of the player. They also won't breed for 10 minutes after they last did.
Vision:
kiwis are nocturnal, and can't see very well in the daylight, so they can see 12 blocks in the day, and 22 in the night.
Eggs:
once every 16 minutes, a kiwi has a 1/4 chance to lay an egg. When you pick up and throw the egg, there is a 1/4 chance of spawning a baby kiwi. There is an additional 1/64 chance that it will spawn another baby kiwi. You can smelt the egg to get a hard boiled kiwi egg, which you can eat to restore 4 hunger, with 4 saturation as well. This would be a useful food for beginning players. Kiwi eggs look about 3x as big as a chicken egg when you throw it, and have a light green tint
Feather cloak: (updated!)
Kiwi feathers can be placed in a crafting table in the shape of a chestplate to get the kiwi cloak. Wearing the kiwi cloak would give you +50% experience, as in real life, cloaks made of kiwi feathers are often used in maori (New zealand natives) rituals. This would be placed in the chestplate slot. The kiwi cloak does break after being hit 80 times, as feathers fall apart quickly.
Special thanks to EpicSpacePanda for help with this idea!!!
I have 2 pics of the cloak:


AI:
When they can't see a player (day): (Updated!)
30%: wandering

5%: look for a mate to breed with

50%: Find a dark place, and sit down there (this includes kiwi burrows)

15%: Find, and uproot placed saplings
When they CAN see the player:
80%: Run away

20%: Do a daytime activity
When they can't see the player (night):
50%: Wander

15%: look for their mate to breed with

10%: Sit down

25%: Find and uproot saplings
When attacked (by ocelot, dog, or player):
90%: Run away

10%: hit back (using their feet) doing 1 heart of damage
When a player in their sight is holding melon seeds:
98%: Follow

2%: Act as if they cannot see the player
Call:
The kiwi's call is kiii iiii wiiii iiii. When injured, or killed, it sounds like a pained version
Kiwi Burrow (New!):
The kiwi burrow would be small holes in the ground with 1 block entrances, going about 3 blocks below the entrance. Kiwis would go here when looking for dark places
Special thanks to Kirbyintron for help with this idea!
Endangered, and wolf huting (New!)
In real life, kiwis are endangered. This is why I have added that if you kill a kiwi within 3 chunks of a village, you will loose 5 reputation with that village. Also, I read in a booka bout kiwi and moa that the maori would hunt kiwi with dogs. It was not allowed to be killed otherwise. Therfore I am adding that if you kill a kiwi with a dog, you loose no reputation points with villages, and you get an extra kiwi feather.
Special thanks to Roverb for suggesting the endangered part
Supporter list! 34 Supporters!
-UndeadGaming606
-SugarRave
-TenebraeAeternae
-Ashleyyy_1228
-Cool6505
-Nocturnal42
-Olykoek4
-creeper_8888
-TheqoreeZ
-Brickviking
-EpicSpacePanda
-coolreader18
-Cheeyev
-Pigman164
-SharkMonster
-Cr33per102
-KiwiNinja2012
-PD101
-Bayphoenix
-verite
-MudkipzGirl44
-GDog_0
-Kitty9292
-Hello87337
-Kirbyintron
-Roverb
-SkeletonGamer
-Genlems5Ever
-AThingWithAThing
-Melons12345
-FireWolf99 (New!)
-Toverstock (New!)
-OMGItsapenguin (New!)
-Greenwindu (New!)
I believe that is all, if I am missing something, please notify me. Thanks, and I hope you support!
Calling all banner makers! I need a banner for this thread, and would like if someone could make one for me!
My signature is broken. I am currently fixing it
You can support my suggestions at:
Kiwi birds: -The link broke-
Every biome gets at least 1 mob: -The link broke-
Pirates: -The link broke-
Chorus apes: -The link broke