Mrlong2
Zombie Killer
Join Date:

6/17/2014

Posts:

222

Minecraft:

Mrlong2

Member Details
Thanks for all your support!
Check out my other Post about other
stuff
!
I had the Ideal for another ranged weapon minecraft!
Obtaining
It is the Flintlock pistol. you would find it in dungeon and stronghold chests in its broken form.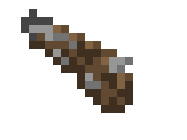 Sorry the photo was broke!
Now, that's a cracked and broken Flintlock! you can't do much with it. so you must combine it with a flint and steel on an anvil.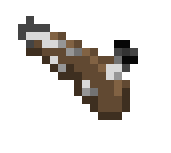 Durability, Damage, and Ammo
The flintlock should have 64 durability before they degrade into broken Flintlocks. like carrots on sticks.
And for ammo? I think that gold nuggets should be used for ammo, they're not common, but not rare either.
Fire charges
could
be used, I have no ideal what the logic or even the projectile would be.
Crafting Cartridges or bullets or something?
I have yet to meet one that can outsmart bullet.

= 200 Dollar custom tooled cartridge. makes 4. (although Steve has no concept of money)
Okay,
now
we have enough team fortress references.
They would fire 1 time per 0.75 of a second. and deal 5 (2.5 hearts) damage, this is not OP because gold is rare. (and so are fire charges, and Iron and
paper
and gunpowder and etc. and stuff)
Gold: soft metal, heavy, In minecraft
Lead: soft metal, heavy, not in minecraft
Heavy Weapons Guy: not in minecraft.
Why add another Ranged Weapon?
Because, Look at the Math of Unclevertitle, the Bow hits heavy slowly, the flintlock hits lightly fast. Missing a few shots doesn't matter, because of the volume of shooting.
Other Stuff
The original design was more gold colored,(see below) because that's the way it appeared in my dream
when notch was thanking me at minecon 2014
.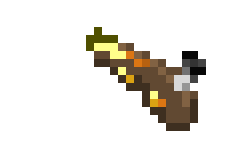 The items that I've drawn are my first try at making sprites.
Special thanks to Charleston at dropbox support who helped me figure you how to make the photos appear in my post.
Thanks alexcamostyle, for your
constructive
destructive criticism.
Thanks, Unclevertitle for your post:
Quote from

Unclevertitle »

Change the game? Sure. "Completely different focus?" I think not.

It's just as possible to have that same problem now with somebody using a bow. It's an inherent risk on any server with PVP enabled.

It's really not as much of a potential catastrophe as you're making it out to be. You seem to think that guns will inherently make players naturally more violent and bloodthirsty or something.

===============================================================================================================

I didn't address this before because I didn't really want to bother, but since you seem to be thinking "Flintlock Pistol" = Sniper Rifle (aka one hit kill from really far away) in terms of lethality so...

Where did you even get this number?

Let me quote the original post (it may have been edited since you last looked at it.)

Damage of the pistol as stated on the

original post

:

So its base damage is slightly greater than 1/2 that of a fully drawn bow (

9 damage, or 4.5 hearts

). The DPS of a flintlock pistol is then 6.67.

According to Minecraft forum user

DemonXeron

, it takes

1.2 seconds

to fully charge a bow to fire for it's maximum damage.

Taking that into account using a bow with only fully charged shots, which has the greatest range any bowshot, a player could achieve a maximum DPS of 7.5.

Interesting, now that I actually took the time to do the math it seems pistols would

not

be the most powerful weapon in the game. Definitely not twice the damage of a diamond sword.

Further a bow can be

enchanted

up to Power V increasing it's per shot damage up to a whopping 23 increasing its DPS to 19.12 if you spend enough time with an anvil and enchanting turns out a bow is superior. A bow with even a power I enchantment (14 damage, 11.67 DPS) is far superior.

(Is that where you got 14 damage from, is there mention somewhere in this thread about the pistol being as strong as a bow with the Power I enchantment? Checking back through pages and running some in text searches it doesn't seem like that number ever came up before you posted it...)

The OP never mentioned anything about guns being enchantable so I'm assuming they're not. Even if they could be enchanted with the same Power enchant, they'd still be weaker than bows for every equivalent enchanting level, in fact they'd scale linearly with bow damage always remaining just over half as strong as bows having a slightly lower max DPS than bows.

I guess then the only effective difference between a pistol (as described in the OP) and a bow is the increased rate of fire, better for mid range combat, and probably a faster projectile overall, requiring less lead time on distant targets. But this is all pure speculation, there's nothing saying this in the OP.

Feel free to correct my math if I made mistakes or otherwise correct me if I ended up with the wrong impression again.
Last edited by
Mrlong2
: Aug 4, 2014
Scroll down to see some of my cool stuff
One of my Spotify playlists: