dirtminer6
Void Walker
Join Date:

11/19/2012

Posts:

1,687

Minecraft:

ehaugen7

Xbox:

Combatkilla6969 (Yes i have a xbox)

Member Details
Okay so here are my pitches. I posted some of these idea's on reddit and they liked it so here you guys go.
The abyss is a new biome that is kinda creepy to explore. Here it is (here is mine from reddit):
Its like an underwater ravine, except it goes very deep.
Is very dark and hard to see.
Has lots of natural caverns with air pockets and chest to scavenge. Like natural generated terrain. And yes i said you will find a treasure chest in the caverns filled with loot.
Has silt (a new muddy block) that sits at the bottom of the abyss and is only found there. It cannot be crafted and it looks really, really muddy.
Has natural sponges that can be found there (in caves and on the walls and etc.)
Not very rare. Probably as rare as lets say, a desert.
----------------------------------------------------------------------------------------------
Why?
Because the ocean still needs more variety.
Worth exploring?
Yes. For the sponge, silt, new mobs (i'll get to that), and the caverns you can mine into (they are deep so you can find every ore.) Also the treasure chest.
***************************************************************************
Here is an idea from somesome who go's by the name of daily_do_good on reddit. He or she added on to my original abyss idea by adding the clam/pearl idea. Here it is!
Clams. They are purpleish blue and are mainly found in the abyss (some can be found scattered throughout the ocean though.)
They are a passive mob and will try to flee when attacked (they have 5 hitpoints so not that much health.) When they are not fleeing they just sit down on ground or a ledge in the ocean.
They will always drop "themselves." Clams can be used to make clam chowder. Using this recipe:
(gunpowder equals clam.)
Clam chowder restores eight foodpoints.
Clams also rarely drop a pearl.
Pearls are shiny, bright, glass like orbs. You can right click a pearl when you are in a ocean (you can be on a boat and not literally in the water.) Anyways, right clicking the pearl will send it off in the air like an eye of ender.
It will lead you to the nearest Ocean Monument (a new ocean structure Jeb has created for the next update. Here it is here:
http://minecraft.gam.../Ocean_monument
---------------------------------------------------------------------------------------------------------------------------------
Why?
Because the ocean needs more variety.
Worth going for?
If you want a easier way to find Ocean monuments, yes. And clam chowder restores a pretty good amount of food points.
(here is the link to my idea on reddit:
http://www.reddit.co...the_abyss_read/
****************************************************************************************************************************************
Cuttlefish are a squid looking mob. They are small and have natural camoflague. Also, they are kinda cute (and i dont usually use that word. Here is proof:)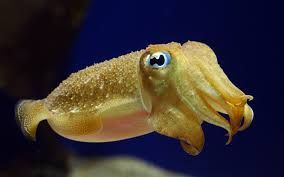 Okay so they are found in the abyss and in the open ocean. But they are significantly less rare in the abyss.
They travel in packs of around six and are scared of basically everything. If you move torward
one...
ZOOM.
Its like an ocelot.
Upon death, they drop a tentical. Tenticals can be brewed to make
a potion of camoflague.
Its like a potion of invisibility, except for it does not show armor or weapons equipped. And it does not make you fully invisibile, but allows you to camoflague into your background (can be anything including the sky.) When you move you are 100% noticeable but when your not moving, it can be hard to spot you. (Mobs will not spot you unless 1 block away.)
Wild cuttlefish have 5 lifepoints.
Can also rarely be fished up.
Cuttlefish can also be used as pets. If you have any kind of flower with you (and its out), the cuttlefish will become interested. Slowly moving torwards you. Dont make any sudden moves or they will speed away.
Once they are 1 block away from you, a little question mark will appear above its head. Thats when you scoop it up with your glass jar. (They
are
small animals.)
So once you have it in a jar you can empty it into any water source (it has to be 1 block of course.) Anyways once you got your new pet, feed it.
Feed it salmon, clownfish, and normal fish so it can grow. (Pufferfish will kill your pet.) Every 5 fish eaten grows your pet cuttlefish by a little bit. They can get up to 4x bigger than a wild cuttlefish (they appear to be fat.)
Pet cuttlefish show emotions. A scared face will show above its head when another player/mob get to close. The cuttlefish will try to start speeding away, or trembling in fear.
A food symbol above the head means that your pet wants to eat (but it can always eat.) Also, cuttlefish cannot starve to death BTW.
A heart symbol above its head means it wants to play. Playing consist of you throwing a block into the water, and the cuttlefish will grab it and will camoflague into its texture until it gets bored and throws it back.
A fully grown pet cuttlefish will help you defeat hostile creatures.
If a hostile creature walks past a fully grown pet cuttlefish's water source/home, your pet will wrap its tenticals around it. Squeezing it to death (Only can do it to one mob at once before it gets tired and cannot do it for 5 seconds.) The hostile creature has to be 3 blocks away or less, the cuttlefish will swim as near to it as it can.
Also avoids creepers. And hostile mobs do not attack the pet.
Pet cuttlefish start off with 7 lifepoints, but gain one more everytime they grow. (Up to 11 lifepoints.)
--------------------------------------------------------------------------------------------------------------------------------------
Why?
Because the ocean still need more variety.
Worth getting?
If you want to camoflague potion and a new pet that attacks nearby hostile mobs, yes.
***************************************************************************************************************************************
Its a new ore only found in the oceans. It is found in the caverns of abyss's in abudance, but also found scattered on the ocean floor.
It looks like a little pale shell when mined. When you mine a seashale ore, you get 4 seashale. 4 seashale crafted like so gives you a seashale block:
(grey dye equals seashale)
Seashale blocks changes colors over time. It starts grey, then changes to dark blue, then to dark green, then yellow, then red, then pink, then dark purple, then back to grey.
Putting a seashale block into the ocean will attract cuttlefish, squid and clams once in a while. They also rarely attract guardians. (A new mob Jeb has created for next snapshot.
Here ya go:
http://minecraft.gam...ia.com/Guardian
Seashale blocks also produce a small amount of light. As much as a redstone torch.
Putting seashale into a furnace gives you smooth seashale. Smooth seashale is seashale, except smoother!
It also changes colors more rapidly.
Seashale can also be traded to villagers for medium tier things (swords and stuff.) Be wary, villagers take a lot of seashale.
---------------------------------------------------------------------------------------------------------------------------------------
Why?
Because the ocean still needs more variety.
Worth mineing?
Yes if you want to manually attract ocean mobs. And/or you want to build with the only dynamic block in the game. Or if you want to trade with villagers.
**************************************************************************************************************************************
ALRIGHT GUYS. THANKS FOR
READING! HELP ME IMPROVE THESE IDEAS AND ADD ON TO THEM.
I HOPE YOU SUPPORT FOR A BETTER OCEAN.
[URL=http://[url="http://www.minecraftforum.net/topic/2148220-new-crops-and-old-ones-with-new-recipes-and-biome-variety/"]http://www.minecraftforum.net/topic/2148220-new-crops-and-old-ones-with-new-recipes-and-biome-variety/[/url]]
[/URL]