ogichidude
Coal Miner
Location:

tba

Join Date:

12/16/2010

Posts:

113

Member Details
a new mob that would be pretty dangerous would be the runner.
basically it is like a chopper, but instead of wheels it has legs, and a head. it runs faster than the player and all other mobs, so your in trouble if it goes to attack you. has a melee attack for 2 hearts and a ranged attack (ghasts fire shot) for 1 heart and the same attack also destroys 1 block.also, it has 10 hearts like the player.it spawns in swamp/forest terrain/biomes, and should probably be neutral. and it feeds on creepers : D.the front and really long legs can be swung (maybe?)to hurt you and are in the shape of a spike.i don't know what its supposed to drop, so thats open to debate, along with the rest of it.
also, my first new topic so could i get some pointers for improving my posts?
EDIT: im attaching a really poorly made image (done on paint :tongue.gif:)sorry for my failure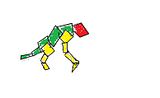 redis its head
yellow is the legs
greenis the body
GASP, it a ghast!
jan 26 2011 someone tryed to hack me @ 6:30