Razre

Zombie Killer
Location:

USA

Join Date:

10/31/2010

Posts:

172

Minecraft:

Razre

Member Details
Ok, bear with me here, because I myself find this idea a bit absurd.
I'm thinking of a new rare monster, rarer than ghasts appearing in the overworld near a nether portal.
What is it?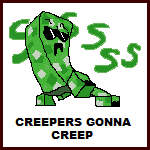 The Cool Creeper
Essentially, its just a creeper wearing sunglasses that moves slightly slower than a normal creeper, but explodes much more powerfully (think double the current creeper), and spawns with a small entourage of other creepers. Normally it would drop five gunpowder, enough for one tnt block, but...
The upside to this simple update would be that if killed (insert convoluted drop method here) it drops a blue record that plays
funky creeper hip-hop
kickin' creeper techno rave music on the jukebox. And yes, that means duking it out for three rounds with a herd of creepers led by one that explodes bigger, (insert convoluted drop fiasco here). You gotta earn them tunes sucka!
I had this idea shortly after I remembered the slogan from somewhere and posted it, then GreyAcumen (great guy) demanded it be made into a cool animated GIF and T-shirts.
I was immediately inspired by his enthusiasm and whipped this image up in MS paint (I'm not too good at GIF animations, but I can do them) and posted it for the lulz. After a short amount of time, I made it into a sig, and then broke down after looking at it for a few pages and whipped this up. Whaddya guys think?
(EDIT: updated with suggestions from Grey Acumen and myself)
(EDIT: Overdue update, will look through more for interesting stuff. I love you guys. Especially you muncher. <3)