cba123
Tree Puncher
Join Date:

9/15/2010

Posts:

25

Member Details
Disclaimer: I'm a new poster, and this could very well be in the wrong spot. It says suggestions are to be limited to one, and technically it is one suggestion, but a large suggestion with multiple points. Just let me know what I have to do to move it if it's in the wrong place and I'll do so.
tl;dr version:
Monsters so big that they are unique to certain biomes have to be made out of blocks which can be mined for profit.
Anyway, a preface. Some of the best moments for me in this game are when you happen upon some huge natural formation that blows your mind with it's scale. A giant mountain range, a sweeping cave, a huge waterfall, etc. What if there were a mob that does the same thing? Mega mobs have already been discussed, but I'm looking at something bigger. A mob that is Shadows of the Colossus style big, that looks as though it is more a force of nature than a specific enemy...
This idea may well be too ambitious for what the current engine is geared towards. What I was thinking of was a mob so huge that it's comprised of moving blocks; you can climb on them, build on them, even mine them if you don't mind aggravating the beast. And of course, it's so big that it could very easily crush everything you know and love if you don't find a way to stop it.
"What if I don't want these things in my game?"
Titans are radically different from the other mobs because of the damage they can do. And yet the challenge they present is not one that can really be measured by a difficulty setting. So, rather than just say "No titans in easy", I think it would be easier to have as a different bar that says when a Titan is allowed to spawn in your game; after the first day, after five days, after ten days, never, etc.

"How do I tell if one of these is coming after me?"
They should be so big and noisy that in most cases you'll know in advance if they are on their way. They also have a predictable spawn for each one; they are tied to a specific biome and typically spawn at the outer edge of the chunk heading in a random direction. They aren't necessarily heading towards the player; some are not aggressive unless provoked, others will only attack if you meet certain qualifications. Once the titan reaches the other edge of the chunk, it disappears until the next time a random number generator decides it is their turn.

"Why would I want this in the game?"
They represent a Sword of Damocles; a titan can smash up the unprepared with quite a bit of ease. This adds a layer of suspense and challenge to a survival game; the best way to deal with them is to meet them out in the field away from your fortifications that they could damage, but that can leave you exposed and vulnerable if something goes wrong. Additionally, they offer a sizable reward for victory; most titan's have redstone for eyes, diamonds for hearts, are made of a material like stone or glass that you can harvest, and may contain other treasures. In addition, all colossi contain a token for a brain. Holding that colossus's token in your inventory prevents a colossi from spawning in that biome.
"How do I stop one?"
That depends a lot on the biome, the battlefield, and your playing style. It only stops once all it's hearts or it's token has been mined. You'll need at least iron to fight most of them, since the hearts are made of diamond ore. Crystal would be best, since a crystal sword will ignore the stone like qualities of their skin. You won't be able to do anything about their bones without slaying them first, though.
However, direct combat may not be your style. You may instead want to trap them. Something that big is slightly less maneuverable, and trapping it in a pit deeper than it can jump will allow you access to it. Likewise, bogging it down in a flood of water, lava, or tnt can buy you the time to deal the finishing blow.
Or maybe you don't want to kill it at all. You could build a house on top of the less aggressive ones and give new meaning to the words "mobile home". 'Course, it won't leave your biome, but that's a good thing. Wouldn't want it to despawn and leave your house floating in midair somewhere.
"Wouldn't something like this be a big detriment to multiplayer games?"
Umm... yes. Lag would be an issue with that many moving parts possibly not even in your area, and having a passerby trigger a giant to come smash your house while you're mining would be a bad way to start your day. At the same time, imagine the feelings of accomplishment and camaraderie when a group of strangers bands together to protect their homes from some larger than life menace.
"Some of these monsters look like they can eat you. How is that supposed to work?"
I'm not sure how feasible this is, but I'd try to create a "dangerous area" block that acts similar to water with a few changes. You don't suffocate in it nearly as fast, and it doesn't slow your movement. This should give you time to navigate to the stomach edge and mine your way to the heart chamber, depending on the number of hearts in the beast and the quality of your gear. Worst comes to worst, and you can mine down and out for a breather. A monster may be able to regen his skin, but as long as you damaged a heart you're making progress.
I ran out of questions to try and answer, so here are some examples to better illustrate my point.
Grassy hill/ standard biome: Rock Giant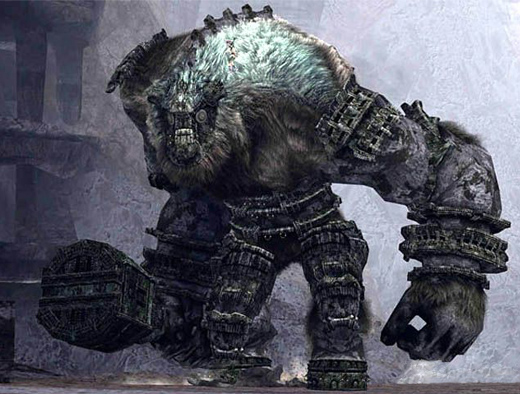 Comprised of Stone, Cobblestone, Mossy cobblestone, and a few trace minerals, the Rock Giant is a 48 block tall Titan that ponderously stomps about a map. Should he be generated, he always spawns at the farthest edge of the currently loaded chunk and walks in a random direction.
The rock giant can stomp anything that is not either solid or is supported by at least 2x2 support beams. Being stomped is similar to TnT, and can be devastating to unprotected trees, crops, or houses. He can only lift his feet 4 blocks high, which may lead to him kicking a house inadvertently. Thick walls will help in these cases.
The best way to deal with the giant is to build a hill in his way to cause him to divert from your house. Since he can only step four blocks high, building a 4 block high wall that is at least 2x2 thick will lead to him bumping up against it, not being able to destroy it, staring at it for a minute or so, and then changing course.
Defeating a rock giant isn't so simple. His cobblestone armor can be mined away to expose his stone skin, but that skin can only be mined by Iron or better. And mining it is a sure way to get him angry. You could trap him in an area where he couldn't get out and keep him as an exhibit (or even build a house on him if you wanted to), but there are reasons to take him out permanently. His eyes are made of Redstone and his heart is a block of diamond ore. Taking out his eyes and enough blocks to mortally wound him is one solution, though mining out the heart or brain are faster. The brain is an ore that drops a Rock Giant Token; a rock giant won't spawn in a chunk with a token inside an inventory or chest.
Tools for defeating him: Iron pick axe is the easiest to come across that still gets the job done. A diamond sword cuts through him even faster. It would take a lot of tnt, but that's another satisfying solution. Flint arrows can't penetrate his skin, but if you made the arrow head out of something tougher...
Grassy biomes won't have many environmental advantages, but a properly placed lake could slow him down while a tall enough hill could get you on top of him.
Desert Biome: Sand Worm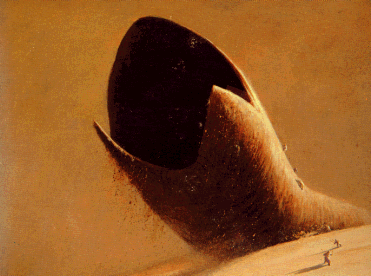 Sandworms are only found in areas comprised mostly of sand. They look the same way sand worms always look, straight out of Dune. As they travel through sand, the push the entire volume up, which then falls back down as they pass under it. This makes it very easy to determine if a sand worm is on the approach. If a sandworm is on track to hit a structure, it is wise to reinforce the floors, since that is where the impact comes from.
Sandworms aren't much of a threat to buildings, since most buildings will be built near rocks in order to mine from them. Even buildings on the open sand simply need a 2 block thick floor to be fine. However, sandworms will surface in an attempt to scoop hapless players up if they aren't in a shelter.
Getting eaten is oddly the easiest way to deal with the creature. Once inside, just dig towards the beating heart and mine it out before you run out of air. Alternatively, get on top of the worm and cut out it's brain before it submerges. Be aware that a bigger worm could have more than one heart...
Any pick can mine a sandworm, but iron does it the faster, which is an important consideration when you're suffocating. It's also the only way to recover the diamond heart, though you could take the brain and leave the heart till you have the tools to mine it.
A dead sandworm surfaces one final time before turning to glass and shattering. The skeleton and skull remain as a monument to your task, while the rest of the unmined worm becomes glass that you can pickup. Trying to mine the skeleton breaks it and gives no drops. The worm has no eye, so you get no redstone. You will get the diamond from the heart and the token from the brain, however, and it could have weapons or equipment from previous victims inside of it for your taking.
Ocean Biome: Zaratan
A zaratan is a gigantic sea turtle. If you ever watched Aladdin 3, the Vanishing Isle was a zaratan. Basically, this turtle is so big his shell is an island. Most of the time, a zaratan just sleeps. The only thing that will wake him up is trying to mine part of his shell, which you'll recognize is happening if it takes longer to mine than normal stone (and is shortly followed by the island waking up very cross at you). Once awake, a zaratan submerges for a day to drown whatever attacked it. This can be deadly if you're trapped in an area with no air.
There are 3 primary ways to take one out. Obviously the brain and heart if you let him eat you, but every Zaratan also has a cobblestone temple made out of their shell. Locate this temple, defeat whatever crazy mobs have recently taken up residence, and travel to the very bottom of it to reach the creature's heart. Not quite as easy as blasting through it's stomach, but the choice is yours. A dead Zaratan rises to the surface and converts to stone. It has 2 redstone eyes, a diamond heart, and the token brain, as well as any treasure in the temple.
The zaratan is another beast you may wish to leave alive. Get some fish near the head and you can convince it to swim towards them to eat them, allowing you a mobile island fortress to sail the ocean with. could be impractical if your ocean biome spawned landlocked, but a boon if you've multiple oceans chained together and a creeper doesn't set off his defense mechanism.
Winter Biome: Ice dragon
Notch has already said dragons are going to be a part of minecraft one day, but here is my take on it. Ice dragons roar whenever they are in the area to let you know about them. Although not as big as the other titans, they're a bit more aggressive.
Ice dragons fly around breathing ice on their victims. Ice breath has two forms: A cone of ice will cover anything it hits in a layer of ice, excellent for trapping a player. This does little to no damage if the player is wearing anything to protect them. The second is an ice bomb, which explodes like a fireball made of ice. While it won't freeze a player, it'll push him or her around and do a lot more damage. A dragon can only breath ice once every interval, to prevent them from just bombarding you from out of reach. Dragons can also claw you or bite you, though they won't swallow you whole like some of the other titans.
Arrows are a pretty solid way to tackle Ice Dragons. Get a couple shafts into their wings to stop them from flying around, and they are easier to deal with. Though if you plan on using arrows the entire time, you'll want something stronger than flint. Once on the ground, hack at them with a sword or lure them into a trap. One of the best tools for fighting an ice dragon is fire; perhaps you want to lure them into a forest and burn everything to the ground, or perhaps you've got a lava trap raring to go.
Another more dangerous tactic is to get on it while it is flying and either take out the wings or go for a kill shot. Less dangerous since it can't claw or ice breath you, but much more dangerous if you fall off it. Building yourself a quick safety net and good use of crouch would be key here.
Once defeated, a dragon shatters into an ice skeleton, similar to the sand worm (except ice can't be picked up). Dragons do not have redstone for eyes, but in addition to the token and diamond heart you also get a dragon egg. Raising a dragon will give you your own flying mount; a longer time investment than a pig mount, but a bit of a more practical use of your saddles. Hatchlings aren't that much bigger than you, can only use a smaller ice cone or spit harmless snowballs (same as throwing one with infinite ammo), and will consent to being ridden if you keep them fed and aren't mean to them. Slain hatchlings shatter into ice and drop snow balls.
Cave Biome: Tarrasque
A tarrasque is some french monster with four-six legs, a lizard's body, a scorpion tail, a hard turtle like shell, and a nasty face. This beastie lives deep underground, where it sleeps until disturbed by the player.
The tarrasque always spawns in a large cavernous area generated by the map specifically for him to be there. Should the player leave and return (without possession of a token), the tarrasque is always found slumbering in the same spot. He can be identified by a soft but deep snoring. The tarrasque only awakens if light reaches him or he is damaged; ideally, the player reaches a huge cavern, plants a torch, sees the Tarrasque's angry red eyes open from the light, and gets a head start on running.
The tarrasque plows though any rock besides bedrock or obsidian. Still, dropping two obsidian in a row won't save you since it can go around or reach a claw through and grab you. It's also a bit inconvenient to line your mine with obsidian to protect it, but better that then losing it all. It also poses an interesting chocie to the player: Do I run for that lava bank and hope there is obsidian near it that will protect me, or should i try heading for the surface and risk it smashing my work?
The tarrasque's tail creates stone whenever it swings against something. This way a single tarrasque won't destroy your entire mine; just re-randommize it a tad.This newly created stone spreads out a bit and has the same chance to create veins as it did during map genesis. Because of this, a tarrasque attack doesn't have to be a bad thing. As long as you have a reliable way to get rid of it, you can use it to restock your mine with more materials.
Killing a tarrasque is supposedly impossible; the best anyone did in mythology was tame it back to sleep. That would be inappropriate for a game setting, so I'm sure we can think of something. Personally, I like the idea of tricking it into a portal to hell and letting it deal with the ghasts. Course, then you have to fight ghasts to retrieve your token and other treasures... A better option might be to just trap it in lava and then take out the brain.
A tarrasque's skin turns to stone, but it's bones become iron ore with a chance for scattered gold around weaker points like joints. Because the tarrasque is aggressive, it is also much more likely to have the treasures of munched on survivors either in it's lair or in it's belly. Extra risk for extra reward.
Hell Biome: Cerberus
A massive hellhound that guards the entrance to Hell, Cerberus is only interested in doing his job . If he spawns and a player happens to be near a Hell Gate, he will seek them out to guard his home. This forces the player to fight the beast, potentially damaging the hellgate, or flee either back home or deeper into Hell where other more aggressive baddies lie in wait.
Being a creature of hell, Cerberus is naturally immune to fire and lava. He'll also bleed fire or even lava from critical wounds, so installing a pool of water nearby is a good idea. One of his heads holds the token, and this head is also capable of breathing fire. The other two heads hold hearts to help keep circulation pumping through the creature, and taking them out disables that head.
The reward for beating Cerberus, besides a token to protect from his wrath the next time you visit, is the three hearts, and gobbled up treasure, plus his body will collapse into coal, hell stone, and gunpowder. Since coal is an otherwise limited resource, Cerberus may be the best way to keep your powered carts running on time.
Remember that Cerberus is only aggressive if the player (or other non-hell denizen) is near a portal; A powerful character could decide to build an observation post on his back and let the beast wander, noting from his aggression spikes where natural portals are located.
Well, those are my ideas. Anyone have any thoughts? A bit disorganized, I know, but I'm not perfect when it comes to writing or typing. I hope it's enough to get the basic idea across so everyone can point out how much work it would be to encode and how unfeasible it would be in a multiplayer game.
Edit: spelling, answered a question about getting swallowed asked on another forum.