creepercraft97T3
Coal Miner
Location:

Hopefully in Finland soon

Join Date:

12/21/2015

Posts:

134

Location:

USA for 2 more years

Minecraft:

creepercraft97T3

Xbox:

creepercraft973

PSN:

none

Nintendo:

none

Member Details
I was messing with the coordinate scale customized preset and I found something rather odd. If I set the value of coordinate scale to in between 533M and 540M, I get a very weird set of farlands in all sections but the -x -z section of the world. Although, they are also only 3 blocks deep, and every chunk there is a slightly different set of 3 block deep farlands. In the +x -z section, they go along the z axis and in -x +z, the x axis. Now, the +x +z section doesn't have the corner farlands, but instead has a complete mess of intersecting x and z axis farlands.
that isn't it. It seems that the actual farlands and fartherlands might still exist in Minecraft. If I set coordinate scale to a few hundred quadrillion, the copy-and-paste chunks go on for a few hundred blocks before forming endless stretches. That isn't it. If I set it to a few quintillion, a few hundred blocks away from spawn those endless stretches become unchanging, including on the inside.
Although, there is one other thing. It comes into existence if I set the coordinate scale past one octillion. It seems there is something that has been in worlds but has been undetected since it is sooooo far out (at least a few octillion blocks). It might not actually be part of the world but if it is it would be at least one octillion blocks from spawn. A world dropoff. What happens there is the world basically just... ends. The land just suddenly scatters and dies off giving way to just a truly endless ocean with a bedrock floor.
The purpose of this is to inform but comment if you think the farlands still exist in this form or if the world dropoff really is present in all worlds.
Here is an infinite screenshot for all your infinity needs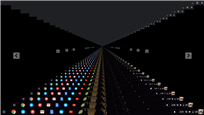 But of course, its not truly infinite...