Hans_Lemurson
Obsidian Miner
Join Date:

10/14/2010

Posts:

1,236

Minecraft:

Hans_Lemurson

Member Details
It's been a while since I've done anything impressive or educational, so I've started something up again. For the past few months I have been working on designing my very own Redstone Computer. Although not as visually impressive as my 2D "Minecraft in Minecraft" project, it is much
more
complicated to build.
You see, MI-in-MC really only qualifies as a highly-specialized
single-purpose
processor.
I want to build a General Purpose Computer
, one which is set up to perform
any
task I desire.
A Computer represents a combination of 3 things:
-Math
-Memory
-Instructions
Math
is what the ALU does. It's the number-cruncher; two numbers enter ONLY ONE LEAVES!!! All the ALU can do is select what it
does
to the numbers, but has no control over what numbers it actually receives.
Memory
is used to save the answers from previous math-problems that the ALU has done, and provide it with new numbers for future problems. Memory is VITALLY IMPORTANT, since if the answer is never saved to memory, then it might as well never happened at all.
Instructions
are the trickiest to deal with, since they use some memory of their own, but their function is quite different. Instructions tell the ALU which function to perform, and tell the Memory what numbers to send, and what to do with the answer. A collection of multiple Instructions is known as a Program, which is stored in the aptly named "Program memory". The "Program
Counter
" has a fairly simple task: When Instruction-1 has been completed, call for Instruction-2 to be sent. This allows you to run through all of the instructions in your program as a list. But a simple "once-through" pass isn't all that useful. It's good for things like adding 13 numbers together, but that's scarcely more than an "Automatic Calculator". If you want to do a group of instructions more than once, or to skip certain instructions, then you're going to need something called "Branching".
Branching
is the name for instructions which can change the path that is taken through the program. Specifically, they are the "Conditionals"(e.g. "If A==B jump to Line 3"). GOTO I don't think is considered "branching" since it has only one possible outcome. The name Branching refers to how an IF-statement creates a "fork in the road" in the way a program flows; two possibilities for what could come next. The path
branches
. This is tricky to implement, since no longer does the Program have total control over the computer. It now has to respond to the Data being processed, and it's mode of execution must be changed. Without branching, all your Program-Counter has to do is keep counting +1, +1, +1, to get to the next line. But with Branching, the instruction that comes after Line7 isn't
necessarily
Line8. You've got to add in the ability to Jump to ANY line in the program.
Now that I've given a brief overview of what's involved in computing, I bet you'd like to see an overview of my hardware.
Here's a prototype of what I'll use for my Program Memory. The program it's holding is just the particular loop it will perform, but the principle can be applied to complex programs.
Here's the CPU being operated Manually. Program Memory will automate everything I was doing here.
Or if these blasted "cinematograms" have got you fed up, try
Pictures of my Computer
(click spoiler to see the pictures)
This shows a view of the control interface I've set up to operate the ALU (for demonstration purposes)
Here we see the Inputs that go into the ALU for calculation, and the result that is Output. It is currently doing in binary 10 + 7 = 17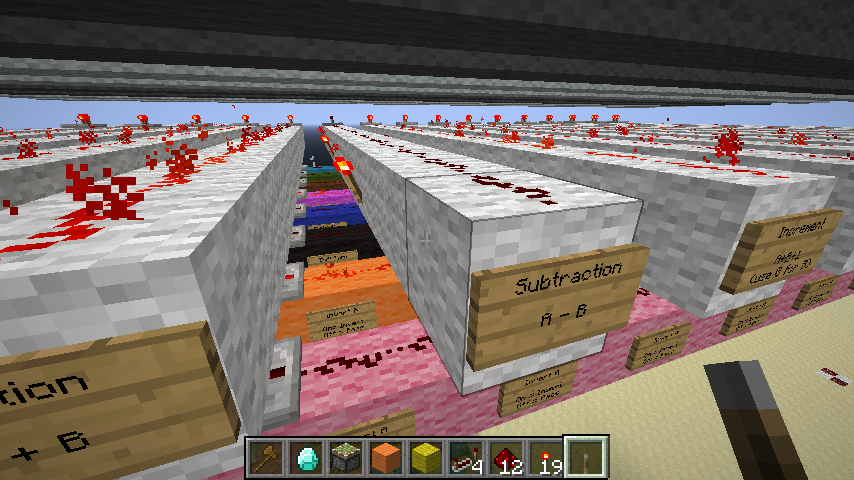 This picture shows how the ALU gets told how to do functions. Currently "Subtraction" is selected, and this lights up two wires which tell the ALU how to tweak its internals to do the desired function. Every function has a unique "fingerprint" of tweaks that need to be done to make it happen, and this stores a table of 16 useful combinations.
Down below is the partially completed CPU, which currently consists of the ALU to do math, and the Memory to store the answers. Top-center is the ALU, and sticking off it is the function-decoder. The blue/pink grid is the Memory Array which dwarfs the rest of the apparatus. That thing made me glad for copy/paste abilities, since that's 120 identical memory cells.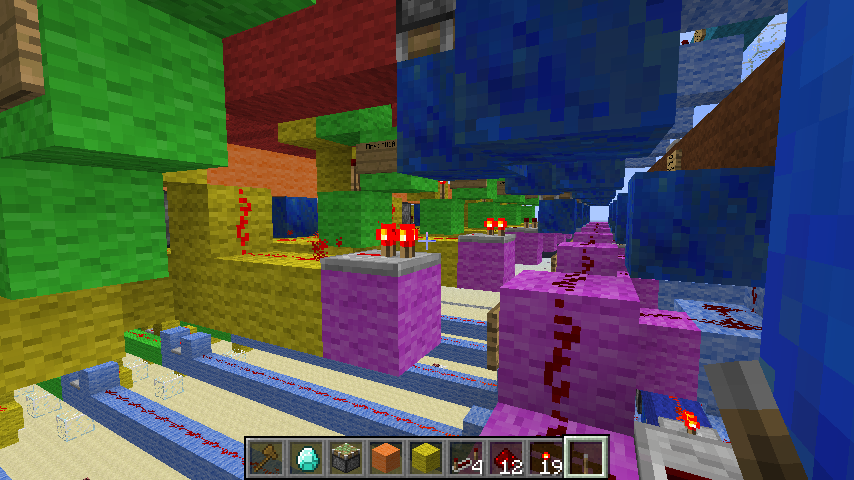 Here's a look at the innards of the ALU. You're standing on the "Carry Propagation Line" and can see the pistons involved with different functions and the output below.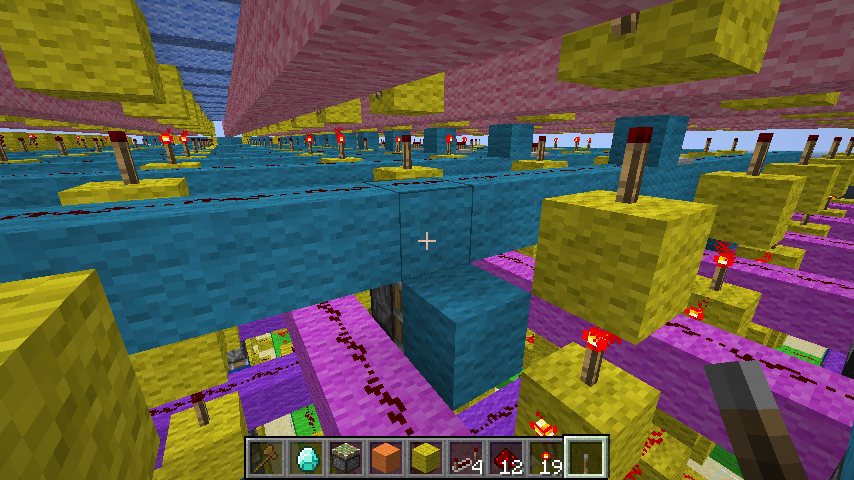 Gaze in wonder at the regular grid that is memory. Each cell has a 4x4 footprint. That's the price for "Dual-Read" memory that lets me grab both values for the ALU input
at the same time
. Pretty snazzy.
Computer Specifications:
-Word Size:
8 Bit
-CPU Speed:
400 milliHertz (25 tick)*
-Data Memory:
15 1-byte Registers **
-Program Memory:
16 16-bit Instructions ***
* (note: this is an estimate, maximum error-free speed has yet to be determined)
** (16 address slots available. In the future, memory might decrease as registers are replaced by Input/Output systems)
*** (16 instructions is enough for an interesting program, but nothing too complicated. I'll need more for Software MC-in-MC)
Project Status:
ALU 100% (
http://www.planetmin...g-4-bit-opcode/
)
Function Decoder 100%
CPU Registers 100%
Instruction-Type Selection 100%
Program Memory 100%
Program Counter 90%
Branching Circuitry 75%
User Input 5%
Human-readable Output -5% (lolwut?)
Hans Lemurson's Thread of Links:
http://www.minecraftforum.net/topic/371610-hans-lemursons-thread-of-links/
Look here to find links to my inventions, creations, and my Youtube channel featuring
Amazing Creations of Mine
(Redstone engineering FTW!!!) and charming Music-Videos about clones.
I also made "Minecraft in Minecraft" (2D platformer/building game)
. I'm currently trying to make a computer.