creepercraft97T3

Coal Miner
Location:

Let's say it's out of this world

Join Date:

12/21/2015

Posts:

135

Location:

What a rude way to ask

Minecraft:

creepercraft97T3

Xbox:

creepercraft973

PSN:

none

Nintendo:

none

Member Details
I used a command block to give me a sword with the attribute of maxHeath. I set it to -20 to remove all my health when I hold it just to see what happens. When it happens, your health bar gets removed completely. You are fine and nothing much happens for the first few moments until you just suddenly and utterly die. The weirdest thing is that it seems like to hostile mobs, you are still there and in fact somehow you are. When I did it at night and I died, apparently I attracted the attention of a creeper which, even after I died, came over to where I died and blew up that area. Then the camera started shaking violently and only then did it display a death message (for the night example the death message appeared when the creeper blew where I died up and it displayed I was blown up by creeper). If someone could explain why this happens and the mechanisms behind it I would be thankful.
Here is an infinite screenshot for all your infinity needs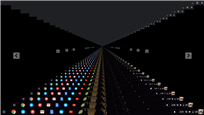 But of course, its not... truly... infinite...