Veritas0923
Tree Puncher
Join Date:

6/13/2016

Posts:

27

Member Details
Many commands will be changing in 1.13. Here is a GitHub gist with the new syntax

https://gist.github.com/Dinnerbone/943fbcd763c19be188ed6b72a12d7e65
Functions are stored inside .mcfunction files, which themselves are stored inside 'data packs'

Functions are then called with the following
/function customdev:functiondev
would call /datapacks/customdev/data/customdev/functions/functiondev.mcfunction
.mcfunction file


Within the .mcfunction file, one valid command is placed per line, without the usual forward slash (/). Players can add comments within the function text file by preceding them with a #.
Individual commands in functions can be longer than the 32,500
character limit in command blocks but the total number of commands run
inside a function will still obey /gamerule maxCommandChainLength, which is 65,536 commands by default; any commands beyond this limit will be ignored.
Data Pack Usage

Data packs can be placed in the .minecraft/saves/(world)/datapacks folder of a world. Each data pack is either a sub-folder or a .zip file within the datapacks folder. After it is in the folder, a data pack will be enabled for that world.

Data packs will load their data based on the load order. This order can be seen and altered by using the /datapack command.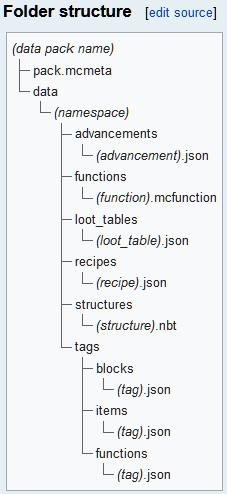 pack.mcmeta

A data pack is identified by Minecraft based on the presence of the pack.mcmeta file in the root directory of the data pack, which contains data in JSON format.

pack: Holds the data pack information.
pack_format: Pack version. Can be any number.
description: A description. This string must exist but can be empty. This description will show when hovering over the data pack in the data pack list.
Example json
{
 "pack": {
 "pack_format": 3,
 "description": "customdev data pack"
 }
}
Each advancement, function, loot table, structure, recipe and tag file can be placed directly in their respective folder but sub-folders are also allowed.

To execute a function every tick

To execute a function every tick you must tag the function with the "minecraft:tick" tag. To do this create the following tick.json
C:\Path_to_Minecraft\world\datapacks\customdev\data\minecraft\tags\functions\tick.json
{
 "values": [
 "customdev:functiondev"
 ]
}
would call C:\Path_to_Minecraft\world\datapacks\customdev\data\customdev\functions\functiondev.mcfunction every tick