tripl3dogdare
Iron Miner
Join Date:

11/23/2013

Posts:

267

Location:

404 Nunya Business Ave.

Minecraft:

tripl3_

Xbox:

Don't have it

PSN:

Don't have it

Member Details
In Snapshot 15w33a/b, a new entity was added called AreaEffectCloud. This entity is used in normal gameplay to keep track of the clouds from the new Lingering Potions. However, it has been discovered to also be a useful marker entity, possibly even a dangerous contender against ArmorStands. This article will contain all my findings about the entity, as well as any other discoveries I find that others have made.
Basic Information:
When created normally (by throwing a Lingering Potion of any kind), the cloud manifests itself as a large area filled with potion particles.
The cloud will naturally shrink to nothing over time.
When walked into by an entity, the cloud will apply it's effect and shrink suddenly.
Now for the stuff that's useful for mapmakers and such:
The cloud is only visible through the particles it spawns - the entity itself is invisible (It does, though, have a hitbox, which can be seen by pressing F3+B).
The entity's NBT data can contain multiple potion effects to apply; they will all be applied at once.
Using /summon to create a cloud with only a Duration tag makes a perfect marker entity - the default Radius is 0.0, which means no particles will be spawned (no overriding the particles with an invisible one necessary! Although, if you need a bigger radius with no particles, just set the Particle tag to "take", which is completely invisible). All the other values will default to the proper values to make it not shrink, have no effects, and overall just be completely inconspicuous.
There is currently no known way to give a cloud inherently infinite duration (you can constantly reset the Age tag, but that isn't handled by the entity itself). The closest that it is currently possible to get is setting Duration to 2147483647, which is the longest possible duration and would take about 3.5 real-world years of being loaded 24/7 to despawn.
Despite having no health or movement involved in it's function, the entity has the tags Invulnerable, Air, OnGround, Motion, and more (unused by default and, according to quick initial tests, reset to their defaults if changed).
Useful/Unique NBT Tags:
ReapplicationDelay (int, default 0): The amount of time between applications of the effect onto an entity that doesn't leave the cloud.
Radius (float, default 0.0f): The radius of the cloud; potion effects will be applied within this area as well as affecting the visible cloud's size.
DurationOnUse (float, default 0.0f): Unknown use; does not appear to do anything noticeable.
Duration (int, default 0): Determines the duration of the cloud; the entity will despawn when the Age tag reaches the same or greater value.
RadiusPerTick (float, default 0.0f): The radius increase per tick (always negative in normal gameplay).
Particle (string, default "mobSpell"): The particle to display.
RadiusOnUse (float, default 0.0f): The radius of the cloud lost upon each application of the effects.
WaitTime (int, default 0): Not really totally sure about this one... I think it's the delay between entering the cloud and getting the effects.
Age (int, default 0): Automatically incremented every tick to keep track of how long the cloud has existed.
Effects (list, default null): A list of potion effects to be applied when inside the cloud (see http://minecraft.gamepedia.com/Player.dat#Potion_Effects)
Color (int, default 0): Affects the color of the cloud's particles (the effect will be different or nonexistant for different particles).
Benchmarking Data:
Inital Benchmarking Data vs. ArmorStands: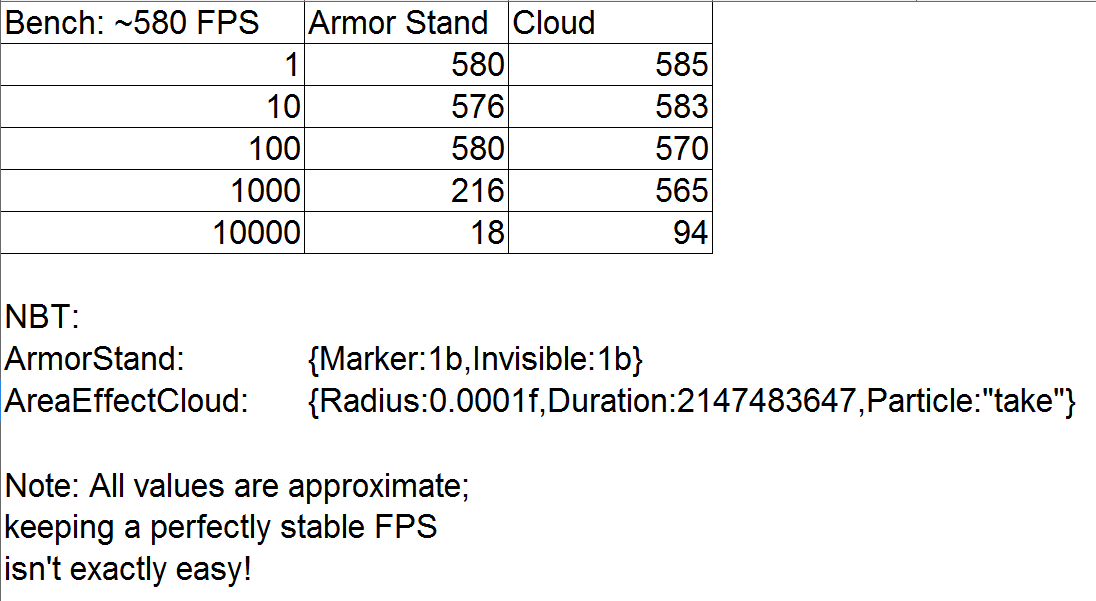 The numbers on the left are the entity count; this test was done in as sterile and predictable environment as could be produced.
Note that this benchmarking was done before data surfaced that Radius:0 didn't spawn particles; performance may be slightly affected and better benchmarking data will be gotten soon.
Please feel free to reply with any extra information you find; I will also update this as I find more info.