creepercraft97T3

Coal Miner
Location:

Let's say it's out of this world

Join Date:

12/21/2015

Posts:

135

Location:

What a rude way to ask

Minecraft:

creepercraft97T3

Xbox:

creepercraft973

PSN:

none

Nintendo:

none

Member Details
I believe tridents are too easy to get for how powerful they are because a drowned doesn't have to be holding a trident for you to get one by killing it. And since drowned are really common in the oceans, it makes it easy to get one. Zombies are even more common and you don't have the risk of drowning to find one and they turn into drowned after being submerged, so all you have to do is create a zombie farm with a batch of water where you kill them and then wait. You now have an endless source of tridents (I have a survival world and I already got 8 tridents that way). However, one might argue the other end saying that you might not spawn near water or that dungeons are rare and not all dungeons are zombie spawners, or that the drowned killing is the only way to obtain them in survival. So let me hear your opinions in your replies: should tridents be made more rare or not?
Here is an infinite screenshot for all your infinity needs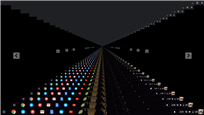 But of course, its not... truly... infinite...