MrBrightsideX11
Carpenter
Join Date:

10/10/2011

Posts:

57

Member Details
This is just a funny little thing I'm writing about in my Minecraft Creative file, where I moved into a new NPC village and was thrust into a house with two NPCs occupying it. I hope you enjoy it :biggrin.gif:
Version I'm using: 1.9 (Prerelease 3)
Seed: paper
Mode: Creative
2011
October 10th
Dear Diary,
Today was the day I finally moved into the new village. I was really nervous, considering the fact that I'm only 18 while the guys I'm going to living with are 25 and 28, I believe. I think they're brothers.
When my Minecart finally arrived in the village, I noticed that part of it was flooded because apparently, someone had accidentally destroyed part of the well when getting water from it. Thankfully the water did not reach to my house.
I parked my Minecart outside the town, then walked to my house. It was a small village, but I had to walk a little because my house was at the edge of the town. My pants got a little wet from my having to trudge through the water, but I could just dry off at my house.
I was told not to laugh or make fun of any of the people in this town. They weren't human, but I can't remember what the name of their species were. All I knew was that they supposedly looked like brown squidwards and that they had low intelligence compared to humans. Though the older guy that was here, Edd, was known to be very smart compared to the rest of the villagers.
Here's a picture that I found online of the town: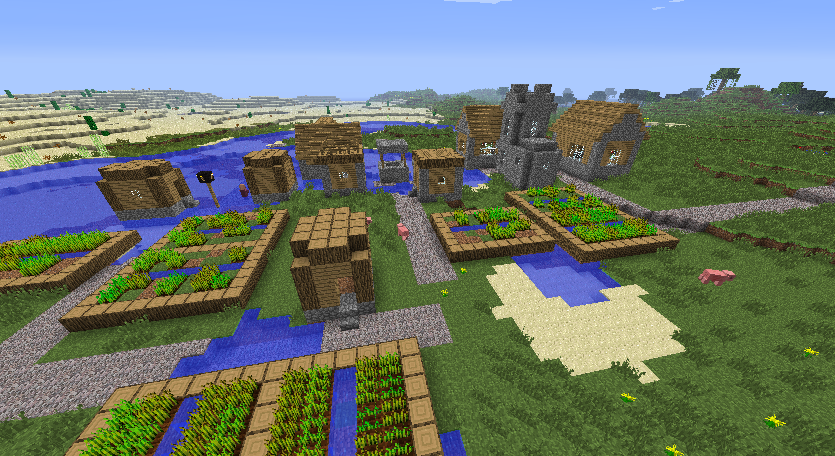 See? It's pretty small.
While I was walking past one house, I heard someone screaming from inside and banging on the door.
"HELP!' They screamed. "SOMEONE HELP ME!!"
Quickly I opened the door to see a villager, standing there, completely unharmed but yet very stressed.
"What's wrong I asked?"
"Oh, thank you so much!" The man gave me a hug. "I was stuck in my house here. I couldn't open my door!"
"Uh, I had no trouble opening it. Why couldn't you open it up?"
"I forgot how to."
I then realized what they meant about humans being a lot smarter. I nodded, said goodbye, then walked out quickly. I quickly walked to my house before anyone else needed me to open their doors.
Thankfully, no more people were screaming by the time I got to my house. Edd and Alex were standing there, just hanging around.
"OH MY GOD! A MONSTER!" Alex shouted, then started punching me.
"Alex, stop," Edd said. "It's just a human. It's our roommate."
"Oh, right. Heya there, human!" Alex said, then vigorously shaking my hand as if nothing had happened. "What's your name again?"
"Ian," I replied. "So... how's it all going for you guys? seems pretty peaceful around here."
"Oh, fine," Edd said. "I was just getting the place ready for you. You can start unpacking your stuff."
"Thanks," I said. "Where should I put my chemistry set?"
"Eh, you can put it next to the door I guess. Anywhere is fine really, just make it look good. Same with whatever else you need to place. Here, I'll unload your bed next to mine. Alex sometimes has nightmares and will flip out during his dreams, so it's best that your bed is on the opposite side of the room."
"Mmkay," I said. "Can you put it for me? It might take a while for me to unload my stuff."
After much work, we finally finished placing all of my belonging down. By the time we were done, it was about nighttime. Here's a picture of the finished house: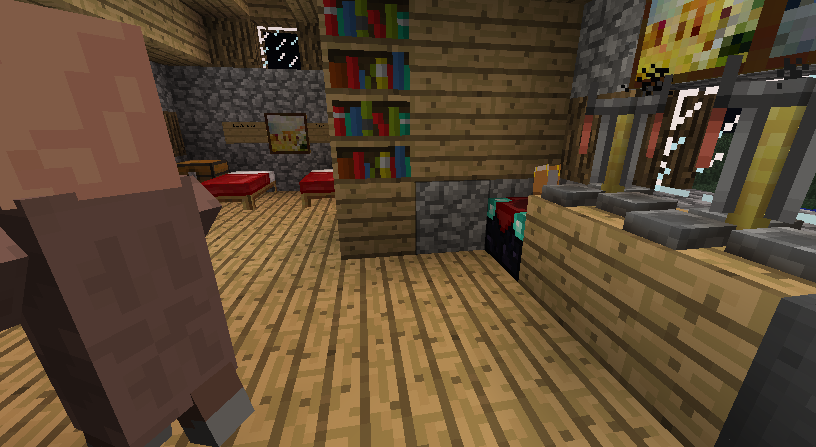 It looks pretty nice, if I do say so myself. I think I might stop writing now, since it's about 11 PM and the others are asleep. I've been writing for a while, and I need to put this safely in my chest and lock it so Alex doesn't try stealing it. As soon as I got it out he went crazy over it, trying to steal it. Oh well.
Goodnight.
Thanks to pokebeaver for the sig.