schmidtbochum
Curse Premium
Stuck at Home
Join Date:

8/22/2011

Posts:

497

Minecraft:

schmidtbochum

Member Details
I'm currently working on the vegetation section. I need some examples for custom trees. Please post your tree creations, so I can add them to the collection

Introduction
Unlike other tutorials, this one does not give you exact instructions how to build a nice (boring) wood house. This one gives you the capabilities to build what you want!
Post your own building tips and strategies in this topic. I will add them to this post.
Main Tutorial
General
Creative Mode: You have an infinite amount of blocks and you can fly. Building is the main aspect of this game mode!
Unlike in survival mode, you are not limited to wood and stone bricks as main building material. On the other hand, the excessive use of diamond, emerald and gold blocks does not express your wealth!
Creative Mode is about architecture. And like a real architect, you have to plan your projects!
Some General Tips:
Think BIG - Just make a column or a window 3 blocks wide, instead of 1. Leave space for details!
Play TOGETHER - Try a Creative Multiplayer Server
Build UNIQUE - YouTube videos are a good learning ressource. But don't make exact copies of structures you saw on YouTube. Build something that has never been done before!
Inspiration
Don't know what to build?
Look at the List of the most famous landmarks in the world.
Search pictures of buildings and landscapes you saw in a movie or video game
Look at some of the great works people have made already, study why they are so great and learn how you can improve your building from it.
Try joining a high ranked creative server (there are many).
Of course, you don't have to build exact replicas. Look at the architecture of the buildings. Maybe you can integrate some elements into your building.
Remember, there is a big difference between an inspired build, and a copied build.

when I want to build something, I consider this:
[...]
Do I want it to look fancy, not so fancy, normal/average, not so good, poor, bad (well, world dont
have only amazing things and thats what make amazing stuff even more amazing)? depending it is time to look for ideas/concepts/models at the internet and other places like books or visiting a place.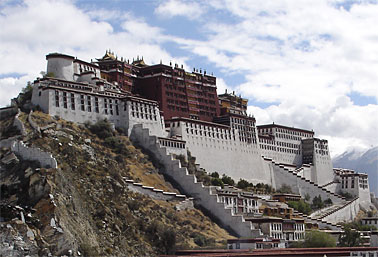 A palace in Tibet
Choice of Material
Before you start building, think of blocks you want to use.
Never build with only one material! use at least 3 or 4 different materials, and about the same amount of every material.
The purpose of the block (in survival) doesn't matter. Just experiment!
I really liked this topic! Playing on servers, I have seen many disgusting builds, and I hope the idea of building with detail and thought catches on so that we don't have to see those awful builds anymore. I suggest adding to the choice of materials section by explaining some pleasing block combinations more in depth, like how t use lighter and darker colored blocks, different colors, and detailed blocks to your advantage. Pleasing color combinations can be found anywhere on the web, and you can use chiseled stone and sand stone for column ends, as well as steps and half slabs.
Some simple combinations
Different window materials
Layout and Foundation
Minecraft is a blocky game, so most buildings are square-shaped. So boring...
With the
Minecraft Circle Guide
or the
Circle Generator
you can easily make circles.
Bigger circles look much better, so don't build too small!
Combine squares, circles, diagonal lines and columns for a good looking design.
Avoid large flat walls by adding small annexes and corners.

#4 - I consider the basic structures like pillar, girder, column to give it volume enough to fit it and fit, at least, the player and the structures inside, even if the basic structures are part of walls and roof. I think this is a kind of details that make the build look more solid, more realistic also add details or control the details I will add on a way it can look better depending on how details are added

#5 - would go at #4 too but, I consider the shape I want to build. I make a draw with blocks on the floor to check 2D shape, rise pillars to check ITS height and 3D shapes then if I need to change something at this point, Im still just starting the build.
Tip: Most building have a 1 or 2 blocks high foundation made of different blocks.
Combine columns, squares and circles! (This building is a bit too small for a good looking circle...
)
Wall Design
Walls are maybe the most important part of a building. Many players just make 1 block wide walls using only one material. Those walls are flat and monotonous.
A wall can be 2 or 3 blocks wide!
Add more depth to your wall, outline window frames, columns and horizontal lines.
This is an example for bad wall design: Only one material, no depth, no structure.
Castle wall with ornaments
A solid looking wall

Note the separated foundation and the depth of the wall. The windows illuminate the wall at night.
A perfect example for good wall design. Two materials, depth and a a repetitive pattern. Again, size matters!
Roof Design
The roof - maybe the most neglected part of a building. Most buildings in Minecraft have flat roofs, or the classic pyramid roof (preferably made of stair blocks).
Be creative! There are so many possible roof designs. You don't have to use slabs and stairs, you can use any block!
Tip: Most roofs are overhanging with drip mouldings.
A roof inspired by Asian and Indian temples
The roof of this castle is split up into many parts, outlined by pinnacles.
Overall Composition
You learned how to build foundations, walls, windows and roofs. Now you have to combine these elements. The keyword is
continuity
: Don't use too many materials. Don't add too many different design elements, repeat them! I know, building the same wall element more than one time is boring and a lot of work, but necessary for impressive architecture.
The Acropolis, the Colloseum and the Taj Mahal are made of such elements, e.g. columns, towers, arches and domes.
Also check the proportions of your project. Do all storeys have the same height? Are there too many flat faces?
Architects proportionate their works to approximate the
Golden Ratio
(Harmony). The golden ratio is about 10 : 16 (20 : 32, 5 : 8 etc.)
Golden Ratio. In Minecraft, a column could be 5 blocks wide with 8 blocks space in between.
Specials
Special: Flexible Interior Design
Many players start with the outer walls of a house, like we did in this tutorial. Interior is a difficult topic, because you can't paint a wall with a different color on the inner side, so you have the same wall material on the inside, and the same block for floors and ceilings.
To solve this problem, just make separate inner and outer walls, separate floors and ceilings. A room inside a building does not have to fit the outer shape of the building. Rooms are just containers inside the building.
You need a big building for this technique, because you need at least 1 additional block of space for separate ceilings and walls.
Tip: The space between the inner and outer walls can be used for vertical redstone wires, if you want a light switch on a wall.

problem with interior, is when you build something for its external view and make it way too small (what usually happen when players try to replicate cities. minecraft 1x1x1 meter blocks just dont allow that to happen as walls tend to have just some 15 to 20 cm instead of 1 meter, what make a 3x3x3 room to be a 1x1x1 room, a 4x4 room to be a 2x2 and so on, you always lose area when you do that and for minecraft to look good, you need even more area than what it would be needed at real life), then if you want to build interior it will eventually look crap because of buildable space. I`ve made some practices to check how much space I would need to build a proper interior for bedrooms, kitchens, living rooms, etc, so I could have an idea of the area I would need when I start to build, and I usually start with the pillars or, when its too big, start with a line draw at the floor to check the size and shape, but already considering the area for the space needed to build a proper interior.
Unflexible design: The wall is just 1 block wide, you can see the endstone and window frames inside. Also, the floors and the ceiling of the room were merged in one block.
The same element, this time with separate walls. Every room has its own walls, floors and ceilings.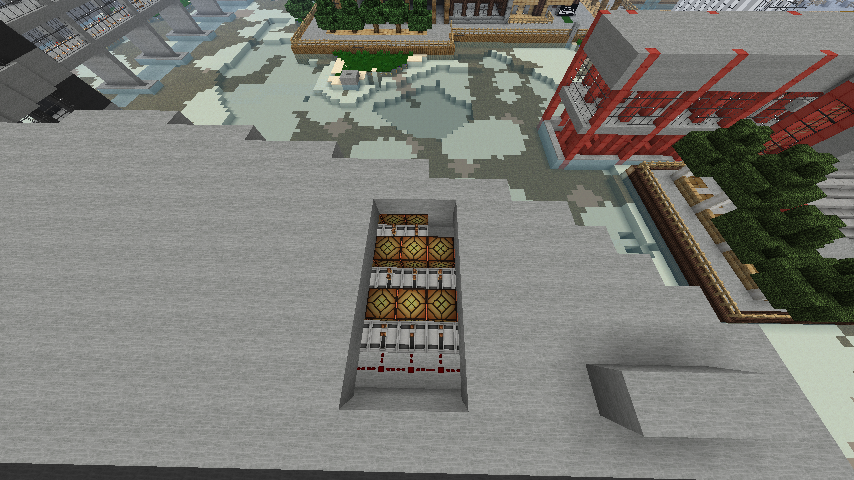 "Utility Space" for redstone and light between each floor (thanks to Robames)
Special: Lighting
Lighting - that sounds simple. It is for small buildings. But what happens when you want to build a massive hall (e.g. a cathedral).
There are 16 different light levels in minecraft, and different light sources:
Direct Sunlight
Light-emitting blocks (Torches, Glowstone)
Light affected by Light-filtering blocks (Ice, Water, Leaves)
The problem: Only sunlight travels vertically without loosing intensity, as seen in this image:
Different materials affect the light
The only way to light up large rooms efficiently is sunlight, because Torch/Glowstone light looses it's intensity: Your chandeliers will not light up the floor of a hall that is higher than 15 blocks.
At night time, the natural moonlight still provides a higher light level than a torch that is 15 blocks away.
If you don't want overload your structure with light blocks, here are some
Solutions:
Glass domes and glass windows in the ceiling.
Hidden Light Blocks (behind columns, in window frames, under leave blocks)
Small holes in the ceiling
1x1 Holes in the ceiling to light up large halls.
Special: Texture Packs
(by Milikeny, edited by schmidtbochum)
Texture packs are your friend, if you want to really bring your build out, a good texture pack that reflects it's theme could easily make it look much better. For example, I have my flatlands build I use to showcase my friend's texture pack, and it looks better with his texture pack because the default's cobblestone and stone textures don't correspond as well, and other various reasons.

The problem is: When you play on a creative server, other players may use different packs. I recommend you to use the default pack or the official texture pack of the server.
Special: Organic Structures
"Organic" means in an architectural sense means "formed by nature". I just want to cover some of the basics. Make sure that you read the "Layout and Foundation" section of the main tutorial.
One of the easiest shapes that can be named "organic" is a sphere. The easiest way to make a sphere is to build one circle in every dimension (The cross-section of a sphere is always a circle). You get a skeleton of a circle. Then you just fill the are between the circles with blocks, so that the shape looks rounded and smooth.
Building a sphere
You can apply this technique on every organic structure, first, draw the shape of the structure with blocks like on a piece of paper (just like pixel art)
Do the same for at least one other dimenions .Draw the cross-section of the body, the tail, the head, it has to cross the lines of the first dimension. You get a simple 3-dimensional skeleton. Now fill the holes between the "bones" with blocks. Look at the changes you made from far away and correct blocks that don't fit.
Unfinished Minecraft T-REX
Another way would be to make a structure layer by layer, like in this example.
"Wood Man", built layer by layer. Just out of the head.
Problems:
It's hard to add depth/repeating elements to curved walls
most organic structures are extremely big
Organic structures are a highlight on every map! Building the Empire State Building is one thing, but a giant King Kong climbing up makes it epic.
You will find many tutorials and videos talking about "Dynamic Builds". Nearly all of them are organic structures.
Real organic architecture
Discussion: Macro vs. Micro - Usage of slabs, stairs and other special blocks
In my opinion, size is the key. Of course, you can build small detailed houses. But there is a limitation:
Slabs, stairs, fences, stone walls and other "fake blocks" are required because the resolution of classic blocks is too low.

It limits your choice of material. There are no wool stair blocks and no clay fences.

For me it is a philosophic question: Minecraft is a block game. Every block is 1x1x1m. Additionally, there are special blocks like stairs, slabs and fences. For me those blocks have a purpose (like protecting your house).
Especially when you build bigger houses, you should try to use classic blocks. Too many special blocks destroy the character of the game. slabs, stairs and stone walls are "micro blocks" (0.5m).
Those are very good for small buildings and details, when blocks are too big.
Example: Building a castle
(by IronwillNeo and XxODST RoflCopterxX)
[quote=IronwillNeo;/comments/8769263]
yes, a castle need details, yes, a texture pack always make it better than with default texture pack, still walls don't need to be flat and building don't need to be without architecture, also it is not a matter of texture pack that will change anything. you can make it the shape you want, without the details, that can be added with either default or other texture pack, it need 3D details like pillars and girders, arcs and things with some different shapes to add depth to it, not only a different texture pack.
about a castle being built on a hill, well:
Yes, they can be built on a hill, that's no problem at all and, considering what makes a castle, it can be built...
Floating:
Merlins castle from D&D
Underground:
By the side of a mountain:
Lord of the Rings Minas Tirith
Underwater:
...that's no limits to what you can do and how, and can be built with different textures, shapes, sizes and inside buildings, like Minas Tirith, or not, also shape or texture depend on what you want it to be (also, if someone else play at your server or with your castle file using default texture pack, if you built it to look a castle just with a certain texture pack I think it might not work for everyone so I think if it is to be built for a certain texture pack, that this texture pack make sense with other texture packs also with default texture pack).
I started the castle making the corner pillars (just a set of blocks up) then I connected the pillars with blocks to check the main layout and size and shape (if I cleared environment I would have done that at the floor).
So I started building the walls of the plateau (I used the plateau as courtyard, still you can do the same with a courtyard, make the walls to check it) then I made the first tower at the corner of the plateau (what would be the corner or side of the courtyard wall at a conventional medieval castle) that have a clear view of the external area without need to leave the tower (thats the idea of the external tower and any other tower, to have the greater sight as possible without leaving the tower).
If you start the castle by the courtyard and not by the castle itself, then you should make the courtyard big enough to fit a castle as big as what you want and to remember a courtyard is not just a corridor that lead to the castle so you also have to consider area enough for the courtyard and the castle if you do that so, the easier way to build a castle is to make the castle or castle layout first then make the courtyard.
After I completed the plateau (courtyard), I draw the castle layout over it (what you could do is to draw the layout of your conventional medieval castle with the courtyard or after the courtyard is completed, up to you. In my situation I had no other way as the castle would be over the courtyard so I had to build it first) the, again, I started placing pillars to check size and shape considering the size of the rooms I wanted for the castle and how many rooms I wanted (had nothing "planned", just an idea of what I wanted. made no draw at paper or anything else).
[quote=XxODST RoflCopterxX;/comments/8766115]
Other Useful Resources
More Coming Soon!
Special: Vegetation
Special: Hand-Made Terraforming
Would you like to see more tips and strategies?
Join The Colony! A creative freebuild server!
IP: colony.minecraft.to