MCTactics10
Full Stack
Join Date:

6/4/2012

Posts:

69

Member Details
Take Part In Building One Of The Worlds Biggest And Most Realistic Minecraft Worlds To Date.
Hello, I am Startis Ghost, or Ghost Host Pro, or Ghost Host, or Ghost. Anyways, I have been building on Minecraft since before it came out on the Xbox 360. I love to build and create and share with people my ideas. I have always been a fan of "Big Builds" and have always liked modern cities. In the past I have played on many servers on PC that are modern cities and said "WOW, that's cool." I have also tried to build massive 1:1 - 1:1.5 scale airports, but could never finish them. But now I have the time and patience, along with many other builders to help me out. I am currently working on what I believe will become on of the worlds biggest and most realistic Minecraft worlds ever. The main city is called New Haven, and the start or spawn is in a hotel called "Grand Haven" and is 8 stories tall with 120 regular sized rooms, 60 suites, and 10 penthouse suites, along with one presidential suite. Outside of the hotel is a round about which leads to "Ghost Host International Airport" named after me of course. More information can be seen in the "Airport Update #1" down below. This city will feature real life monuments and buildings along with custom builds that you the player can make up.
Economy:
(Currently Not Working)
In this world there will be a working economy, but not until a lot of the main city is built, and this is because we don't know how big the city will be so we can't add player plots or small towns yet. But when we get that far, the economy will work well. Everyone who joins will start off as a tourist with no building abilities, but you will get some starting money and the ability to kill animals for food or something along the lines of that so you can get more money. Everyone will get a room in the main hotel and can upgrade to a suite or penthouse suite whenever. You may also sell your room for money. You will be unable to customize your room until you buy a Grunt building permit which allows you to only build in your room. As you gain money you can buy better building permits. Buying better building permits will allow you to build more and bigger, based on your building permit, this will determine how big of a plot you may buy. But you must have a building permit before buying a plot. At the plots you will create a realistic suburban, modern, farm, etc. house, business building or store, to prove that you can build well. If you build a worthy plot you can achieve a higher building rank. Permits and Ranks are two different things. Permits allow you to build in certain areas and sizes. Ranks allow you to become world builders and help make the cities and towns larger. If you don't make a worthy plot, you can also role play and have your own job and store that is pre built for you. Do good at your job and get bigger companies and stores. Progression in this world is everywhere. From building, to ranking up, to getting more rich, and to getting bigger companies. In order to build anything though, you must buy the blocks from the merchant shops around the area.
Permits:
Grunt: Ability to build within players hotel room, store, etc. Comes with
Builder: Ability to build within players hotel room, store, or 10 x 10 plot.
Elite Builder: Ability to build within players hotel room, store, or 15 x 15 plot.
Master Builder: Ability to build within players hotel room, store, or 20 x 20 plot.
Creator: Ability to build in the world, customize rooms, furnish buildings, etc.
Ranks:
Tourist: Can walk around and site see.
Citizen: Lives in the world and holds a job.
Resident: Lives in the world, owns a business or holds a job and can build.
Designer: Can do all of the above, and helps with big builds. Comes with creative.
Master Designer: Can do all of the above, plus ability to design buildings.
Director: Can do all of the above, and oversees large builds.
General Rules:
No building without being in party.

Do not build something unless told to build it.

Have a mic. ---MUST HAVE SKYPE!!!---

Fire spread and TNT are always off, so don't think about it.

Do not ask for permissions.

Any age.
Here is some concept art of what will be added to the world.(Look down below to see larger images)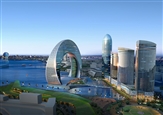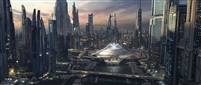 Updates:
In the world right now, there is a the Grand Haven hotel, roads leading to the airport, Ghost Host International Airport terminal 1 baggage claim and check in buildings. Highway that will go through the main city and around a lake that is behind the hotel. The lake is currently being worked on and is close to being finished. It needs to be naturalized (meaning that it needs to look like it was generated into the world), then it needs to be filled with water. The hotel is almost finished, all it needs is a few decorative designs and the outer part around the hotel to be finished. The airport needs a lot of decorations, walls, exterior, runways and such. But anyways back to the city. The lake is going to be the focal point in the world, as the city will be going around it. On one side, there is skyscrapers, and as it goes to the other side the building get smaller. The other side will be wealthy housing for those who like to build mansions, but these houses will only be for those that help a lot in the world. It will be a gated community for the rich, right on the lake. Along with this city, there will be a very large futuristic private military base being built far outside of the city.
Airport Update #1
Right now we are working on the Ghost Host International Airport which is New Haven's airport and the main airport of the server. It will consist of two Check-In and Baggage claim buildings, and three terminals with possible expansion. The first Check-In and Baggage claim area is under construction and is currently the only building up on the airport. The airport needs builders to help with making walls, building restaurants, subway systems, decoration and more. This is going to be the biggest build on the server. If possible, the airport may become the biggest airport on Minecraft.