rushzer0
Gold Miner
Location:

Cape Breton Island

Join Date:

5/17/2012

Posts:

365

Xbox:

RushZer000

Member Details
Hello everyone, in this thread I will try to the best of my ability to help you reduce some of the lag in your redstone creations.
Now first we must know what causes lag in XBLMC. Well there are plenty of things that can cause lag. I will name off a few.
Entity count - Too many animals, mobs, items on the ground etc will all cause lag.
Light updates - The initial creation or deletion of light will cause lag due to the game having to update the block light levels (this is important and I will discuss this more later)
Redstone - It's a fact of Minecraft due to the block updates and calculating game ticks, however this is not the huge lag inducer people think it is. (I will elaborate more on this in a moment)
Block updates/Entity calculation - Everything from pistons pushing blocks, water flowing out, animals or mobs jumping around in water, TNT going off (and throwing more TNT around), sand or gravel falling, to using your fancy Efficency 4 shovel can and will cause lag. Due to the updates that these induce wether it's mob behavior or block updates (ghost blocks when using shovels much?) or entity calculation (think falling sand or TNT getting flung everywhere)
Certain Blocks - Some blocks are just inherently laggy when a lot of them are present in one area, these include fenceposts and leaves.
Ok so now that we know a few things that can cause lag how do we combat this? More to the point how can I prevent my circuits from lagging?
Well first off why are your circuits lagging? Now here a lot of people will say "Oh, it's because redstone just makes the game laggy etc..etc.." While this can sometimes be the case the true culprit of most redstone lag comes not from the redstone, but from block light level updates.
Now you maybe saying "Whatchu talkin bout Rush?" Hear me out on this, and you will understand.
First off let's do some experimenting to show just how bad block light level updates can be (I will now call them BLLUs for the sake of not making this a wall of text) Start by making a blank superflat creative world. Now go up about 50 or so blocks and make a 50x50 platform one block thick of any block that isn't transparent, such as cobblestone.
Now you should have a pretty big dark patch underneath the platform. Now go somewhere near the middle and punch a hole. Did you experience the lag? Now what could be causing that? Well it's BLLUs. See the way the game works with BLLUs is that when you punched that hole in the platform it is actually checking EVERY BLOCK IN THAT CHUNK BELOW THAT AREA. This includes air blocks, as it checks them for transparency. So you can imagine how many blocks the game has to check just for the sake of one block being removed.
Your probably saying "Rush this is all well and good, but what does this have to do with my redstone?" Well it has a lot to do with your redstone actually, because redstone actually has two components that give off light, the redstone torch, and the repeater. The redstone dust does NOT give off light. Suddenly things are starting to be clearer. Not only are you getting minimal redstone lag but your also getting the worse BLLU lag. Think about it whenever doing some complex wiring what does everyone usually do? They usually run wool or some other sort of block up and around wherever they are working to move the redstone where they need it. Chances are you have some repeaters or maybe some redstone torches that invert every so often no big deal right? Wrong. As these repeaters and torches turn on and off they are producing light which leads to lag, even worse still is if they are on just a single line of blocks because that extra light is leaking over the edge and causing even more BLUs.
NOTE: I had problems taking screenshots on my xbox so i took these on the PC but you will actually be able to see the difference better and the effect BLU have on performance take a look at my FPS in the upper left hand corner
Here you see my FPS is 667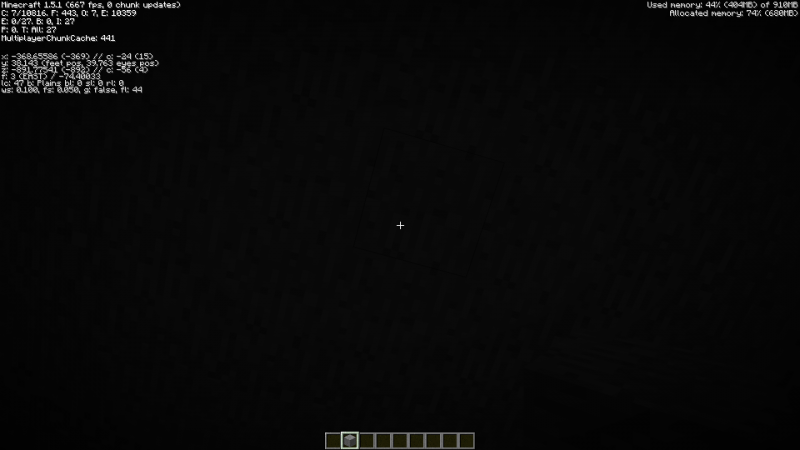 These are taken right after i broke the blocks allowing the light to enter, notice how my FPS drops to 585
Even worse when I replace the block and update the BL again my FPS drops to 244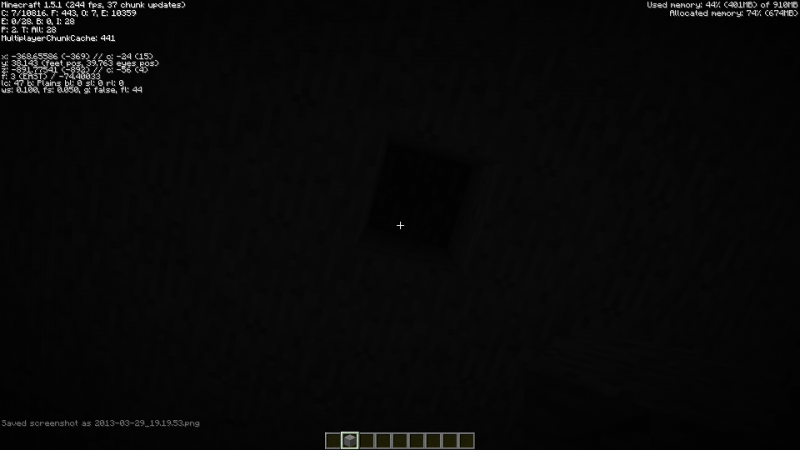 So then I created this simple clock in the dark zone notice my FPS before I start it up 646
My FPS quickly dips to and hovers around 423 with it running in a dark area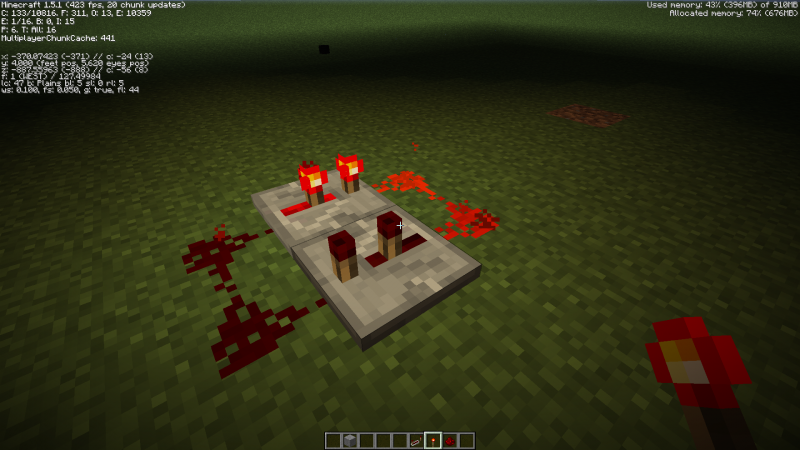 Ok so how do I stop this from happening? Let me introduce you to your new best friend...Glowstone. Yes that's right glowstone. How will this help ms you ask? Well let me tell you. If you were to encase your redstone torches and your repeaters in glowstone (generally 3 blocks in front, behind and on top of your redstone torches and repeaters) that would saturate that area with block light meaning that when the repeaters or torches change state there would be no BLU, thereby eliminating the lag caused by them. It's really that simple, this method can be used on big circuits or small and it will make a difference.
Look at my FPS when I encase the circuit with glowstone 629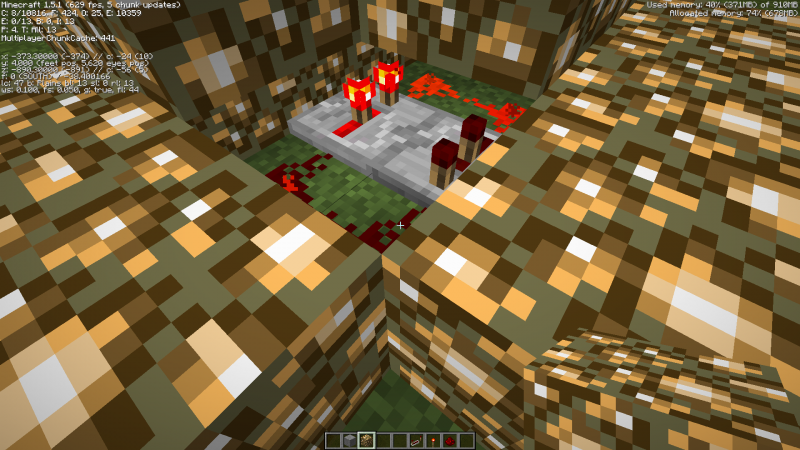 Other things you want to watch out for are pistons as they become transparent when extended in this case you may want to saturate both sides of the piston where applicable.
Thanks for reading