FayzedNZ
Retired Staff
Lapis Lazuli Collector
Join Date:

6/22/2012

Posts:

962

Xbox:

FayzedNZ

Member Details
by FayzedNZ
Because of the increased Slime threads on the forums I have written this guide to further help the knowledge of the community on Slimes for our current xbox version. Feel free to reply to the thread for further assistance, and post screens of your working farms.
Table Of Contents
Change Log


Update: 20/10/2012
Added info
Update: 17/09/2012
New improved guide, hope it looks better.
Update: 23/07/2012
Info added about glowstone (also tested myself and can confirm).
Update: 15/072012
Changed due to being able to see your world seeds now.

Please note: Due to the recent version change to 1.8.2 people have been worried whether or not the slime finder tool still works. Yes it does, the slime chunks are in no way effected by the new terrain changes. Hope this clears things up

Mob Info

Slimes. As annoying as they may be, they serve a greater purpose for us.
Slimeballs, which are needed to make Sticky Pistons.

They come in 3 sizes.


Small - 0.6 block cube.
HP - 1
Damage - 0 (They just push you, which can be annoying)


Medium - 1.2 block cube.
HP - 4
Damage - 2


Large - 2.4 block cube.
HP - 16
Damage - 4
(images provided by minecraftwiki)

The small ones are the ones we're interested in, cause those are the ones which have a chance to drop 'Slimeballs' .
They can drop up to 2 slimeballs and sometimes none (0-2).

Slimes will move towards a player if they're within 16 blocks of them without line of sight.
If you're not within range of this then they will just hop in a straight line from the last direction they were facing.




Overkill



Its possible to overkill slimes in our current version (and next version too) doing this will result in a bigger/medium slime not splitting into its smaller self. Its good to use Bow/Arrow, wooden sword/tools and your hands, some people even use flint and steel to light them on fire. You can use better tools/swords to kill them you will just have to figure out how many times with each you can hit before switching to a less damaging item. (look up tool damage and compare it with the slimes HP)




Spawning Rules



Slimes only spawn in specific chunks (known to everyone as Slime Chunks) that are randomly generated with the worlds seed.
A single Chunk is 16 wide by 16 long and 128 high
Slimes will spawn in any light level and from layers 0 - 16 (once we get into our 1.2.3 update they will be able to spawn from 0 - 40 making them much more common)
Even on bedrock (This was changed later because mobs were spawning on top of the nether)
They will not spawn within a 24 block radius around you.
Knowing that they spawn in any light level is key to us.

Until official release (which would be our 1.2.3) Slimes will be able to spawn on Glowstone (as of 1.6.6 glowstone is treated as "Stone" in official it is changed back to "Glass") Now I will still stand by my "Slimes wont spawn on a space occupied by a torch" I have seen Xisumavoids Myth Buster video where it shows them spawning on them but that version he was using is 1.2.5 (or greater) I have tried on PC 1.7.3 on a flat land and couldnt get 1 to spawn, i added a couple of dirt blocks above the torches and straight away I got slimes spawning.

Slimes do not despawn when switching difficulties like other hostile mobs do, this has led people to believe that slimes spawn on peaceful. They dont, the slime you seen had already spawned on 'easy/medium/hard' and remained there after switching to peaceful.
https://twitter.com/...300577314275329




Efficiency



Because slimes have such a small spawn rate we need to make our slime farms more efficient.
There are a few ways to do this, but the major one is light.

We want to light up areas so no other mobs can spawn, we're taking advantage of the fact slimes spawn in any light levels. This includes caves nearby (well mobs can spawn up to 128 block radius around you) so lighting up all caves in an area will help efficiency skyrocket. You can also add multi tiered spawning pads to increase spawning space for more slimes to spawn on.




Slime Finder App



The slime finder app is used in conjunction with your map seed to locate slime chunks, there are various tools out there for this. I recommend this one here
http://extension.ws/...aft/slimes.html

(people have been having problems using IE with this tool, please use FF or Chrome)

Also a few of you have been getting confused as to how the app works which is why I created a little picture describing whats what and the steps to take.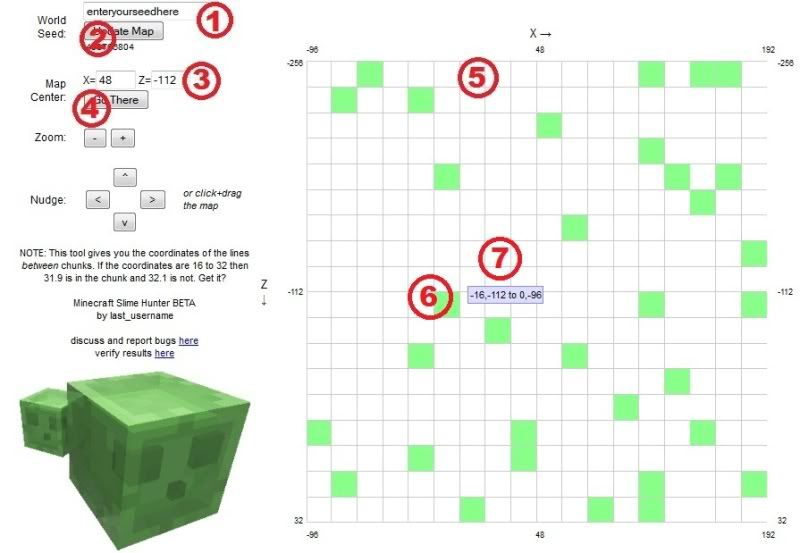 1: Here is where we enter our seed.
2: Then we click this Update Map and it will show slime chunks on the grid ( 5 )
3: We can center the map on specific coordinates by entering them in these 2 boxes ( x and z ) This is so we can search around a specific area.
4: We then click Go there so our grid gets updated to those specific coordinates.
5: This is our generated grid from our seed.
6:The green squares represent slime chunks and if you mouse over them it will display the chunks border with coordinates.
7:Our coordinates of the chunk border displaying in this pic -16,-112 to 0,-96
This part confuses alot of people.
You could say looking at the grid, top being north that -16 is the top left of the chunk, -112 is the bottom left, 0 is the top right and -96 is the bottom right. Our border is made up of these 4 coordinate numbers. -16 being 'X' -112 being 'Z'.
You would travel to -16 'X' and dig out the perimeter of your slime chunk don't forget under layer 16
(-16 x dig until you hit 0 x, then to Z -96 and back to Z -112) after you perimeter is dug out you then want to dig out everything inside that border.
You can see your seed before you load up your world to play along with the Invite Only, Allow friends of friends list.
Slime Farms



I wont go into too much detail here until we get our adventure update, but roughly
You want some kind of spawning pads, its a good idea to have them at least 2-3 blocks above bedrock so you can have water channels along side of the pads for the slimes to hop into.
These channels would lead to a corner (or area) where you would have your grinder, usually a drowner to drown the big/medium slimes into small ones. The small ones are then usually transported via ladders/water to a collection point ready for killing (either by the player or fall or some other means)


More info to come, If this has helped in any way please feel free to +1 rep it. Hope it was helpful

~Fayzed