IGotBars
Tree Puncher
Join Date:

9/20/2014

Posts:

10

Member Details
Hey Guys, IGotBars here, and today im proud to announce
Roxville City
along with all my other creations open to the public.
I will be doing a livestream and video demonstartion this soon but for now i only have this to show:
My City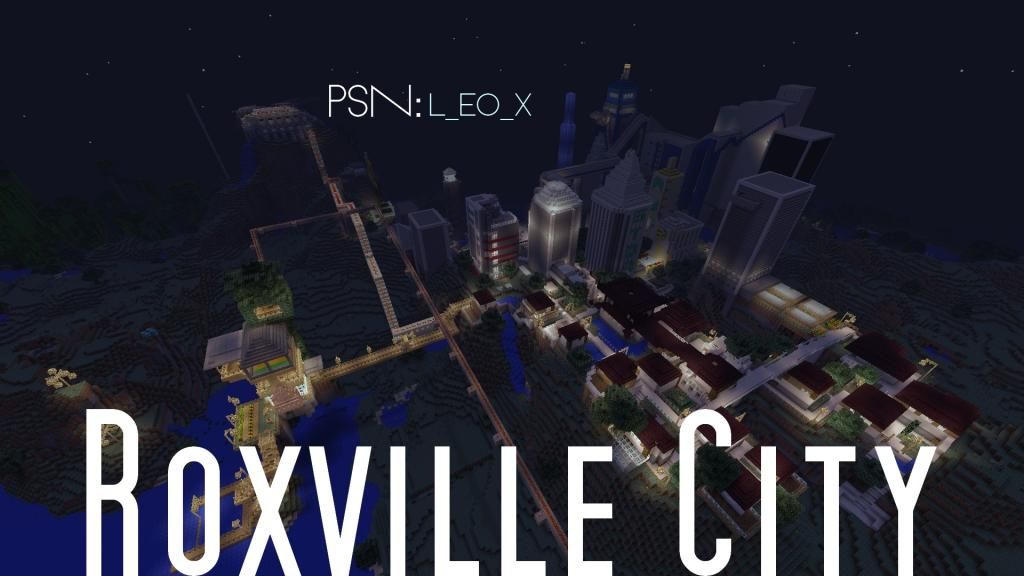 City Features: Currency (Bank),Police Station+Prison,Restaurents,Residence (ChinaTown),City Hall,Arenas,Working Elevator,PIston Doors, Secret Tunnels,UnderGround City (Tokyo) Train sation Stretching 5 biomes away! And much more but you'll have to see 4 yourself.
Let me remind you, this city is in fact FUNCTIONAL. Everything from the lights, doors, to the water system are controllable. Everythings automatic too
, so basically the city's "alive" and you can indeed control this city at will (ONLY IF YOUR MAYOR THO WHICH IS ME LOLOLOL)
Okay so now that you know that, when you spawn you'll spawn at the train station and there, you can either ride to:
1. Roxville (City) 2. Jungle ManHunt 3. Black Island 4. Dragon Dungeon 5.TripLand aka Redstone Mushroom Island
6. Pig Island 7. Battle Island and so on....
Jobs Include: Miner(s),Farmer(s),Bank Holder, Chef,Cop(s), Redstone Sensei,Ninja(s),Fisher,Builder(s), Explorer(s), Scientist(s) and last but not least the tourist guide guy...
Okay so the city works like this...
You are a casual citizen you got your own skin pack and everything, and you.... lets say choose to be a chef, you would want to head to the restaurent and ask around for a job. Frankys the waitress there so he tips you on a riddle... "Potions Make Solutions" . What does that mean.?
Think of it like this
You have nothing but the room to explore, solve the riddle. You get the job! Every Job in the city has a story to uncover, and plenty of other side (tasks) to discover. And even after you get the job you'll still face challenges and plenty of goodys to collect on the way. Dont worry about knowing all the other jobs, everything is explained once you join my game.
Do we get payed? How does the currency work you ask?
Yes you do get payed! Every job listed on here does get a paycheck and the way that works is , you work desired hours and you head down to the bank and collect your money there. On here, you get payed Hourly/Daily depending on job. The Money systems pretty easy to understand its
1 Gold Nugget= 1$
1 Gold Ingot/Bar = 10$
Emeralds, and other miscellaneous items all have there own values so you dont have to work to get money.
Thats the beauty of Roxville.
Speaking of beauty, did i forget mention roxville is NOT THE ONLY PLACE TO BE AT
As a matter of fact my city is only 30% of what my worlds capable of. i have other things like dungeons, islands, arenas, and even an underground city called Tokyo, its right below the roxville but in the nether so make sure to go ther aswell (:
Fear no more!
If you crave adventure, resources or maybe just a challange theres Dragons Dungeon.i also have a long list of islands to discover too and each and one of those is a different mini game varying from simple pvps, parkour, tnt run all the way to piggy island where you race your "Fast Chops"
Well Yea thas it! Thas all ill show you everything thing else is a suprise
See you there
P.S, When u do add me please join my party immediately
Communication Plays a Big Role Here.
*IMPORTANT REQUIREMENT*
MUST HAVE MIC