Paril
Curse Premium

Lapis Lazuli Collector
Join Date:

10/12/2011

Posts:

980

Minecraft:

Paril

Member Details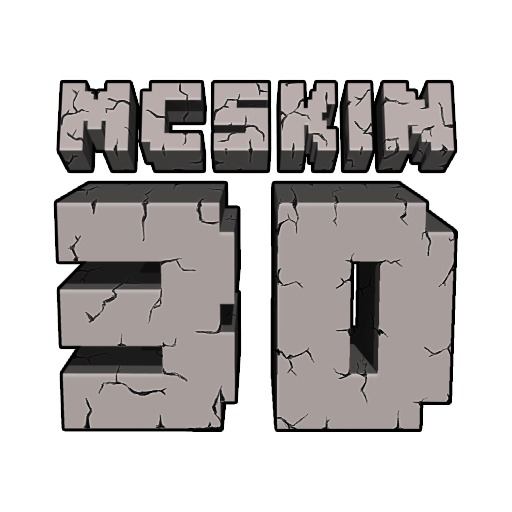 [url=http://facebook.com/mcskin3d/]Check us out on Facebook![/url]
READ THE FREQUENTLY ASKED QUESTIONS BELOW! I'm tired of answering the same questions over and over again! D:
Current version: 1.6.0.602 (May 6, 2016)
Well, what is it?!
(ordered in time they were sent to me at, not because I pick favorites)

Video of the now:



1.3 Videos:


Older Videos:


Hey there guys!


I'm new to the Minecraft scene, but, after seeing the inflow of skin editors and not being very satisfied with them, I decided to take matters into my own hands and start developing programs for Minecraft. My first release here, I present to you MCSkin3D: a 3d, real-time skin editor for Minecraft!


Unlike other real-time editors, this editor actually lets you paint on the model, as well as the 2d texture map, also providing a neat management facility for all of your installed skins, and a convenient upload button.




MCSkin3D is both a skin management and skin editing tool. It holds all of your skins in a convenient place, lets you manage them from within the program, and even lets you upload your skin directly to Minecraft.net without ever needing to open a browser.


I consider this one of my first "public" programs, as in one that I've released directly to a large community - hopefully it's well-received and I hope you guys don't go too hard on me, but, here we go.


MCSkin3D was inspired by several sources, notably Q2MDL, an old Quake 2 skinning tool, SkinEdit ([url=http://www.minecraft...alpha-3-pre-7/]http://www.minecraft...ha-3-pre-7/[/url]), an excellent 2d skinning program for Minecraft, as well as modern editing tools such as The GIMP.


The code is licensed under the GPL, and visible here:
[url=http://code.google.c...om/p/mcskin3d/]http://code.google.c...cskin3d/[/url]


Before attempting to use the painter, please go through the View options and get to know them.



3D Mode: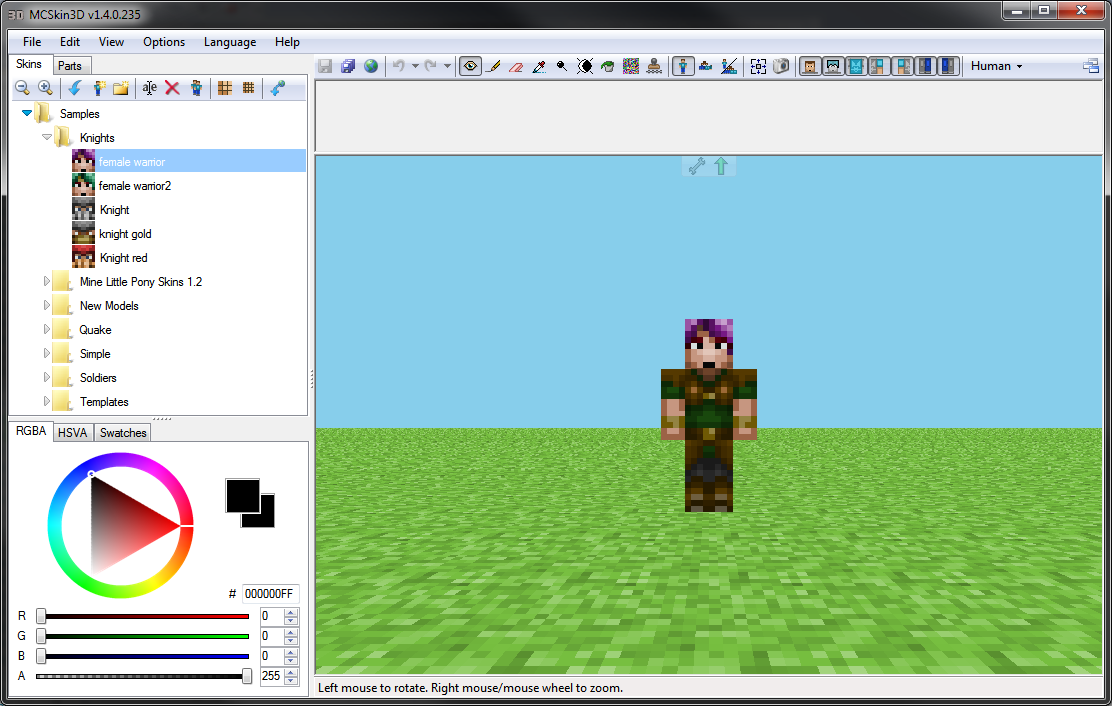 Good ol' 2D Mode: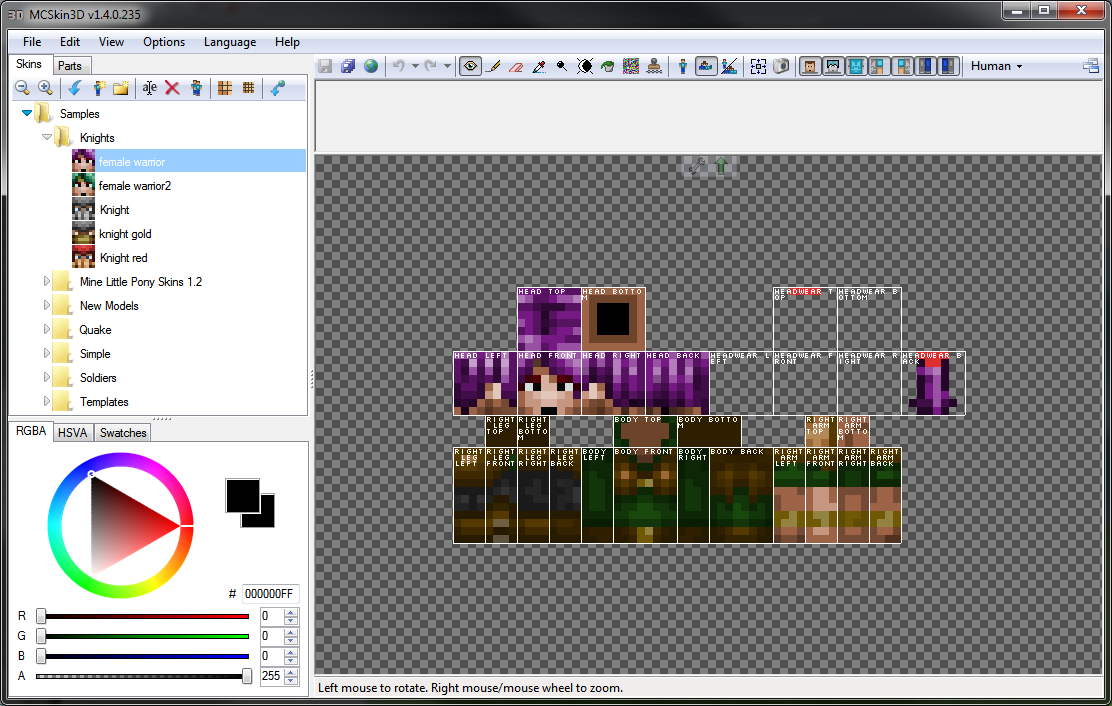 Hybrid Mode: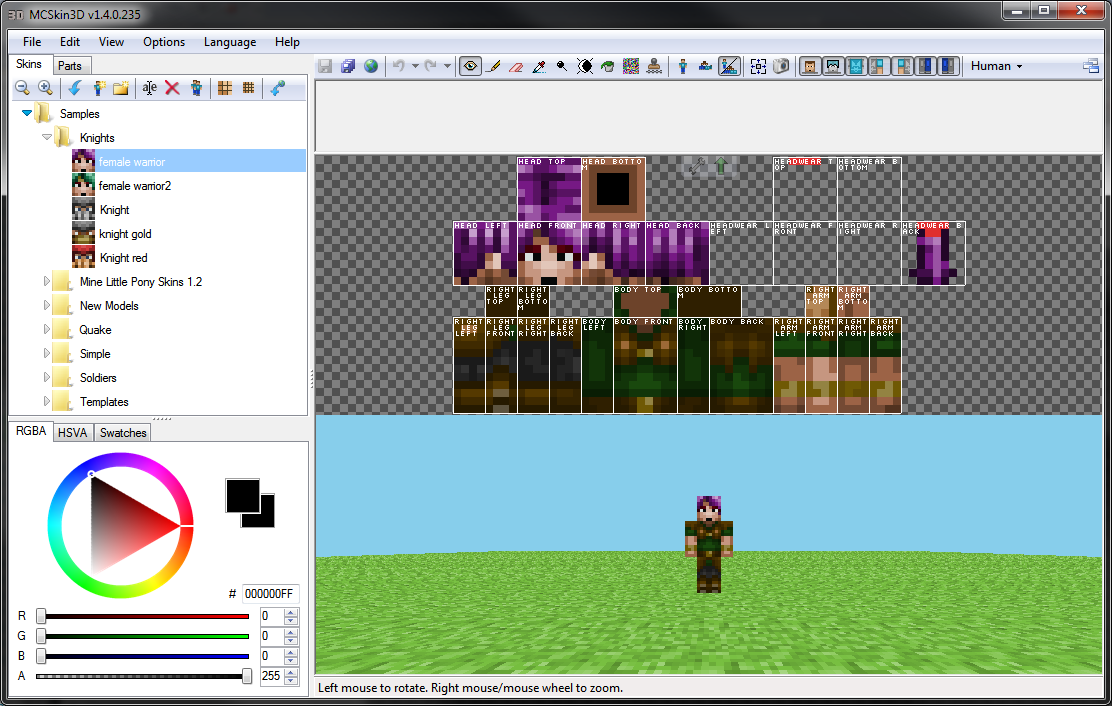 MCSkin3D requires that you have the .NET Framework version 3.5 installed. A Linux and Mac port is in the works!


The program should be self-explanatory, and I made sure to tooltip any important things. When in camera mode, left mouse button rotates the camera while right mouse button (or mouse wheel) zooms - in paint mode, right-mouse button rotates while middle-mouse button will zoom.


Some suggested features for future versions:

- Fill bucket

- Brush size

- 3D preview for the 2D editor (or vice versa? viewports maybe? not sure how I'm going to fit that in there)

- Possible Mono support, for Linux/Mac users

- Folder support for skins (something like a tree)

- Painting collaboration over TCP

- Super code cleanup 2000

- Noise

- Optimized tool shortcutting (left-click for one tool, right-click for another, shift for another, etc)

- Selection tool

- Block & mob texturing support

- HSV/HSL tab

- 2D mode zoom support

- Multiple skin importing

- Background color change

- Posing

- Screenshot

- High resolution skin support

- External program support (picks up on skin changes)

- CMYK



Frequently Asked Questions
Where are all the samples?! (1.4)

The samples are now not included with the program, and are extra downloadable updates. Check "Help < Check for Updates" to download them automatically!

Why is the chin upside-down? (1.9/1.0 only!)

Apparently, someone down at Mojang changed the model format in 1.9/1.0 and rotated/flipped the bottom of the chin. You can use the tools under "Options" to flip a skin automatically.

Windows asks for permissions or "elevation" when trying to run it!

This is normal - if you used the default setup directory, Windows requires permissions to run anything inside Program Files. If it won't run at all, try running it as an administrator via the right-click menu.

It says Swatches/Skins are missing!

Extract!

Why does the drawing mirror on the arms/legs but not anywhere else?

Drawing on the model draws directly to the texture map - if you check the map, there is only one arm face, it's just mirrored to the other side.

How do I draw on the head?

Disable the helmet, either in View < Visible Parts, or on the toolbar near the top-right.

I want to draw on the sides of the legs or arms but I can't get to it!

You may uncheck other pieces in "View < Visible Parts". To get to the backs of arms or legs you may have to uncheck the other leg or the chest.

I try to upload the skin but it just says it failed with "The operation has timed out"!

Minecraft.net must be experiencing some high traffic - try connecting to the site with your browser and see what happens. It may take multiple attempts to upload it, or you may have to wait until traffic slows down (the timeout time is 10 seconds).

An exception dialog popped up, what should I do?

Hit "Save", save the report and attach it to a forum post here, or email it to me, and I'll get right on fixing it.

How does the program handle passwords?

Passwords are saved locally, in settings.ini, encrypted in 256 bits using seeds and salts from constant data relating to your specific machine - using this technique, even if someone gets a hold of your settings file, they would need access to your physical system to decode the password. No password, usernames, or user data is sent externally at any point, except to connect to Minecraft.net using a secure HTTPS connection. Source code is available upon request if you wish to challenge this remark.

Where is X feature?

If it's not listed above, I either forgot about it or it hasn't been brought up yet - suggest it!





















Version 1.4.2.255

- 1.8 skin format support.

- Various small fixes.

Version 1.4.2.253

- Fixed a major memory leak.

Version 1.4.2.252

- Renamed to "LE" for Light Edition

-- I removed a lot of useless, bloat features.

-- A few were watered down to be more simplistic and fit for compatibility, such as updating.

- Fixed a few swatch editing quirks.

- Added an orientation indicator (non-customizable right now).

- Fixed many crashes

- Techne support is still a bit iffy but better

Version 1.4.1

- Splash screen, designed to precache & load things off-thread and provide an easy way for the program to catch load issues

- Made it a bit more apparent that adding a name/email to an exception report is not required

- Fixed many issues on loading (thank all of you who submitted reports!)

- Fixed Techne models not loading properly

- Made flood-fill use a queue rather than being stack-based (stack overflows yay)

Version 1.4

- New versioning system (Major.Minor.Build.SVN Revision)

- Fixed a rendering CPU eater with mouse movement

- Support for textures up to 4096x4096

- External change support (modifications done outside of the program are picked up and reflected).

- Removed toolbar button at top when taking a screenshot

- Fixed M_UPLOADRES not appearing in all conditions.

- Added 1.8/1.0 mode.

- New zooming for 2D mode.

- Mine Little Pony support

- Custom model support, model dropdown, etc.

- Added a check for %temp% so you don't run it from the zip/rar by accident

- Fixed uploader keeping the program running on close for 20 seconds

- Added a "Reset Camera" button

- Added new split buttons for Undo/Redo, with a timeline history

- Fixed the preview remaining when you leave the cursor on it

- Stamp tool

- Color wheel

- Fixed the sliders mis-alignments and thumbs not appearing pressed

- Changed HSL into HSV

- High resolution skins no longer change the scale in the 2D view

- Added support for .gpl, .gimp, .aco and .act swatch formats (GIMP and Photoshop).

- Swatch editing features

- Fixed color sliders not working on non-VisualStyle-enabled systems.

- Added PopOut button for multi-monitor working

- Fixed the last skin not showing properly in the treeview until another node was added/removed

- Techne TCN support

- New part system

- Renderer fixes

- New updater!

Version 1.3

- Treeview skin selector

- Removed DevExpress dependencies

- Replaced public domain icons (minus VS ones) with ones made for this app

- Fixed a string serialization issue

- Downgraded to .NET 3.5 (more support)

- Color preview is better

- Code cleanup relating to paths

- Added grips so people can easily see the split containers

- Fixed the strange one-pixel lip on selected swatch

- Fixed OpenGL texture memory leak (derp)

- 3D ghosting

- Made the overlay power of two (whoops!)

- Removed Skins menu (made redundant by right-clicking)

- Checkmarked toolstrip items no longer auto-close

- Fixed helmets not rendering the inside

- Optimized model drawing code

-- Added GL_EXT_vertex_array and GL_EXT_compiled_vertex_array renderers

- Fixed a bug on aborting uploading

- Added Multisampling

- Added switchable overlays via Overlays folder

- Fixed a render bug for the swatches [Xylem]

- Made the color sliders faster [Xylem]

- Removed DevIL dependency

- Added Drag/Drop for skins to the treeview skin selector. [Jonas Triki]

- Changed Linear to Nearest mode for the overlay [Xylem]

- Rotation/Zoom speed now stays the same across different resolutions

- New tool system, as well as tool options

-- Tool button is at the top of the render view

-- Probably won't have time to do mouse shortcuts... sorry

- Secondary color

- Hybrid 2D/3D view

- Darken/Lighten

- Fixed swatch issue

- Modified Dodge/Burn/Darken/Lighten exposure calculations to be a bit easier

- Toolbar changes

- Multilingual support

- Added save check at exit

- Toolbar visual changes

- Fill tool [Jonas]

- Noise tool as a brush

- Increase/Decrease Resolution

- New Skin button

- Import from Minecraft button (fetches the skin from the Amazon storage for MC)

Version 1.2

- Bug fixes relating to importing and naming skins

- Controllable 2D zoom and translate

- Import multiple skins, simplified importing

- Removed Commit button

- Added Save, Save As and Save All buttons

- Fixed a password and enumeration serialization issue

- Added a right-click context menu for the Skins list

- Added HSLA as one of the alternatives to RGB.

-- There seems to be some extraneous operations going on there that cause it to be slow, too much floating point math?

- Made color slider thumbs smaller

- Support for high resolution textures (up to 256x128)

- Added auto update checking

- Background works in 2d window as well

- Fixed undo/redo not working with other tools

Version 1.1

- Added swatches and swatch files (.swc, simple format, see Swatches/swatches.txt)

- Fixed a few bugs relating to the color square

- Added color sliders, more visual representation of color

- Fixed undo/redo getting lost on player switch (originally was intended, removed now and switching works fine without committing)

- Added keyboard shortcuts and customizable shortcut option

- Added eraser, dodge and burn (also known as highlight and shadow) tools; note that dodge/burn is at a fixed 25% exposure at the moment.

- All toolbar icons have mirror menu icons

- Overlay is now togglable

- New overlay picture (thanks to Zero)

- Changed the visuals of the toolbar and menu strips

- Fixed commit not re-enabling under certain circumstances

- Removed some extraneous events

- Fixed grass not appearing behind transparent objects

- Decided, at release time, to start writing down things I change as I do them so I don't forget

- Now including the Program Debug Database (pdb) file, so that crashes give me more important information

- Added a more telling exception handler

- Only draws grass on top face now, won't get in the way if you try to paint the feet

Version 1.0

- First release, nothing could of changed, silly.
Dependencies:
.NET Framework v4.0: [url=https://www.microsoft.com/en-ca/download/details.aspx?id=17851]https://www.microsoft.com/en-ca/download/details.aspx?id=17851[/url]


MCSkin3D LE 1.6.0.602:
[url=http://alteredsoftworks.com/mcskin3d/v1_6/mcskin3d_1_6_0_602.zip]Download .ZIP version[/url]



Make sure to give me any feedback or any issues you may encounter.


Special thanks to these members of the Minecraft Forums & Planet Minecraft staff, for being incredible in helping us achieve our goals:

Sacheverell

Neodymius

Studnicky


Awesome people, show your love with this amazing banner!


[url=http://www.minecraftforum.net/topic/746941-mcskin3d-new-skinning-program/]

[/url]

Last edited by
Paril
: May 6, 2016