greyjusticar
Stuck at Home
Join Date:

2/20/2011

Posts:

496

Member Details


Howdy all

I like a clean forum posting so I apologize for the amount of spoilers.


Overview.
Thanks to a request from:
I have decided to start making the textures again, although I don't think I will make a complete texture pack, instead I will focus on ores from many different mods.
This can change, however there are textures I don't want to change, and I like.
Example:
LB photo realism RPG Trees grass dirt, maybe wood the chests all of those I really like.
Maybe ill ask to include all the textures I like.
Most textures I will do will have random textures to follow. each ore will have only so many random textures to go with it. See Todo list.
My Textures will be of mods mainly from FTB Ultimate Modpack.
However I will try and make ores to match mine on request for other mods, ONLY after I have completed FTB Ultimate Modpack.
Textures will be 256,128,64, I have not tested how they look at 32.
I will be posting only 1 or 2 of picture of each ores from here on out.
I want feedback from everyone, at least once. I want to know your thoughts on the way the textures are looking. Please
Mods planned after I finish the main part:..
WildCaves. Textures to match and even some random.
Here are examples of my textures. (Ores)
Example of lower resolution textures.
64 will need a little touch up to make them look right.
128 looks pretty good, still will touch up if need be.
In Game Pictures of Stone and ores, these will be and are taking by:
Here are the Vanilla Ores of Minecraft, You can also see the stone they are with in the pictures.
Main Ores:
Iron: I have finished all 8 of the randomizing textures.
Redstone:
Coal: I am doing a rework on coal. New pictures will come later.
Gold:
Lapis lazuli: I have finished all 6 of the randomizing textures.
Diamond:
Copper: I have finished all 8 of the randomizing textures.
Uranium: I'm probable going to do a rework.
Silver: I'm probable going to do a rework.
Nikolite: might still redo this.
Ferrous: I like all 4 random textures and will keep these.
Ok so I am going to separate the mods out, for ores and other textures I change.
Red Power 2:
Marble, Basalt, Marble bricks.
From left to right, top down
Gold,Iron,Coal
Lapis,Copper,Copper
Diamond,redstone,silver
Here is an example of my ores randomized.
Both of these are not finished and are just an example of how the randomizing ores will look.
Here is Ferrous ore from Thermal expansion.
Here is the normal stone look, and a variant for it.
Removed. for now.
Lapis Lazuli
Uranium, Is planned for a rework, I dont like this one.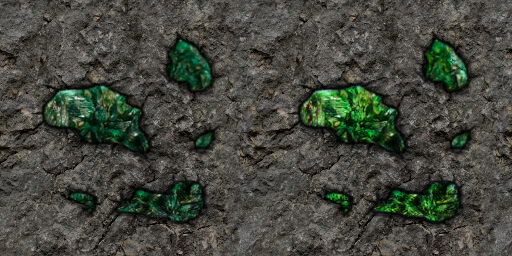 Done so far: 5 --Full random set--Iron, Lapis, Ferrous, copper, coal.

Ok so here is the list of the random textures and how they will be, including what is going to change.
Stone will have many variants if I can get it, I want somewhere around 12 to 16 for stone.

Working on.

*** 8 Bracket ***
1. Iron Done 8: Still need to fix a few things before I can say I like these.
2. Coal Done 8: I like these very much.
3. Redstone 1 Doing rework.
4. Copper Done 8: Still need to fix a few things before I can say I like these.
5. Tin 1
6. Nikolite Done 8: Don't like will be an alternate set to use, for either nikolite or apatite. redoing it.
7. Apatite Done 8: I like the apatite, might need redone, will wait for everyone to decide that.

*** 6 Bracket ***
1. Silver 1 Will have a rework
2. Lead 1 Will have a rework
3. Gold 1
4. Lapis lazuli Done 6: I am happy with these.
5. Uranium 1
6. Aluminum 0
7. Bauxite 0

*** 4 Bracket ***
1. Diamond 1
2. Ruby 1 Will have a rework
3. Sapphire 1 Will have a rework
4. Emerald 1 Will have a rework
5. Quartz 1
6. Ferrous Done 4: I am happy with these.
7. Iridium 0
8. Galena 0
9. Cinnabar Done 4: I am happy with these.
10. Amber baring stone Done 4: I am happy with these.

9 and 10 are not quite done, I just need to finish imbedding them into the stone, but these I like for there respective ores.

All Nether ores will be done later. Will look similar
All End ores will be done later. Will look similar
And all the infused stone from Thaumcraft I might try and do something with.


This folder contains 90% of my textures, they are for manually adding and require renames as they are not named the correct names, They are not allowed to be re-uploaded at all, these are for private use only please, Do not add to any other texture pack for download.
http://www.mediafire.com/download/p5b18leiuhaceq3/Grey_Textures.zip
Last but not least, enjoy the textures, and I will continue to work on these, just slow.
Also, if anyone wants specific textures for specific ore done for a mod, go ahead and ask, I have been out of the loop for the new mods that have arrived and thus don't know How many there are :).
And one more thing thing, there are many textures that are not final, and will be redone or changed just figured id there that bit of information somewhere

Google
For the free stone texture that I love.
For contacting me, and for helping with in game pictures.
Coppercookie For the name suggestion.
And thank you everyone else that suggested.
This is for everyone who is wondering.
[quote=greyjusticar;/comments/22983213]
Sorry all I totally forgot about this post...... and no not from scratch, I take a picture of an ore that I like, edit that maybe a little for the color because a lot of them don't look very clear, sometimes resizing them, cut a part out in a shape that looks natural, then add them to that stone picture that I found but really like,
that's where it takes forever to make them look like there in the stone.
Nothing is from scratch
but thanks for the comments
Just takes along time to combine edit pick out highlight and shade them.