Fuzzlechan
Stuck at Home
Join Date:

8/20/2011

Posts:

421

Minecraft:

Fuzzlechan

Member Details
Two and a half years ago, Peyton and Steelfeathers came up with a brilliant idea: a competition to see who could make the best 'simple' pack. Nine months ago, Peyton remade the challenge as the Simple Pack Showdown 2. Now I'm bringing it back for the summer, with iteration number three of this wonderful competition.
Challenge:
Within the time limit specified in the rules, create a 1.8 compatible texture pack in the simplistic style using one of the palettes submitted by your fellow competitors below.

What is a simple pack, you ask? It is quite simply a pack that uses color, line, shape, and design to flesh out beautiful textures. It does not rely on filters or detailed shading, and it does not attempt to look realistic. A simple pack is NOT, however, a collection of bucket fill textures or plain squares with outlines. For visual explanation:
Rules:

1. Take a palette, Leave a palette -- Before beginning your entry, submit an original color palette. You will then be able to choose from among the palettes already submitted to use for your entry. But you cannot choose your own palette. (Multiple people can choose the same palette)

2. You must use the palette you choose! No combining palettes or adding colors. Once you declare your choice, you're stuck with it. :]

3. If you absolutely MUST use a different palette, you must start your entry again from scratch!

4. Any resolution allowed, but simple style only. This means no realistic or ultra detailed textures. The most important things to keep in mind are color and stylization.

5. All textures must be your own original work, and must be created for this competition. You can revamp an old pack of yours if you choose, but do not simply copy and paste preexisting textures.

6. The following blocks are to be completed (at minimum):
Stone blocks (smooth stone, ores, cobble, etc)
Tree blocks (logs, planks, leaves)
Common natural blocks (dirt, sand, gravel, etc)
Crafting blocks (crafting table, furnace)
Nether blocks (netherrack, soul sand, etc)
7. The current deadline is Friday, July 31. Voting will begin that day, and end on Saturday, August 8.

8. All entries submitted must include the palette being used and at least 3 in-game screenshots.
Palettes:
Jimmywalker:
Neoncube123:
Fuzzlechan:
AngeloTangelo:

Drazile12:

Seradicus:
Neoix:
CheezLordy:
Bluberrypie478:
SpeedyCube:

Ignaf:
Stronghold257:
Steelfeathers:
Peytonisgreat:
Minihilly:
FishyMint:
Cooldude1128:
Malcolm5211:
Zamaj:
Samohtj:
Alvoria:
XSSheep: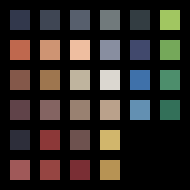 Psidoughnym:
Kwerti:

Ringoster:
Deonyi:
Crafterguy3x3: