Khristophoros17
Diamond Miner
Location:

New York, NY

Join Date:

2/5/2012

Posts:

804

Minecraft:

cmm14

PSN:

JTXAssassin00

Member Details
Thanks Everyone for Over

1,200

Downloads
DISCLAIMER:
This texture is now a public source anyone who wishes to continue it may, just give credit were credit is due.
What is bold n' glossy?
Well its a twist on the default terrain first of its HD 128x only at the moment will make it 256x and 64x soon. Also the terrain items are alot more smooth and has less pixels. I have made it look as if the textures have depth without any mods or alterations.
What is complete?
Terrain 100%
Items 100%
Title 100%
GUI 100%
Mobs 87%
Font 100%
Armor 98%
Art 100%
Pictures
I recommend viewing the textures in-game for better results before you judge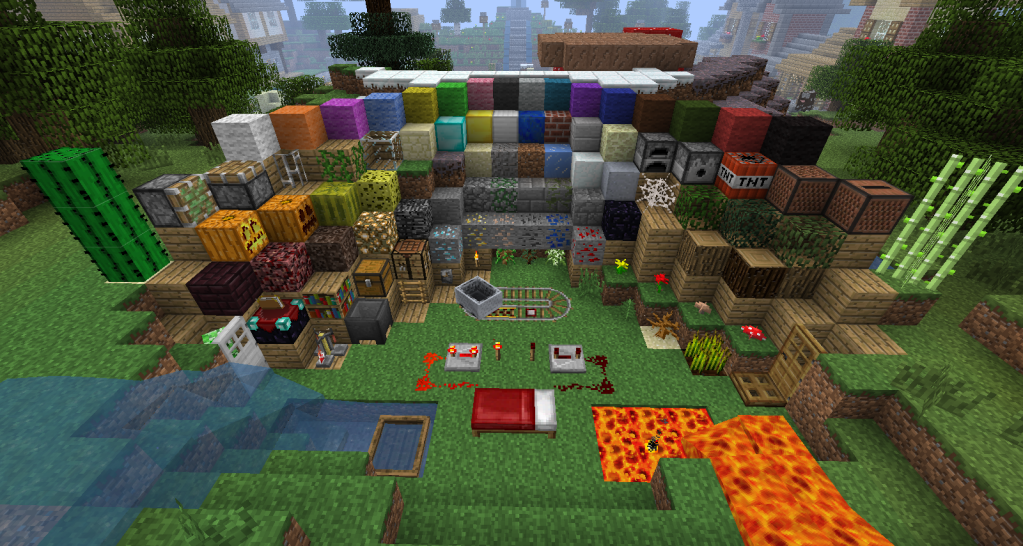 Credit:
Water,lava, and font from Ovo's Rustic
How to install a HD Texture Pack:
1. Download either
MC Patcher
or
OptiFine
if installing an HD texture pack.
2. If you downloaded OptiFine, skip to step 3, if not, run the .jar file and proceed to click "patch."
3. Install OptiFine like any other mod by opening Minecraft.jar, and placing the .class files in.
4. Move the texture pack (do not extract it!) to … and drop it in.
Windows: "C:/%User%/AppData/minecraft/texturepacks"
Mac OS X: "%User%/Library/Application Support/minecraft/texturepacks"
4. Open Minecraft, and on the main menu, click "Texture Packs" and select the designated texture pack."
In order to use HD texture packs properly (32x and up) you will need to either patch your Minecraft using
MC Patcher
or using
OptiFine
. OptiFine is preferred as it includes all of the features of MC Patcher, and greatly increases game speeds and graphics settings. OptiFine and MC Patcher update same-day as Minecraft Update.
Download Statistics:
10 downloads
25 downloads
50 downloads
100 downloads
250 downloads
500 downloads
1000 downloads
2500 downloads
Download Latest Version v2.4 for MC1.2.5/1.3 updated 7/9/12
*****This Pack Requires MCPatcher or Optifine*****
By downloading this pack you agree to not redistribute any materials or works included without written permission for"Gamex101". If you make any changes to the pack the are for non-commercial use only. You may not share this pack via thread or post unless given permission. The only way you may share this pack is via banner or personal msg.
Main Link:
[Download]
adfly help support the pack
Planet Minecraft:
[Download]
To use this for the snapshots place the Gui's from the alt folder into the gui folder and delete the previous creative inventory
Mod Support
To install mod textures just copy the file into "Bold n' Glossy vX.X"
Connected Textures:
[Download]
by morpheus_017 and aSakofDonuts
[link]
now included in download
BuildCraft 3.1.5:
[Download]
[link]
Random Mobs:

included in download
Change Log
v2.2
Added new Gui
2 different downloads
v2.1
New top grass texture
New obsidian texture
New bolder, better items
Alternative armor set
Fixed mobs textures
New banner
Fixed armor textures
Fixed misc terrain issues
added ad.fly link
v2.0
added mobs
New item textures
Finished terrain
Pack Logo
Armor textures
Custom font
Few tweaks to fix tiling issues
Banners
[url="http://www.minecraftforum.net/topic/1284613-128x12512w23bbold-n-glossy-hd-defualt-in-3dwipupdated613200-dls/"][img]http://i1172.photobucket.com/albums/r570/Gamex101/Banner4users.png[/img][/url]
Please hit that

button it really helps