Karasu_Tsume
Tree Puncher
Join Date:

10/4/2010

Posts:

25

Member Details
Eh, why not. Save someone else the trouble of editing.
First, the Terrain set, combining the grayscale grass/trees, Reaverbot Eye redstone, inverted smooth/cobble (smoothstone is ruins wall), the Megaman style ladder, the modified biglock chest... eh, the list goes on. Kudos to those of you who made those edits, they're pretty damn cool! I'm especially fond of the oldschool ladder, it just screams 'Megaman' to me. I'm considering finding a passable pixel-perfect screenshot of the disappearing blocks in the old games (Magnetman's stage is the first place that comes to mind) for some purpose or other.
I also edited the snow and cloth blocks to give them a bit of texture. I've not tested the look of the snow, but I can safely say that the wool block looks sufficiently 'fuzzy' for my tastes.
Almost forgot to mention! I also darkened the Reaverbot Eye on the Redstone Ore block. Make it look like being stuck in the rocks left it unpowered, y'know?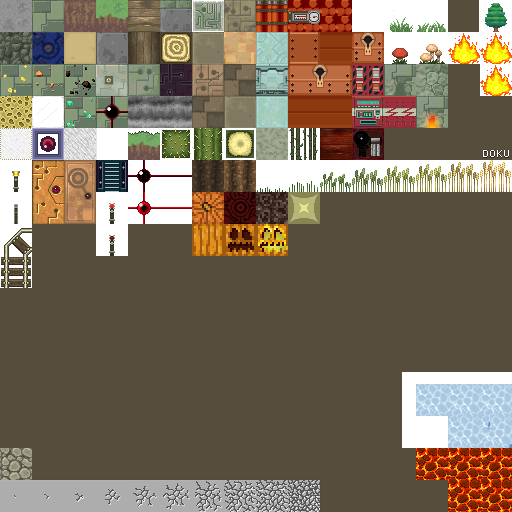 Next up, two different icons.png files with a custom Armor bar based on the health bar. The first has the traditional opaque MML crosshair, the second (which I use) has the crosshair at 50% transparancy-- visible enough to guide, yet doesn't get in the way.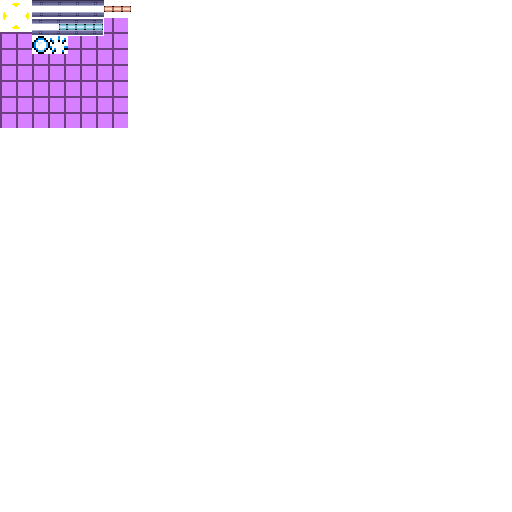 I don't really know what's up with all the blank space in the file, but better safe than sorry, I suppose.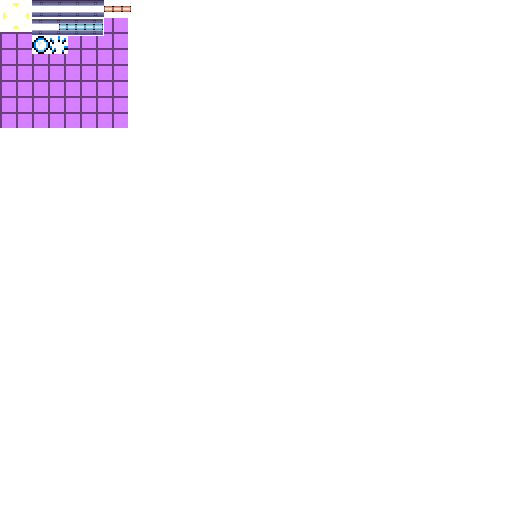 If I get a wild hare I might figure out a way to make the bubble meter a bar of some sort also. Maybe a more traditional one-pixel-thick bar stack like the old Megaman games? Only sideways. Instead of popping it'll either flash red or drop by a half-stack first. Still thinking on it.
I'm also pretty close to trying my hand at making variants on a sword-arm (I've seen some packs turn a diamond sword into what almost looks like an energy sword, which is AWESOME). Also, I find changing the bow to a buster and the arrows to plasma shot a funny prospect because the Halloween update made it so that you can see the bow held by the skeletons-- our Reaverbots will have busters!
Now, for a minor request of sorts: One thing I was kinda hoping for was to modify the ore models so that they were refractors of different colors kinda jutting out of the ruin model-- maybe like if something crammed it in there real hard or something, as opposed to ore clumps. While my cut/paste and hue modification abilities are remarkably sufficient, that sort of thing is beyond my skill.
Also, what purpose does the cobblestone block just above the blockbreak template serve? I've always been curious about that.
Just call me Crow.
If you think any of the above post sounded angry, go back and read it in your head as if it's being spoken by Jeff Goldblum explaining his plan to defeat the aliens in Independence Day.