Z_Doctor
Curse Premium

Mathematical Dessert
Join Date:

9/14/2014

Posts:

328

Minecraft:

Z_Doctor

Member Details
News:
Deobfuscator 3.0 is out! Another complete rewrite with a sleek new GUI, better performance and added functionality. Jar files are supported, mappings are auto-downloaded from the internet and a search bar for quick reference.
Description:
This program will go through your files and look for any obfuscated SRG names like 'field_151034_e' or 'func_130014_f_' and replace them with the MC Name (APPLE, getEntityWorld) as they are defined at MCPBot. This can be helpful with decompiling mods and retrieving lost source code.
Purpose:
This program can be used to retrieve potentially lost source code, or make updating decompiled mods much easier. There are at any given time +33,000 fields, params and methods that are obfuscated (i.e. func_1234_g) and having to manually search and change them is time-consuming and unrealistic. This will do all that work in seconds!
A note about custom mappings
This was originally used to select the mapping manually. You can still manually choose a mapping, however, this has the added benefit of using custom mapping. Theoretically (and in practice), if one were to follow the same format as a MCPMapping you can replace other strings with something else, potentially even updating from one version to another.
To create your own mapping, a zip file is needed. The files inside, names and extension do not matter. All the matters are that the file(s) inside are plain text and entries are separated by newlines and entries follow an <ofuscated, deobfuscated> format (minus the '<' '>'). White Spaces are removed and only '$', '_' and '/' special characters are allowed.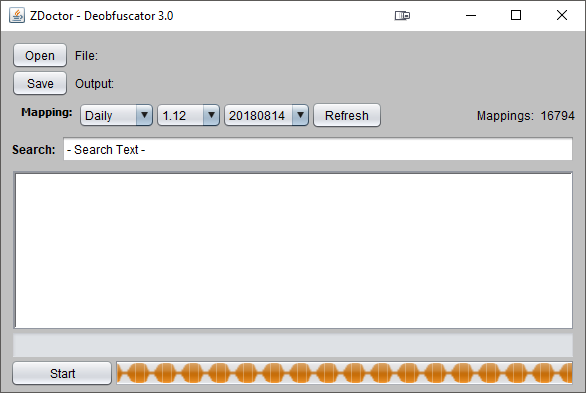 Interface
Images:
Running: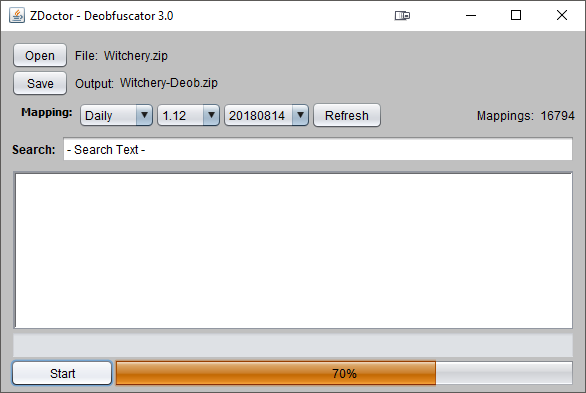 Drop Down: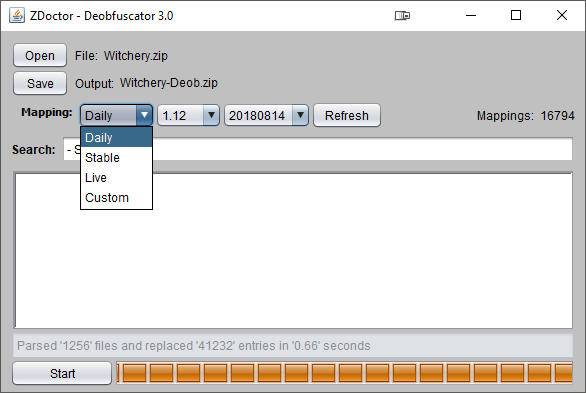 Search: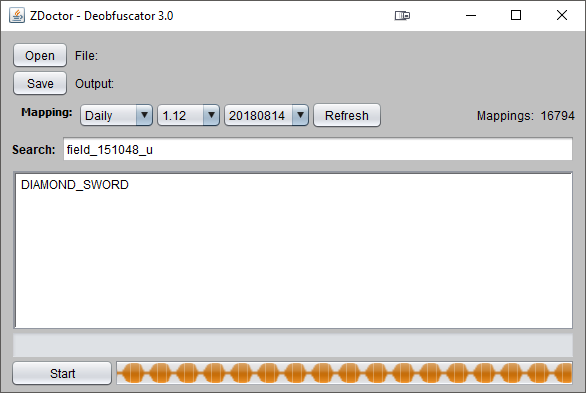 Finished: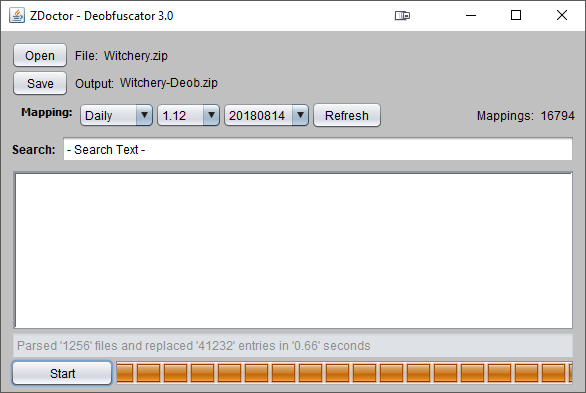 Disclaimer:
This program comes as is: with no expressed or implied warranties.
License and Distributing:
This program has all rights reserved. You may use the program for either personal or commercial linking to this forum is encouraged. No permission is granted to anyone to provide/host any alternative downloads, nor shrink the download link. All links should directly point to this page.
Downloads:
Older Downloads:
Media Fire - Deobfuscator 2.1 Beta
Links:
Setup:
Download the file from the downloads section and place it in your desired location
Done
How to Decompile a Mod:
Choose a decompiler. I personally use either ByteCodeViewer or JD-Gui.
Save the decompiled zip or jar in the directory of your choice.
Run the Deobfuscator, select from the drop down the MC Version, map type and Snapshot that you want to use.
Press Start
Tips:
Deobfuscate with the latest version for your target version. Then deobfuscate with each version that is below the latest until you get to the original environment. This will update the references to the most current/most recent naming conventions, which can make updating easier.
Most of the time the code won't be a perfect match to the source. This is due to decompiling of the mod. Try using serval decompiled sources to get the most accurate code.
You can deobfuscate a non-decompiled mod first, then decompile it.
Change Log:
September 9, 2018

3.1
Improved search bar and result
Added Obf name lookup
Minor performance tweaks



September 7, 2018

Search Bar
Auto Download Mappings
Jar File support
Improved Performance
New GUI
Added Functionality



November 13, 2017

Released Deobfuscator 2.0.
Got rid of multithreading, no longer slows down computer and is faster
Updated the gui.
August 26, 2017

Increased performance/effeciency
Now handles zip files as input and copies everything that is in it over to the new zip, but only deobfuscates java classes
Removed log file
No longer need an input folder
August 23, 2017

Deobfuscator is now up to 5 times faster and slightly smaller.
There is now a config that generates, which you can edit to change the number of max threads the program can create (read tips).
Now only reads and looks for .java files.
If you would like to support me and see continued updates, then please
!
My Mods:
Working on updating Little Maid Mod to 1.12 with my own twist. I am a Japanese anime fan :3 Teasers here
Blood Baubles - An addon for BloodMagic that adds related Baubles to the game. (Currently on hold)
Blood Magic Wiki - A Blood Mages Choice Encylopedia (Currently on hold)
LazyModder - A libary that makes modding easier. Currently being developed for 1.12)
Deobfuscator - A program used to deobfuscate obfuscated mods.
- Happy Coding

-