Z_Doctor
Curse Premium

Mathematical Dessert
Join Date:

9/14/2014

Posts:

331

Minecraft:

Z_Doctor

Member Details
News:
The Deobfuscator has gotten an update and has been rewritten in C#. Everything is streamlined, all you need is internet. Everything works on our end, but let me know if there are any issues. Hopefully, we can add some features that didn't work very well in the old version. The links to the old versions will remain for now as well.
Description:
This program will go a decompiled mod (zip or jar file) and replace all obfuscated names while copying over everything else. For example, the obfuscated fields like 'field_151034_e' or 'func_130014_f_' will be replaced with the MC name APPLE and getEntityWorld, respectively (as defined by MCPBot). This can be helpful with retrieving any lost code.
Purpose:
The purpose of this program is to aid in the retrieval of lost source code. There are up to +33,000 obfuscated fields, params and methods and having to cross check each one by hand is impractical and time-consuming. This will do the work for you.
How to Use:
To use this program, you first need to get a decompiled version of the mod. This program does not decompile mods itself (but may do so in future versions) and will let you know if the mod you supply is not decompiled. To learn how to decompile a mod, read the How to Decompile a Mod section.
After you have your decompiled mod, press the open button and navigate to the decompiled zip or jar file and select it. The destination to save will be auto-generated, but you can specify where you want to save to by clicking Save To. Note that it will always save to the specified location and create an output folder and that the deobfuscated version will have the same name as the original.
Finally, select the mapping you want to use and click Start.
How to Decompile a Mod:
You can use a decompiler such as ByteCodeViewer or JD-Gui, but I recommend FernFlower. More specifically, the version that Forge's modified. To build FernFlower, download and unpack the zip. Shift+Rightclick and select Open PowerShell window here and type ".\gradlew build". Once it's built, it will be in the build >> libs folder. Then follow there read me to learn about commands.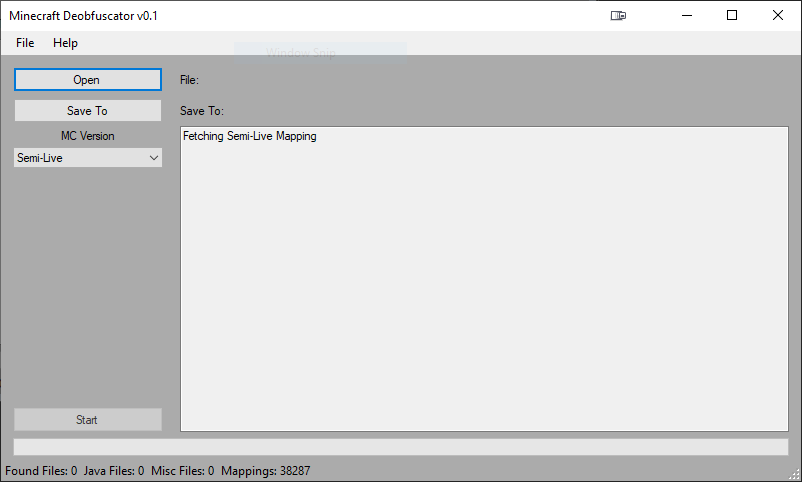 Disclaimer:
This program comes as is: with no expressed or implied warranties.
License and Distributing:
This program has all rights reserved. You may use the program for either personal or commercial linking to this forum is encouraged. No permission is granted to anyone to provide/host any alternative downloads, nor shrink the download link. All links should directly point to this page.
Downloads:
Dropbox - Minecraft Deobfuscator 0.1
Other Images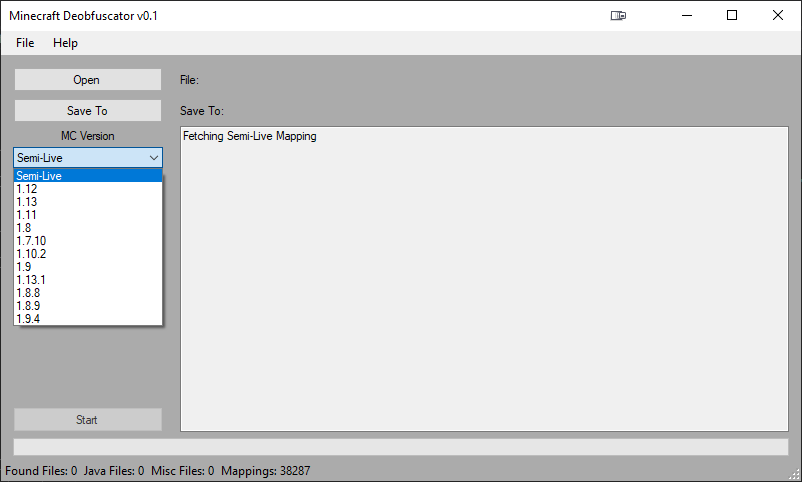 Older Downloads:
Links:
Tips:
Deobfuscate with the latest version for your target version. Then deobfuscate with each version that is below the latest until you get to the original environment. This will update the references to the most current/most recent naming conventions, which can make updating easier.
Most of the time the code won't be a perfect match to the source. This is due to decompiling of the mod. Try using serval decompiled sources to get the most accurate code.
You can deobfuscate a non-decompiled mod first, then decompile it.
If you would like to support me and see continued updates, then please
!
My Mods:
Working on updating Little Maid Mod to 1.12 with my own twist. I am a Japanese anime fan :3 Teasers here
Blood Baubles - An addon for BloodMagic that adds related Baubles to the game. (Currently on hold)
Blood Magic Wiki - A Blood Mages Choice Encylopedia (Currently on hold)
LazyModder - A libary that makes modding easier. Currently being developed for 1.12)
Deobfuscator - A program used to deobfuscate obfuscated mods.
- Happy Coding

-