Nekroido
Out of the Water
Join Date:

11/28/2011

Posts:

5

Member Details
Good day.
This is my simple modpack updater for your private server needs.
Features
Platform built-in automatic update.
Simple mod updates distribution. Just upload its file and you good to go.
Modpack integrity verification.
Planned features
Downloading and updating extra files like mod configurations and server lists.
Preparations
To distribute the updater you will need a web server with PHP support to host your mods and Visual Studio to customize and compile the updater.
Preparing the updater project
Clone or download the release from the repository: https://github.com/Nekroido/modpackupdater
Open the project from Updater folder and customize the updater's Config.cs.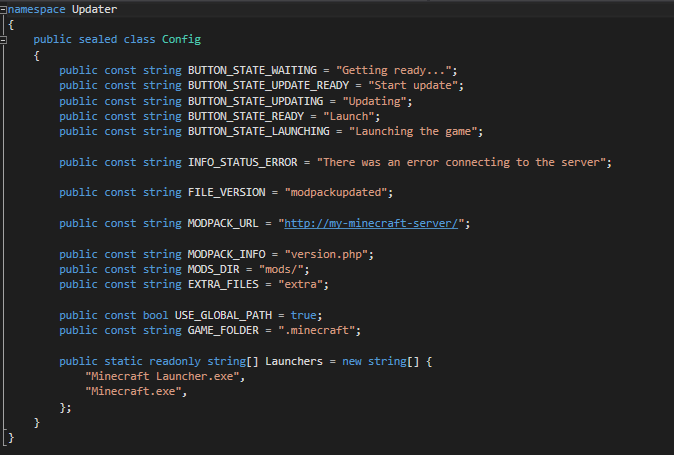 Change MODPACK_URL value to the one you will host server files in (e.g. "http://myserver.playat.ch/mods/").
You can change or translate button labels too.
Launchers setting has a list of launcher names that reside in game folder. Change or add new ones if you need. First valid executable will be launched when user clicks Launch button.
Publishing the updater executable
Right-click Updater project in Visual Studio and select Publish...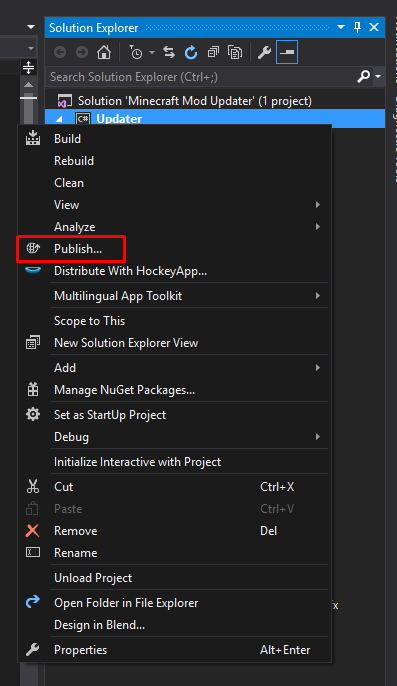 You will be greeted with the Publish Wizard. All the steps are pretty self-explanatory. Specify a URL where your updater files will be hosted. This is how it will autoupdate. I put my updater files into launcher folder on my server. So can you.
After all of the steps completed, press Finish and navigate to publish folder in the project's directory. This is what you will need to upload to your server with your favorite FTP client.

Now you can just share the link to publish.htm with your friends (e.g. http://myserver.playat.ch/mods/launcher/publish.htm).
Publishing your mods
Upload files from the Server folder of my repository to your server. The URL should match MODPACK_URL specified in Config.cs.
Then create a separate folder for each of the mods in the mods directory. My modpack looks like this.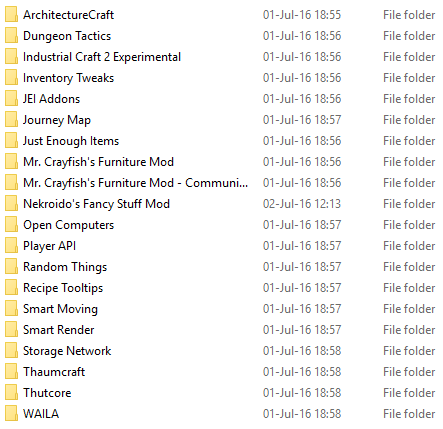 Now copy mods to their respective folders and you are ready to share the updater with your friends!
Updating and managing your mods
This step is simple as uploading mod file of new version to its folder. Delete mod's folder for the updater to delete it from your friends PCs.
The contents of the mod folder might look like this:

Updater will remove nkrdfsm-1.0.jar and download the newer nkrdfsm-1.0.1.jar.
I hope you will find my updater useful.