Razeredge
Obsidian Miner
Location:

British Colubmia

Join Date:

4/19/2011

Posts:

1,192

Minecraft:

jmorganm

Member Details
AutoBACK Minecraft restore
Mods got you down? Go BACK!
AutoBACK is an easy to use backup utility software for Windows. It can back up ALL of .minecraft, the location where Minecraft's game files are stored. If you are installing a mod, updating from one version of Minecraft to the other, or just want to make sure that your world is safe, AutoBACK is the program for you.
Features:
-Backup Minecraft's files to a location of your choosing using a simple GUI interface.
-Choose between a full backup or custom.
-Virus free (I'll be releasing the source for you guys soon. Right now Norton AV thinks it's a virus, but that's because Norton AV sucks. It has been scanned with Microsoft Security Essentials, no virus. For the more paranoid users, here is a
Virus Defender report
. Virus Defender scans the file with 35 different antivirus engines).
-Frequently updated.
-No install needed.
-Easy to manage your backups, from within the program.
-Configure the default settings.
-Mod installer included.
Downloads:
Latest release:
AutoBACK 1.6 (With mod installer)
Old versions:
Screenshots: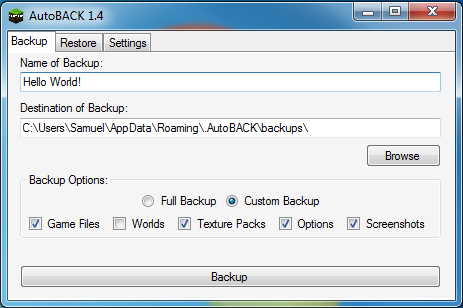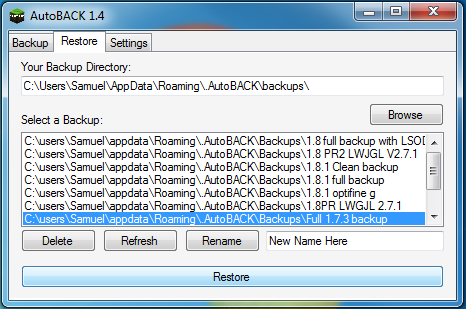 Changelog:
AutoBACK:
V1.6:
-Added "place in \mods\" option, for generic Modloader mods. Only use this if the normal install of the mod in question consists of dragging and dropping the .zip to \mods\.
-Added "unzip to \.minecraft\". This is for weird mods like Mo' Creatures Mod that normally consist of an unzip into .minecraft. 
V1.5:
-Added the option to compress your backup. This greatly increases backup times, but reduces file size.
-Beta release of the mod installer. Right now it can install one mod at a time. It can only install mods that require all of their files being dropped into minecraft.jar. More updates are soon to come.
V1.4:
-Fixed a bug that would automatically set default settings.
-Added a "Screenshots" option to custom backup.
V1.3:
-You may now configure the default settings under the "Settings" tab."
V1.2:
-Added a list of backups under the restore section.
-Select the backup with the list.
-Added Delete, refresh (For the list) and a rename button to the restore section. Select what backups to perform the actions on with the list.
V1.1:
-Much simpler
-Re-coded the whole thing
-Install is no longer needed
V1.0:
-Converted code from BATCH to Visual Basic. Will now require .NET framework 4.0. If you don't already have .NET, you can download it here: http://www.microsoft.com/download/en/details.aspx?id=17851
-Added GUI
-Made it one program instead of two.
-new name
-Still keeps most of the features from Autobackup 1.4.

Autobackup and restore:
V1.4:
-You may now choose the name for the backup
-Multiple backups
-It's a manager now!
V1.3.1:
-Fixed the program not copying files over if there was a space in the file paths.
V1.3:
-Added complete customization to the backup process. You may now either choose a custom backup (Choose what directory's get backed up) and a full backup.
-Updated from XCOPY to ROBOCOPY. 
V1.2:
-Added the option to choose what directory's in .minecraft. This can speed up the backup if you have large words or many high res texture packs that you don't need to backup.
V1.1:
-Reworked all the code. It's much simpler now. 
-The program can be run from any directory, and will place the backup in the same directory as the program itself.
V1.01: 
-Improved how the script handles being placed in the wrong directory. It will now move itself to the correct directory. Still working on making it run in any directory...
V1.0: 
-Release
AutoBACK/AutoBackup by Razeredge is licensed under a
Creative Commons Attribution-NonCommercial-ShareAlike 3.0 Unported License
.
Specs: Intel Core i5 2500k @ 4.5GHz, Gigabyte Geforce GTX 560 Ti 448 Cores @ 850MHz, ASrock Extreme3 Gen3, Corsair XMS3 4x2GB DIMMs, 2x Seagate Barracuda 1TB 7200RPM in RAID 1, Cooler Master Hyper 212 Plus, 1x Seagate Momentus 160GB 7200RPM (For FRAPS), Cooler Master HAF 912.