zonemaster60
Zombie Killer
Location:

Hornell

Join Date:

2/2/2011

Posts:

159

Minecraft:

zonemaster60

Member Details
This IS a (WIP) so there will always be improvements made and it will only get better over time. This tool is NOT for everyone and it isn't as shiny and elaborate as most but it's available for you to download and try out. It's not the greatest thing since toast but for basic mods it works quite well. I will be working on a specific format of it's own to deal with mods eventually.

If the program says it can't detect that you have Java installed it's most likely because I compiled it on a 64 bit PC. Make sure you have EITHER 32 bit or 64 bit JRE installed depending on your OS.

Screenshots -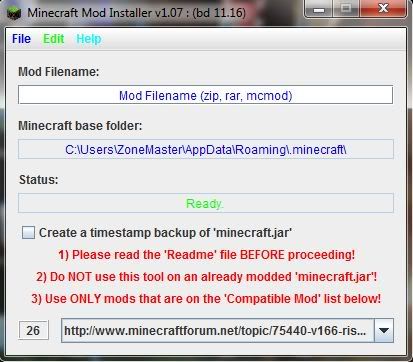 Disclaimer -
This software is distributed and provided without any warranty or implied warranty that
it is fit to use for any purpose whatsoever. The entire risk as to the quality and
performance of the program is on you. Should the program prove to be defective and or
cause any damages and or consequential damages of whatsoever nature, you assume the
costs of all necessary repairs and servicing and correction yourself. ZoneMaster will at no stage be responsible for any possible damages, including but not necessary limited
to general damages, special damages, incidental and or consequential damages arising out
of the use or inability to use the program and further ZoneMaster would not be held responsible for the possible loss of data or data being rendered inaccurate or losses
sustained because of the accuracy or inaccuracy of the data rendered by you or to you or
by you to any third party and no liability will attach ZoneMaster because of the
inability or failure of this program to operate with any other programs. ZoneMaster will
not be held responsible if the use of this program causes any other program or software
to be corrupted and ZoneMaster will not be responsible for any damages that might flow
there from. ZoneMaster will not be held responsible for any damages, data corruption,
harm or loss occurring from malicious software code or viruses which may be found in the
software.
About -
Readme file for MCModInstaller
------------------------------
What is it?
-----------
It's basically a tool/utility I made to take the task of manually installing mods and
automate a bit. it's not a cure all for all your mod needs, but it does a pretty good job
otherwise, provided you follow a few simple instructions. Of course as time goes on it WILL
improve and more features will be added. if you already know how to install mods manually
and are comfortable at installing them that way, then you may NOT need this tool.
Installation
------------
Extract the files where you have your Minecraft Launcher (Minecraft.exe or Minecraft.jar)
NOT the .minecraft\ folder. These two locations should be separate. Do not delete 7z.exe
it is needed by the program and MCModInstall will not run if you delete it.
WARNING!: DO NOT use this utility on an already modded 'minecraft.jar'. If you have
already modified it with adding mods manually it will most definitely cause you
problems I guarantee it. PLEASE use this on a fresh/new/not modded 'minecraft.jar'
Help
----
MCModInstall first of all is NOT going to solve all your mod install needs, BUT it does
automate most of the process for you provided you have a working knowledge of first being
able to MANUALLY install mods. It takes the burden (or most of it) off of your shoulders
and covers itself in the process in case of an error or Minecraft crashes, which it does
anyway sometimes when manually installing mods.
Basically it's a 3 step process for using MCModInstall:
1) You 'Browse' and select a mod (zip, rar, or mcmod) to unpack.
2) Then 'Unpack MOD' (this also makes a backup of your original 'minecraft.jar' ('minecraft-backup.jar')
and deletes the 'META-INF' folder from the 'minecraft.jar' archive.
3) Finally 'Add MOD' (which adds the extracted mod files into the 'minecraft.jar' (usually *.class)
NOTE: A timestamp backup of the 'minecraft.jar' will be made BEFORE adding the mod in case
adding a particular mod doesn't go well. You may have quite a few of these backups
after installing mods. Just delete the ones you don't need when you are finished
adding mods, the program will NOT do it for you.
Alternatively you can also use 'Remove MOD' to remove a mod already installed (packed) into the
'minecraft.jar'. This is somewhat of a VERY volatile command as if the folder, or class file was
already there before as part of the original archive then it will be totally removed from the
'minecraft.jar' This WILL definitely cause Minecraft to crash! You would then have to 'Restore'
and start over.
However you can also use the last working timestamp backups created when adding mods as
well, this may save you A LOT of time.
It's pretty straight forward actually and it DOES support packing folders as well as the normal *.class files, so if the mod zip, rar or mcmod contains folders it will pack them
to the 'minecraft.jar' as well.
WARNING! Be careful about just going ahead and assuming that EVERY mod file will be the
following format:
---------------------------------------------------------
Example 1: modfile1.zip
-> gui (folder)
-> net (folder)
-> ab.class
-> bc.class
-> cd.class
-> de.class
The above is ACCEPTABLE and should NOT cause any problems.
---------------------------------------------------------
---------------------------------------------------------
Example 2: modfile2.zip
-> mods (folder)
-> readme.txt (???)
-> config.txt (???)
-> Put in .minecraft folder (folder) - (may cause a crash)
-> Put in minecraft.jar (folder) - (may cause a crash)
The LAST TWO lines will be a problem because when the game loads it won't recognize these as VALID
folders or files and crash. Mods of these kind should installed manually.
---------------------------------------------------------
.MCMOD file format (same format as .zip or .rar for now)
--------------------------------------------------------
I am working on my OWN custom file format that in the very near future will be implemented
into the program. Right now the .mcmod format as mearly a zip or rar file renamed with
the .mcmod extension.
So the RULE is as long as the mod file contains ONLY VALID files and folders that Minecraft CAN recognize everything should be fine. I WILL be adding things to this readme file as the program progresses, so keep in mind this file will always be changing and/or
improving. If you have any questions you can always contact me below through my email or
at my FaceBook community page.
Contacts
--------
Email:
[email protected]
FaceBook:
http://www.facebook....129225440461203
Minecraft Forums:
http://www.minecraft...5-zonemaster60/
Credits
-------
7Zip by Igor Pavlov, 9.22 beta
Website:
http://www.7zip.org
Change Log -
v1.00 - Here is the release version 1.00 of MCModInstaller. This is a vast improvement over
0.9b and many of the bugs in the previous version have been eliminated. Just download and
try it out. Like before if you'd rather install mods manually and are comfortable doing so
you may NOT need this utility. Basically this is an ongoing experiment and will only improve
over time.

v1.01 - Nothing spectacular in this version just changed the link from my contact here at
the forums to this download page. I will be updating the mod list as I go.

v1.02 - Added a new feature. When you add a mod it will automatically create a timestamp
backup BEFORE adding the selected mod. This way if you have any problems you can always
revert back to the previous backup. The text file called '_yourlocalTZ.txt' contains
every time zone that java can use so edit the TOP line to reflect your local time zone.
This option can be turned on or off with the check of the appropriate box.

v1.03 - Version 1.03 of MCModInstall is available to download. A new feature which allows
you to click on links from a dropdown box and go to that mods webpage.

v1.04 - Added the feature to edit the mod list text file within the program using Windows
Notepad. Also fixed a few bugs and made a few improvements along the way.

v1.05 - Added ability to reload mod list by clicking on Total Mods.

v1.06 - Fixed naming conventions only, mostly maintenance and nothing else.

v1.07 - Program traps all exception errors. Bug fixed in loading mod url text file.

v1.08 - Maintenance release only. Some minor bugs fixed and recompiled with
latest JDK (Java Development Kit)
Working Mods List - (updated 11/17)
Format is like this...If the zip (or rar) contains:
aaa.class
valid 'minecraft.jar' folder (i.e. dev, org, net, mob ... etc)
It will MOST LIKELY work with MCModInstaller
(THE MODS DO NOT HAVE TO BE ON THE INTERNAL LIST FOR THEM TO WORK!)
The list so far:
Modloader
AudioMod
Buildcraft
Hot Air Baloons
Zans MiniMap
ID Resolver
Single Player Commands
Too Many Items
More Fuel
More Recipes
Pistons Patched
Score
Treasure Mobs
Shelf
Recipe Book
Spawner GUI
Rei's Minimap
Airship
Steamboat
Castle Defense
Console
Death Chest
GUI Api
Clay Soldiers
Level UP! Mod
LightSabers
Minecraft Forge
ModLoader MP
Revolver
Elemental Arrows
LightSensor
More Stackables
Sign Tags
Just to name a few. (I'll add more as I go.) Extract the contents of RAR and copy
_modURL.txt to where ever you have MCModInstaller installed.
Updated (11/12) list download ->
Mod List
(this list DOES NOT contain all the mods mentioned above)
Downloads -
Current version:
----------------
v1.08 -> (adfly)
http://adf.ly/DsLPs
If you have any problems with or questions about the program, please be sure to post in this thread.
Source -
Creator of Minecraft_BSU, MCModInstaller, MCModPageViewer, and ZM_FSJ.