zonemaster60
Zombie Killer
Location:

Hornell

Join Date:

2/2/2011

Posts:

159

Minecraft:

zonemaster60

Member Details
At first this was just a project I made for myself and family here on my home LAN then my son said why don't you share this with everyone. He didn't think there was anything like it available, and it saved him a LOT of time when he had to reinstall Minecraft and he knew he had a good backup of all his saves....

That's what Minecraft BSU (Backup/Save Utility) is all about...saving your game, and maybe a few others along the way.

Main Features -

- multiple save and restore profiles
- import and export your own levels or saves
- options to save the 'bin', 'mods', 'resources' and 'texturepack' folders
- auto backups - you set the time limit!
- recover lost login information
- reset minecraft install
- use any external launcher frontend
- and more!

If the program says it can't detect that you have Java installed it's most likely because I compiled it on a 64 bit PC. Make sure you have EITHER 32 bit or 64 bit JRE installed depending on your OS.

[ Updated 10-20-2012 ]

Screenshots -
Main
Options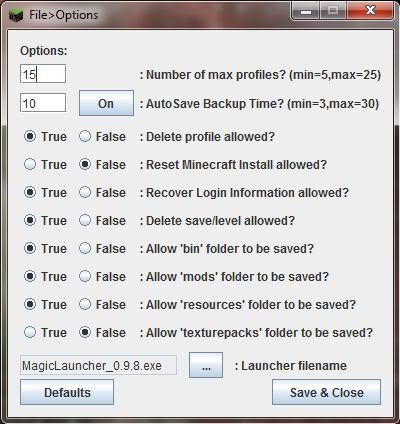 Info
About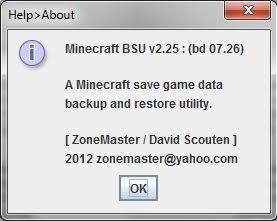 Description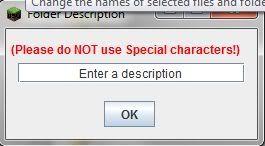 Disclaimer -
This software is distributed and provided without any warranty or implied warranty that
it is fit to use for any purpose whatsoever. The entire risk as to the quality and
performance of the program is on you. Should the program prove to be defective and or
cause any damages and or consequential damages of whatsoever nature, you assume the
costs of all necessary repairs and servicing and correction yourself. ZoneMaster will at no stage be responsible for any possible damages, including but not necessary limited
to general damages, special damages, incidental and or consequential damages arising out
of the use or inability to use the program and further ZoneMaster would not be held responsible for the possible loss of data or data being rendered inaccurate or losses
sustained because of the accuracy or inaccuracy of the data rendered by you or to you or
by you to any third party and no liability will attach ZoneMaster because of the
inability or failure of this program to operate with any other programs. ZoneMaster will
not be held responsible if the use of this program causes any other program or software
to be corrupted and ZoneMaster will not be responsible for any damages that might flow
there from. ZoneMaster will not be held responsible for any damages, data corruption,
harm or loss occurring from malicious software code or viruses which may be found in the
software.
About -
Features:
---------
- Checks to see if the current save is newer than the backup, if it
is it will allow you to update the backup. If the current save =
the current backup, the 'Backup' function will be disabled (at
least until you save the game again). 'Restore' function still
works in this case.
- You can't 'Restore' a backup when you FIRST run the program, since
a new backup has NOT been created. Once you create your VERY first
backup, 'Restore' will be available.
- There is 'Force a 'Restore' check box which basically lets you override
or 'Restore' an old copy of the backup over the current save. Use caution
with this feature! (You will be prompted to change your mind)
- Multiple save profiles (up to 25). This is VERY useful if you install the launcher
on a USB drive and take your save games with you that are backed up. Can be set
by editing the 'Minecraft_BSU.cfg' file.
- Will automagically detect whether you are using the default 'Minecraft.exe'
or 'Minecraft.jar' launcher and run 'Minecraft' after the program exits.
- Both single (client) and multi-player (server) backups. (Assuming you have
created a .minecraft_server folder in your application data folder (%AppData%)
- Reset your Minecraft installation with the click of one button. Removes the
.minecraft folder completely and will redownload all needed installation files.
- Recover your login credentials, especially useful after to a reset install.
Installation:
-------------
Minecraft
---------
Although there is only ONE requirement, Minecraft NUST be installed or it
will give you an error message telling you that it isn't when run. I recommend
installing/extracting the Minecraft_BSU folder where you have your Minecraft
launcher installed. (Minecraft.exe only)
Minecraft Server
----------------
Create a folder called .minecraft_server in you application data folder (%AppData%)
and copy Minecraft_Server.exe there. It's the same place where your .minecraft
folder is located. (I will make improvements to this in the future) Due to the
fact that Java cannot change the working folder it makes it difficult.
That's it! Works like a charm otherwise.
Contact:
--------
If you wish to contact me you can press the button(s) at the bottom
of the program:
Email me ->
[email protected]
FaceBook ->
http://www.facebook....129225440461203
Change Log -
v1.1 - Version 1.1 of Minecraft BSU is out. Some bugs were fixed and new features
added. Basically this is a maintenance release but make sure you download it
anyway. Also please note that it is still very safe to use version 1.0.
v1.2 - Version 1.2 of Minecraft BSU is available. Some more bugs were fixed, and
the Run 'Minecraft' check-box is now set checked as default (you can always un-check
it if you prefer). If you are NOT using the default 'Minecraft.exe' launcher and
using the .jar version instead this option will be disabled. Again, please note
that it's still very safe to use version 1.1.
v1.25 - I'll probably be adding an option (or two) that allows you to back up client
saves (solo play) and multiplayer server saves. Basically all that it will allow you
to do is switch between one or the other and let you pick either to save the single
player data or your server config data in maybe a day or two. Most likely when I
update for v1.3 it will be implemented in that version.
For those of you who are bold (LOL) here is v1.25 which is a pre-release to v1.3.
You can try it out but I'm not guaranteeing it's going to be entirely bug-proof.
If you want to save yourself a headache, make a folder in your application data
folder (%appdata%) basically the same place where Minecraft stores all it's data
(i.e. appdata\roaming\.minecraft) called '.minecraft_server' and just copy the
'Minecraft_Server.exe' to there, and you should be good to go. This ONLY happens
if you leave the Run 'minecraft' after exit check box checked. Unfortunately I can't
get java to change the current working directory on exit or this may have been a lot
easier to manage. The good thing is it won't crash if it doesn't find the server .exe
it will just let you know it's not there. I will update the above Readme file when I
release v1.3.
v1.3 - Here is v1.3 of Minecraft_BSU. Unfortunately I didn't get all the functionality
I had planned into this version but it does (as I promised) backup your server config
and save data. Plus there were a few discrepancies and bugs that I fixed in the process.
v1.4 - Hmm don't know how many more features I can think of to add to this program lol.
It actually outgrew what I had originally intended to do with it. Anyway here is v1.4
with a couple more features (the Reset Minecraft is a volatile one...lol so be careful
with that) I didn't really spend a lot of time debugging v1.4 and didn't realize until
after I already uploaded it that there were a few bugs, nothing major though that would
cause any problems but they have been taken care of and I did a trifle more testing this
time around.
v1.5 - Version 1.5 is here. Just some minor fixes and an addition of an 'Info' button
that displays some rather useful (or useless) information. Got my new Java programming
manual in the mail today so I'll be reading up on that. I'm sure I'll implement
something in a future version that I haven't thought of yet.
v1.73 - I just updated Minecraft_BSU to v1.73. Optimized some of the code, fixed a few
glitches (bugs), added a progress bar (for what it's worth) and also added two new
options to view the Readme file and and contact me via my Minecraft account.
v1.77F - Version 1.77F of Minecraft_BSU is available to download. Some bugs were squashed
and I added 2 new features, Import and Export. You can basically import save game levels
from someone else, or Export your own levels you created to share with others.
Fixed an
issue with export/import and clicking on either of the saves game lists refreshes the
lists.
v1.78F - Some enhancements and bug fixes come in v1.78F of Minecraft_BSU. Some of the menu
items have been moved and optimized as well. Refresh was removed in favor of clicking on
the save lists as well as when exiting you will now be asked to run Minecraft or just exit
the program.
v1.79F - Here is version 1.79F of Minecraft_BSU. Added the ability to delete individual
saves as well as the whole save folder itself if need be. This works only for profiles
saves and will NOT affect your main save games in the .minecraft\ folder.
v1.80F - New version 1.80F. Removed the option to delete the entire 'saves' folder which
may later cause some issues. You can still remove individual levels / save games just not
the whole folder at once.
v1.81F - Version 1.81F is available to download. A few changes were made some textual
discrepancies were fixed along with a few bugs that were previously not detected. Also
changed the MC forums link to point to this download page.
v1.82 - Some bug fixes were take care of and the external libraries I use for some
functions were updated.
v1.83 - Maintenance release mostly bug fixes and code enhancements, nothing major
changed. Can't really think of anything relevant at this time to add. Recompiled using
JDK 7.0 like most of my other projects.
v1.84 - Fixed a few stray bugs added a config file that allows you to edit and change
the number of maximum profiles (saves) from a minimum of 5 to a maximum of 25.
v1.85 - A few non volatile bugs fixed and some naming conventions taken care of. Mostly
just maintenance, nothing special here.
v1.86 - Added count for used profiles. Keeps track of how many profiles you use.
v1.87 - A few bugs previously not caught fixed. A few name discrepancies fixed.
Various file safety checks added to minimize exception errors.
v1.88 - Added a few new features. Minecraft and Profile save folders can now be accessed
via their respective buttons. Reset, Recover, Delete profile and Delete save/level can
now be enabled/disabled via the 'Minecraft_BSU.cfg' file. Some non lethal bugs fixed.
v1.90 - Added new feature AutoBackup. Can be configured via the 'Minecraft_BSU.cfg' file.
Pretty much any time up to a 30 minute interval can be used. The default is 10 minutes.
Also added a counter which keeps track of how many times Minecraft is run during each session.
v1.91 - Fixed a few bugs and added Autobackup time info to menu option.
v1.92 - The 'stats' and 'texturepacks' folders can now be configured to be saved
or not via the 'Minecraft_BSU.cfg' file. Info panel displays MUCH more useful info now.
v1.95 - Added option to edit the config file (usually Minecraft_BSU.cfg). All errors
trapped by exception line number now. If you get an error of any kind that throws an
exception please write down the line number as it helps with debugging. (usually (xxxx))
Next major version will be most likely 2.00.
v2.00 - 'saves' and 'stats' folders now saved by default with the option to save (or not)
the 'bin', 'mods', 'resources', and 'texturepacks' folders. The more options you have set to true the longer it will take the save process to complete. Usually no more than
1 to 2 seconds longer. Theoretically setting all options to true will practically save
your entire Minecraft installation.
v2.10 - Added an option page to change all the options instead of manually editing the
config file. Much easier now!
v2.11 - Some bug fixes and minor config loading problems also fixed.
v2.12 - More bug fixes and error checking.
v2.15 - Maintenance release, mostly bug fixes and enhancements to existing code.
v2.16 - A few minor bugs fixed and re-compiled with JDK 1.7.0.02.
v2.17 - Fixed some minor issues with saving multiplayer profile(s). Folder buttons should work
correctly now and overall functionality should work much smoother with few or no exception
errors.
v2.18 - Minor bugs fixed and maintenance build done.
v2.19 - Added function(s) to allow folder descriptions, and lengthened folder output windows
slightly.
v2.20 - No longer are you limited to a couple Minecraft launchers to use. In options you can now
set the name of any Minecraft Launcher out there, EXE or JAR!
v2.21 - Minecraft_BSU as of this version creates a NEW folder called '.launcher\'. It is advised and
recommended if you use external launchers (such as Minecraft.exe, Minecraft.jar) to copy those to
this new folder. The file menu 'Run' option will be disabled if you don't, which isn't really a big deal.
PLEASE NOTE! rename ALL your folders .mc.single_XX to .mc_single_XX and so on. I just changed
the second DOT to an UNDERSCORE.
v2.22 - Times run is now saved (how many times you execute Minecraft) and also can now save the profile that was last used so you are always on the last profile you accessed. Also compiled with latest JDK (1.7.0.04)
v2.23 - You can now select and browse for your favorite launcher from the '.launchers' folder.
v2.24 - Fixed issue with dropdown index not being saved. There was also an issue with the autosave
time not changing and reverting back to default time.
Added Google Chrome to the browser list.
Added - entering 0 (zero) as a time will shut OFF the autosave feature, minimum time is 1 minute, maximum is 30 minutes.
Added - Version ID now added to the info screen.
v2.25 - Fixed issue with index count NOT being correct and not counting the number of profiles correctly.
Added - Toggle button for turning AutoSave Backup feature on or off.
Also fixed issue with profile selection where first profile n list was invalid profile (just a place holder)
v2.26 - Maintenance release only. Some bugs fixed and recompiled with the latest JDK
(Java Development Kit).
Tips and Tricks -
- By using multiple save profiles with the options' save 'bin', 'mods', and 'resources' folders you can have different mod setups or alternate minecraft.jar's (I.E. mods that use the Forge API and mods that don't.)

- By clicking on the 'Minecraft save(s)' button and adding a 'New Folder' with Windows Explorer you can make description(s) for your saves!

- Autosave function will not work IN-GAME as file(s) are in use. Just leave Minecraft_BSU
running and the next save(s) will be saved automatically.

- Turn all the folder options ON 1st when making your FIRST profile backup (i.e bin, mods, resources, and texturepacks) then after that they can be turned OFF, unless you change something in those folders.
Downloads -
Creator of Minecraft_BSU, MCModInstaller, MCModPageViewer, and ZM_FSJ.