Klaue
Out of the Water
Join Date:

8/1/2010

Posts:

9

Member Details
Schematic2Blueprint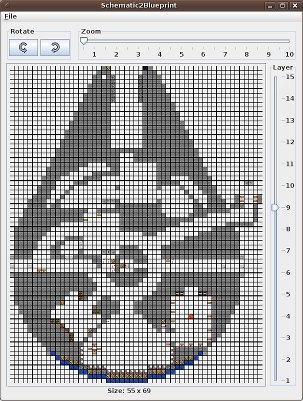 Schematic2Blueprint is a program to slize MineCraft Schematic export files into single planes. Some people like I myself lack the creativity to build something great in MineCraft, but we still enjoy building stuff. With this program, it is possible to take awesome stuff other people made (and released as Schematic files) and generate a blueprint out of them for rebuilding them.
It also supports exports in either PNG images for the single layers or animated GIF files.
It is also usefull for finding hidden stuff in the schematics, for example, the Millennium Falcon (see below) contains a hidden smuggler chamber that most people probably wouldn't even expect.
A great source for such Schematic files is the website
http://www.mcschematics.com
PNG Export: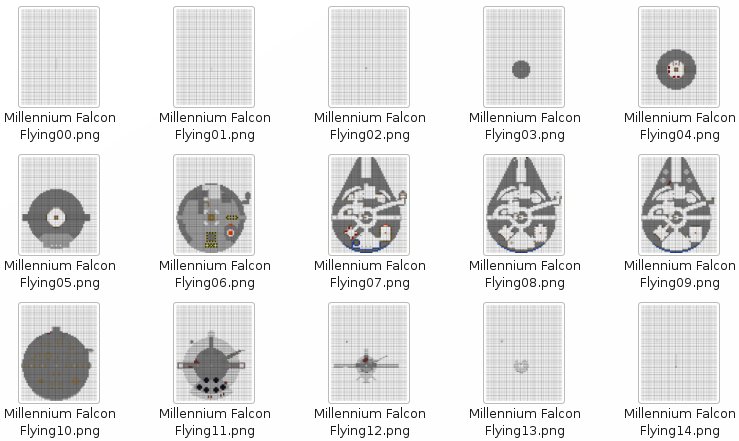 The Schematic used in the screenshots is "Millennium Falcon Flying.schematic", which is, as the name implies, the Millennium Falcon from Star Wars. Megatech rebuilt it inside MineCraft and was nice enough to let people have the schematic of it, downloadable
here
.
Download at
http://klaue.net16.net/programme/ownpro ... int.en.php
To build this program,
http://www.minecraftforum.net/viewtopic.php?f=1022&t=283398
was used
Please post any bug you find here
@Mods: I decided to split this and MCSchematicTool into two threads. If you object, feel free to merge them