Mega_Builds_2016
Carpenter
Location:

A Minecraft Village

Join Date:

10/22/2016

Posts:

255

Member Details
There is a bug where when you change the world preset to "Default" in 1.13.2 and up when trying to load the map in minecraft it gets stuck at 100%
EDIT: It appears it now gets stuck at 100% regardless of world type.
Note: I am using the 1.14 combat snapshot
EDIT AGAIN: It happens to glitch when "Allow Minecraft to Populate the entire terrain" is checked and "resources everywhere" is not checked.
I am also using "Endless water border" if that helps find the problem.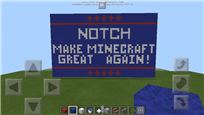 Finds a server that says "No PvP"
*Pushes AFK player off cliff*
Steals Player's Stuff
Admin Can't do anything cause I didn't hit him so "no actual PvP".