McTwist
Iron Miner
Join Date:

9/25/2010

Posts:

253

Minecraft:

McTwist

Member Details
PixelMap is an application written in C++ language designed to create bitmap images of Minecraft Beta worlds in various different styles. The program can be used with both command line and the built in GUI. If there is problems with the command line, then try out the GUI first. It's small and easy, but contains most of the program supports.
I have myself compiled and run it in both Linux and Windows without any special difficulties.

Features
Optimized in both memory consumption and speed
Option to run program in several threads (Multithreading)
No special support packages required: Just download and run
Cave mode
Standard and custom worlds supported
Only and exclude options
Slice mode
Supports Nexus/Nether rendering
Custom textures
Heightmap(line/gray/color/solid)
Rotation
Caching for gigantic worlds
Serverfriendly
GUI
Nightmode
Both Alpha and Beta save format support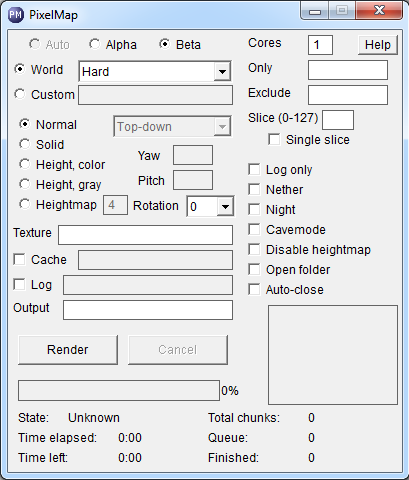 License(s)
PixelMap and all content associated with it, but third-part libraries, is licensed under CC BY-SA. The author leaves the right to change the license for the product whenever necessary.
Third-party libraries: libpng, zlib

Download v0.86
x86 (32bit): RAR, ZIP, 7z
x64 (64bit): RAR, ZIP, 7z

Support
As I want to keep this a free service, still I give my time for something free. I am mere human and still need to pay my dept.

PayPal donation - A small donation of what You value my work



Older versions
x86 (32bit) v0.85
RAR, ZIP, 7z
x86 (32bit) v0.84
RAR, ZIP, 7z

Source v0.85
GitHub

Installation
Download archived file that your system supports (zip/rar/7z)
Put the file in desired folder you have read/write access to, e.g. Desktop
Unpackage the file in the folder
Run PixelMap
Compilation
Download archived source file
Put the file in desired folder you have read/write access to
Linux
Unpackage the file in the folder: tar zxf PixelMap_Source_085.tar.gz
Run commands:
make
make install
Linux
(Command line)
$ cd /tmp
$ wget http://mirror.aposoc.net/Minecraft/archive/0.85/PixelMap_Source.tar.gz
$ tar zxf PixelMap_Source_085.tar.gz
$ cd PixelMap_Source_085
$ make
$ make install
$ cp pixelmap ~/Desktop
Could be copied to an another location
Windows
Unpackage the file in the folder with Winrar or 7-zip
Either compile it with a define WIN32 or use Visual Studio Express to open up PixelMap.vcproj
Compile
Changelog
changelog.txt


Parameters
The order of parameters is irrelevant but the arguments must be after a parameter. Do not use brackets (< >) in the arguments. All parameters are optional.
-w
This parameter requires the folder name of a world. If alpha is specified a number from 1-5 could be used. If specifying a custom path, (back)slash(/ or \) is required. If this parameter is not provided, World 1 will be rendered. The path can contain spaces.

-f .png
Sets the path where you want to save the rendered image. You can only save as .png.

-l
Path to where you want the log file to be saved. Any and all file types are supported. If no argument is provided, the log will be saved as log.txt to the same folder with the PixelMap.exe.

-o
Only renders the user defined blocks, multiple blocks are supported. You can also use 'W' or 'L'(Small letters) to quickly select all, flowing and stable, water and/or lava. 'T' is used for trees.

-x
As above, but excludes blocks instead.

-s <0 or 1>
User defined slice of a world. To render all slices under the selected slice put 0 after the height or 1 to only render the selected slice.

-h
Renders a line heightmap with a user defined frequency. Using 'G' or 'C' (Small letters) allows you to see either gray gradient or color gradient. 'S' is used when disabling the normal mode and therefor showing plain colors.

-t
Sets the amount of processor (CPU) cores to be used when rendering. It is not recommended to use more threads (cores) than your processor has. Using multiple cores greatly speeds up the rendering process. Default is value for this 1.

If providing no arguments, max cores of the computer is used.

-c
-r
Rotates the world 90, 180 or 270 degrees.

-n
Render the world as if it were night with torches, lava and other sources where light can come from.

--texture
Uses the colors from the terrain.png image when rendering. Any size or type of terrain.png can be used as long as it works with Minecraft.

--no-render
Disables the rendering of a map. Only useful if you wish to only write a log of a world, not render a map.

--nether
Renders the Nexus/Nether.

--cache
Instead of allocating the image directly, it creates a temporary cache-file where it stores the image data before saving it to the actually image. Default folder is in %temp%.

--silent
Does not display any message/error box when done.

--no-gui
Does not display any gui(It does everything in the background). Good for servers.

--no-heightmap
Removes the use of lightmap provided in chunks to instead display hidden objects above the light. This decreases performance but gives a more reliable result.

--auto-close
Closes the application when rendering is ready. Good for stacked renderings. --no-gui also activates this. Windows only.

--open-folder
Opens up the folder the output is in. Windows only.

--version
Chooses the version of a map. Currently it only supports alpha and beta.

--debug
Enabled debug mode where it logs interesting parts in the program.

By default, the rendered image of a world is saved to the same folder where the PixelMap file is. If you use the -f parameter you can save the rendered image where you want it.
Last edited by
McTwist
: May 11, 2019
Good programming structure makes the difference.