Romanov
Stone Miner
Join Date:

9/13/2010

Posts:

80

Member Details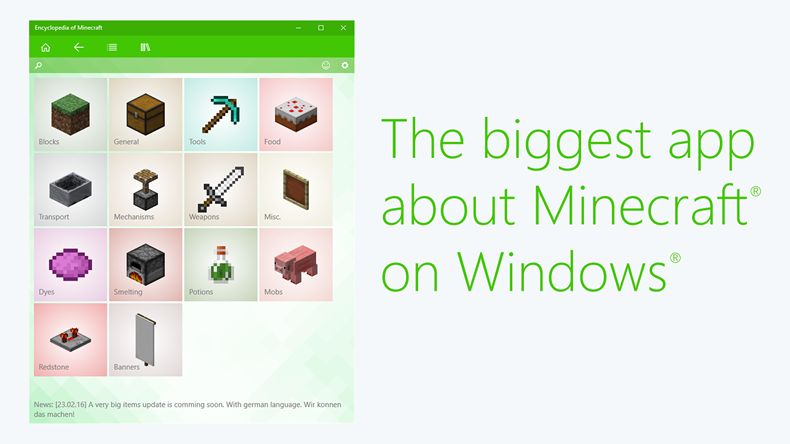 Encyclopedia of Minecraft® (formerly - Kubik) - encyclopedia about Minecraft for Windows and Mac.
Encyclopedia of Minecraft® - a very useful program for Minecraft beginners and everybody who plays Minecraft.

Kubik for Windows 7 / 8 / 8.1 / 10 as a desktop app (outdated).
Encyclopedia of Minecraft® for Windows 8 / 8.1 as native app.
Encyclopedia of Minecraft® for Windows 10 as native app.
Kubik Classic [End of support. There will be no more updates.]
Minecraft Kubik for Desktop (Windows & Mac)
Note: Adobe has abandoned new versions of Air for Linux, use Kubik on Linux with wine.

Features
- see everyting when you play Minecraft in window mode without ALT+TAB
- crafting recipes, blocks description, gameplay articles and more
- global chat with minecraft players (disabled)
- translation support
- day/night clock menu
- copy-paste interface
- automatic updates
Plugins
Encyclopedia of Minecraft® comes with a core plugin system.
You can add own items to the app in a few minutes.
Read documentation with instructions.
Links
Facebook
Kubik Review in The Obsidian Block Magazine (#2, page 8-9)

Faq
- Can i select transparency of Kubik?
- Yes. Click on settings (?) icon on top of main window.
- Can i run Kubik over Minecraft in fullscreen (F11) mode?
- No. Cause of system restrictions. There are not many programms (on C++, C#, Java) can work properly on Direct3D, OpenGl overlay.
- I have strange bug (windows don't work, flashing, etc).
- check Adobe Air Version (3.0 or above)
- uninstall older Air versions, clear /program files/common files/Adobe Air folder, reinstall Adobe Air
- check Java, OpenGL versions, update it
Kubik Classic comes with a built-in update mechanism. One click to install the latest version.
27 Sept. 2010 Version 0.5.5: some minor fixes, block menu (alpha), chat on main menu;
28 Sept. Version 0.6.0: smelting menu, minor fixes
4 Oct. Version 0.6.5: block menu stable, server menu, minor fixes
9 Oct. Version 0.9.0: new design of main menu, new languages (Русский and Português), full block articles on english, minor fixes
28 Oct. Version 0.9.5: New language (Español), own chat window, minor fix
1 Nov. Version 1.0.0: Halloween craft and blocks, gameplay window with mobs and portal info, swedish tranlation (beta), all items ids (incl. halloween), mini version of main menu (click on arrow on top), chat is back to main window (you can hide it), minor fixes
8 Dec. Version 1.1: Nederlands language (beta), Kubik Portal, some addings in smelting menu, minor fixes
22 Jan. 2011 Version 1.2: Completly rewritten from JavaScript to Flex; up-to-date with latest Minecraft updates, new chat system, dye menu, enchaced smelting menu
3 Feb. Version 1.3: watch menu (day/night timer), minor fix
24 Feb. Version 1.4: Gui improves, up-to-date with Minecraft 1.3, portal menu (beta), minor fix
3 Apr. Version 1.5: Gui improves, up-to-date with Minecraft 1.4, Chatango chat is back
22 Apr. Version 1.6: Up-to-date with Minecraft 1.5, Kubik Portal with own window
2 May. Version 1.7: Kubik Plugins support, new data values menu
26 May. Minecraft 1.6 up-to-date
3 July. Version 1.8: Minecraft 1.7 up-to-date
17 Sep. Version 2.0: Minecraft 1.8 up-to-date, new core system, new design
11 Nov. Version 2.1: Minecraft 1.0.0 up-to-date, p2p chat was replaced with shoutbox, smelting menu, watch (day/night timer), various enhancements
14 Jan. 2012 Version 2.2: Minecraft 1.1 up-to-date, translation support is back, Kubik usage stats page, various enhancements
7 Mar. Version 2.2.5: Minecraft 1.2 up-to-date
8 Aug. Version 2.2.6: Minecraft 1.3 up-to-date
3 Oct. Kubik Modern (Windows 8) Version 1.0.0.1
31 Oct. Kubik for Desktop 2.2.7 (technical update)
7 Nov. Kubik Modern (Windows 8) Version 1.0.1.0 (plugin support)
24 Dec. Kubik Modern (Windows 8) Version 1.0.3.1 (enchacements)
28 Dec. Kubik for Desktop 2.3.0: plugins from Kubik Portal is now fully compatible, Minecraft 1.4.6 up-to-date, chat was disabled
31 Mar. 2013 Kubik Modern (Windows 8) Version 1.0.4.5: search support, all items page, some plugins installed by default
[For updates after 2013 visit the Windows Store]