ScaredBonez
Join Date:

3/11/2021

Posts:

1

Member Details
Backstory
There once was a boy who was 18 years old, he was an outcast, he was rejected by his own village and parents from a young age just because he was a little different. one night the 18 year old boy who lives on his own in a secluded house in the forest, noticed he had no more food and that he had to go out to get more if he was going to eat that night. The boy exited his house and as soon as he did, he regretted it dearly. One of every single monster that comes out at night was outside his house, as if they were lying in wait for him to come out. They all attacked him at once, they even all had armor so they wouldn't die to their creeper comrade's explosion! The boy died from the bombardment of attacks from the monsters. As the boy was "passing on to the afterlife" his soul resonated with a great darkness. it then spoke out "NO, I WON'T LET IT END LIKE THIS, SCREW THIS WORLD, IF IM NOT GOING TO BE ACCEPTED HERE THEN I MIGHT AS WELL MAKE MY OWN!" That's what it said, and you know what? That's exactly what it did. The boy's soul was sent into a void all of a sudden and given a new body, there seems to be a darkness growing in his soul that will take great form later on if he continues down a bad path. He gained control over godly dark powers and created a new realm/world and made humans and animals and all those things. Everything was going smoothly until a few years go by in that world, on one of his trips to his world, the humans tried something preposterous, they had grown to fear him so they decided to destroy him, before this happened he gave special powers to the humans and a few other things as well because he thought it would be cool and fun to see what happens. However scientists started experimenting with it and eventually they decided to use the powers against him to destroy him. This made him very furious and he purged the world before they could enact their plan. from this, the darkness in him had grown so much that it has almost completely taking over him, he used what was left of the first world he created and made a much eviler, corrupt, and darker world, the dark realm! He decided eventually he shall open up a gateway the world he lived in on his first life, and take over that world or something but first he would spend time on his current world/realm.
About the mod
Welcome to Demora: The Dark Realm!
This is a my first mod I have ever made, it will mainly be focused on a new dimension/realm called The Dark Realm! But the new dimension/realm isn't the only thing I'm adding, here let me tell you about a few more things I'm adding, and that isn't even all of it!
I will be possibly adding a quest system of some sort!
I will be adding bosses and mini bosses!
I will be adding special powers that the player can get!
I will be possibly adding a mentality bar that when the player gets a dark power will activate due to it affecting their sanity, when it gets too low, a monster named Kaspor will stalk/follow the player and when it drains completely Kaspor will hunt the player, don't worry, the player can get rid of Kaspor temporarily by killing it which will refill the mentality bar to half way or full and then when it drops again Kaspor will return.
I will be adding lots of biomes and structures for the player to explore!
I will be possibly adding a new map system to map out the player's area ( this one is a BIG maybe though, so don't get hopes up!)
Much much more is to come! If you have any suggestions for my mod, please leave them in the comments of this post or put them in the suggestions/ideas channel of the discord server, the discord can be found at the bottom of this page/post. Bellow are all the features of the mod so far that are in game.
Current Dimensions in mod
Voided dimension
Voided biomes exist on the center of the void dimensional space that brine's soul created out of nothing, and then to the left of the center is Demora(The Dark Realm) the main dimension of the mod, in the voided dimension is some remnants of the humans and powers from the first world brine created, he kept most the parts from the old world, but he took two parts and then gave them to the middle Void and created a being to govern them, he named him the Demon Lord of the Void, Darious! He told Darious that the place that he gave him was going to be the bridge between the Overworld and Demora someday and that he may change its look and properties however he sees fit, Darious is made from the Void, so he holds some powers from/over it that brine gave him, which allows him to alter some things of his new dimension so he made it corrupt things that came in from the Overworld and turn them into things fit for the Void, and named the new dimension, the Voided dimension.
The voided dimension is only made up of 3 biomes, the Voided forest, The Voided dimension Voided Plains, and the pure Void biome, this is due to it only being there to act as a bridge between the Overworld and Demora
Demora (The Dark Realm)
Demora, also known as The Dark Realm is the Pride and Joy of The Dark God, the one who made it, it holds many species and races as well as many dangers and benefits to travelers/adventurers.
Currently the only biome in Demora is the Lively Plains, but more will be added soon.
Current biomes in mod
Voided plains
The voided plains are the result of Dark Realm rifts from voided areas opening in plains biomes across Minecraft, letting it seep in and corrupt just a bit of the plains biomes before the rift closes. In this biome you can find a new structure called the Dark Realm survivor's house, in it you can find the Dark Realm survivor, a human that accidentally entered the dark realm through a rift and somehow made it out through another open rift and only half of them was corrupted, as you can see from the different eye colors. You can also fine Voided humans in this biome since it is a voided biome.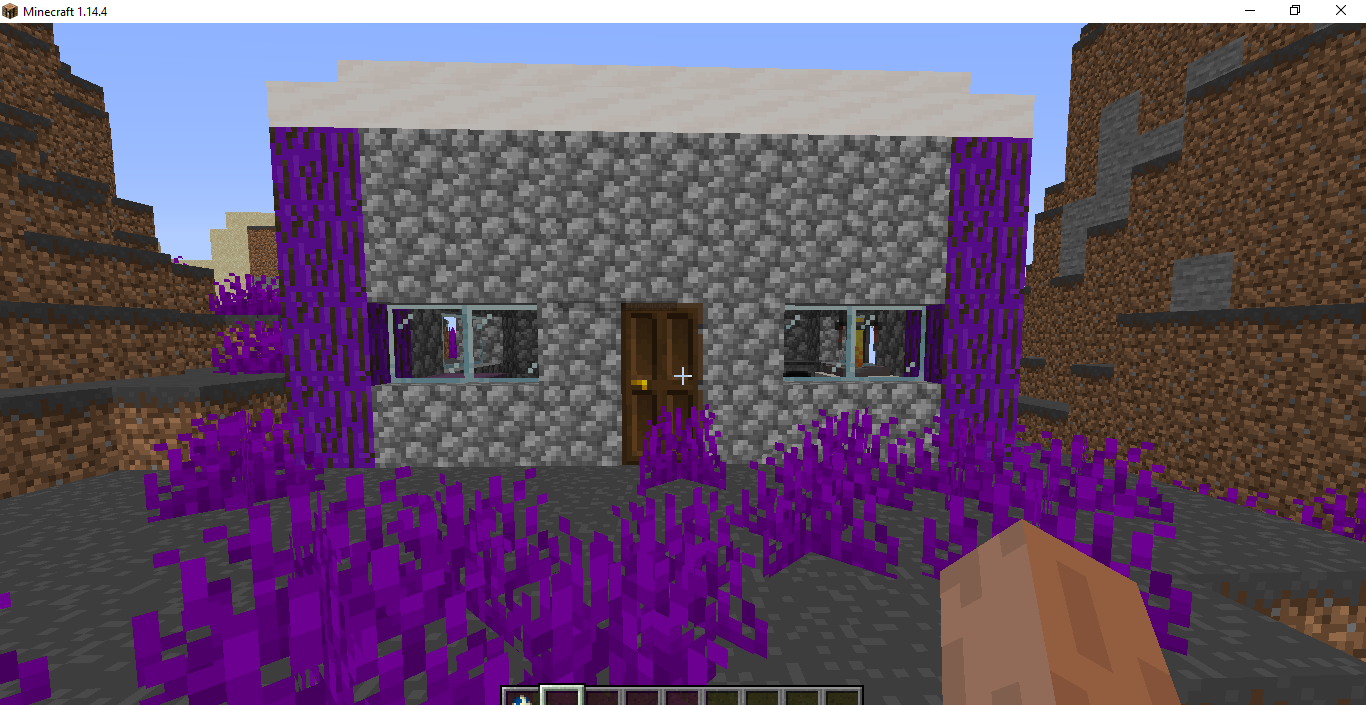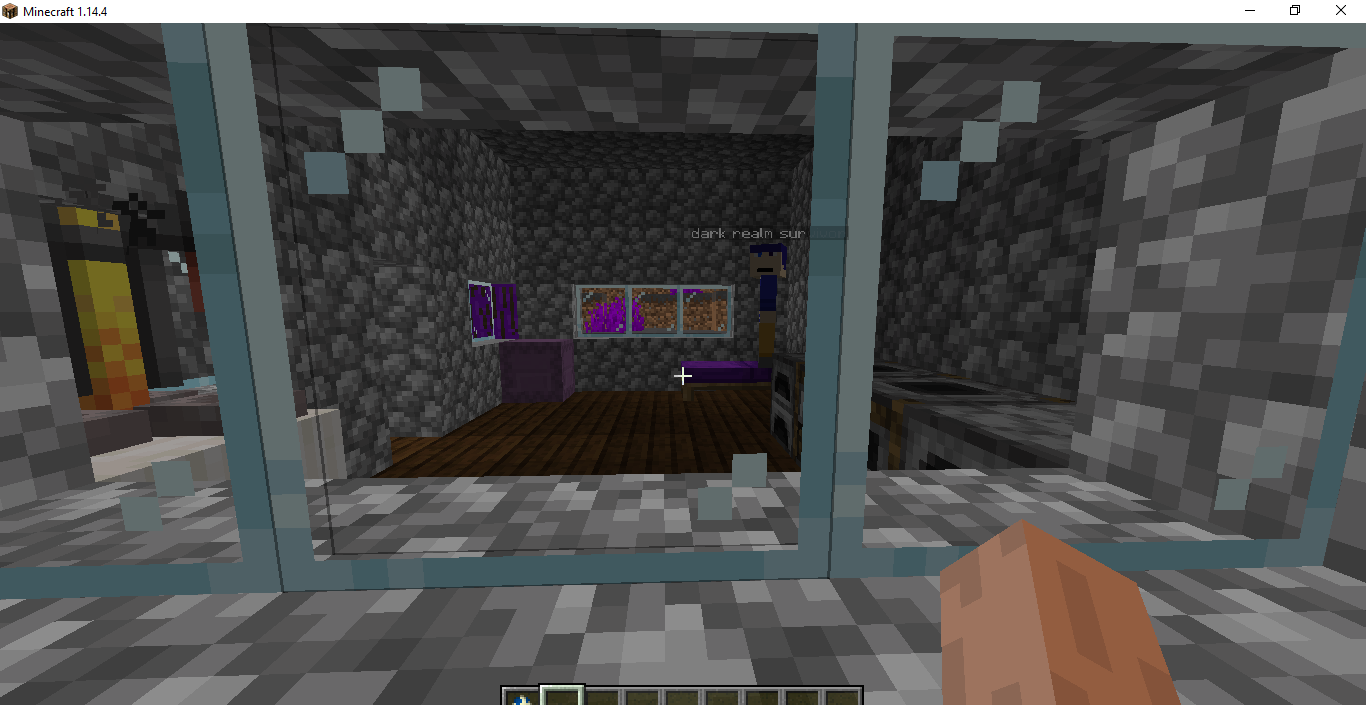 Voided forest
This is the Voided forest, it is a forest of voided tree's. In it you can find the Dark wolf, it behaves like a normal wolf at the moment except you cant tame it. I plan to have the Dark wolf do something special in the future of this mod, like use some sort of power or something, but for now it just looks cool and will attack the player if they hit it. The Dark wolf is a result of some normal wolves coming into the Dark Realm and getting corrupted and then breeding in there to make a new species of wolves!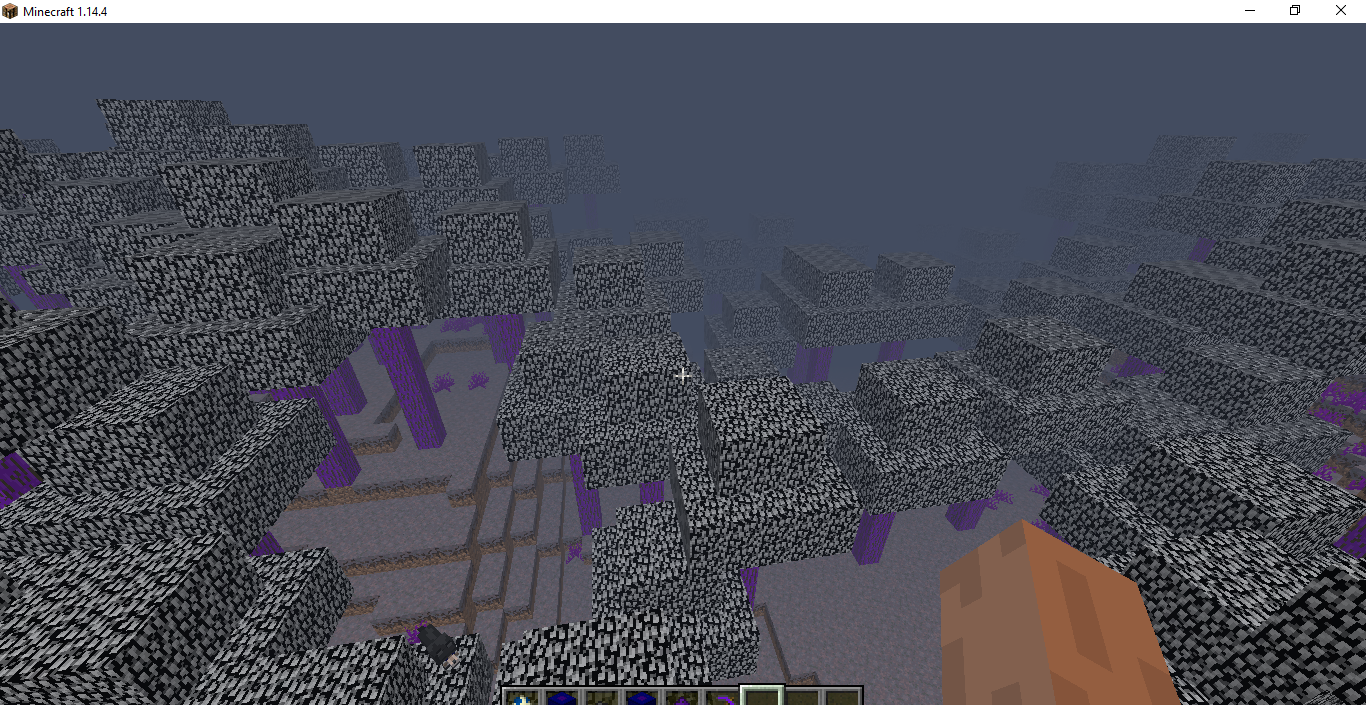 Voided dimension Voided Plains
Voided Plains but in the voided dimension, here you can find the Powerlight of life protection lab, which the design for the lab is not final.
Lively Plains
The lively plains is the most vibrant place in Demora currently, it is made up of lively grass that is very green, and it is home to the mostly friendly Goblin race! in this biome currently the only structure is the Goblin Base, but it will have more structures later on.
Current items in mod
here is a list of all items currently in the mod;
Music disk (Name: remnants of forgotten powers),
contained refined Voidum (used to craft void dust which is used to light the portal to Dark Realm),
Voided human spawn egg, Dark Realm survivor spawn egg, Dark wolf spawn egg,
Powerlight of life protection( when it hits a certain block, depending on the block it is it will spawn a golem made out of the materials from that block. the golem will fight any kind of monster and depending on the material the golem is made out of, its strength differ.),
Realm Travel core(used to go between the voided dimension and Demora, just right click in the air, be careful though, better wear some armor when you use it as it is known for the rifts to throw people into the dimensions from a little bit high in the air.)
Voidum infused metal rod (used to start the boss fight with The Demon Lord of the Void)
Current blocks in mod
Here's a list of the blocks that are currently in the mod;
Voided wood log (can be turned into planks which can be used to make all basic wood things including stairs, wooden tools, fence, etc.),
Dark stone (is stone in the voided dimension, can be used to make stone tools and stuff that are better than normal stone tools but not as good as iron!),
Dark Rift stabilizer ( portal frame block you use it to build the portal/rift to the Dark realm)
Lively oak planks and lively oak stairs
Current mobs/creatures in mod
Darious: The Demon Lord of the Void
Darious was created by the Dark God to govern the voided dimension, he is a boss mob that has a whopping 20 attack strength and 100 health which is equal to 50 hearts, you will have a tough time taking him out, that is unless you have some good gear and are motivated by his epic boss battle music.
Goblins
Goblins are humanoid creatures that are passive to the player at the moment unless provoked/attacked, they spawn in the lively plains biome in the Demora dimension, they deal 6 attack damage per hit, and i plan to give them some sort of weapon eventually. Oh and they say Hoogalabob, pretty weird/funny isn't it?
Voided human
the voided human is a human that went into a voided biome and got corrupted due to staying there too long, the are a hostile mob that only spawns in voided biomes. They deal 8 attack damage per hit so you better be wearing at least some iron armor if you want to survive these guys! They also drop voided metal fragments until I make another way for the player to get the fragments.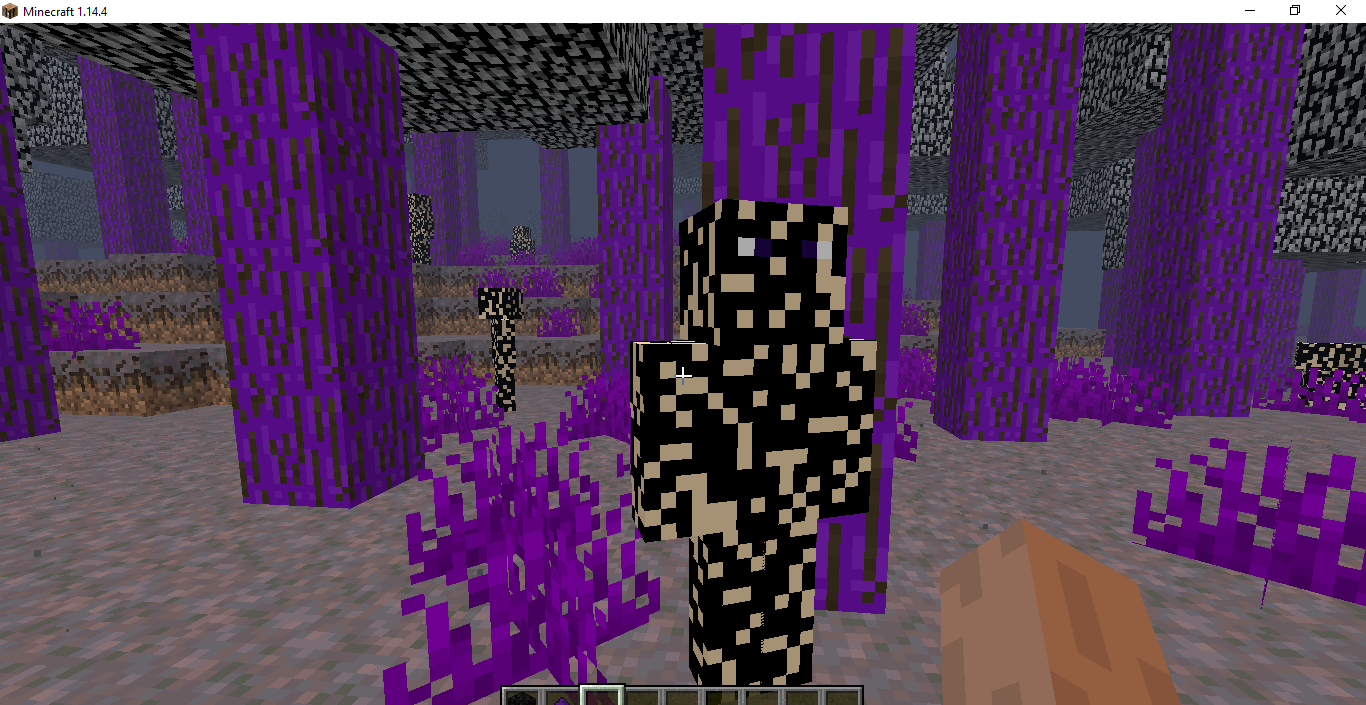 Dark wolf
the Dark wolf, it behaves like a normal wolf at the moment except you cant tame it. if you attack it, it will attack you back, it does about 4 attack damage, I plan to give it some sort of power or something in the future.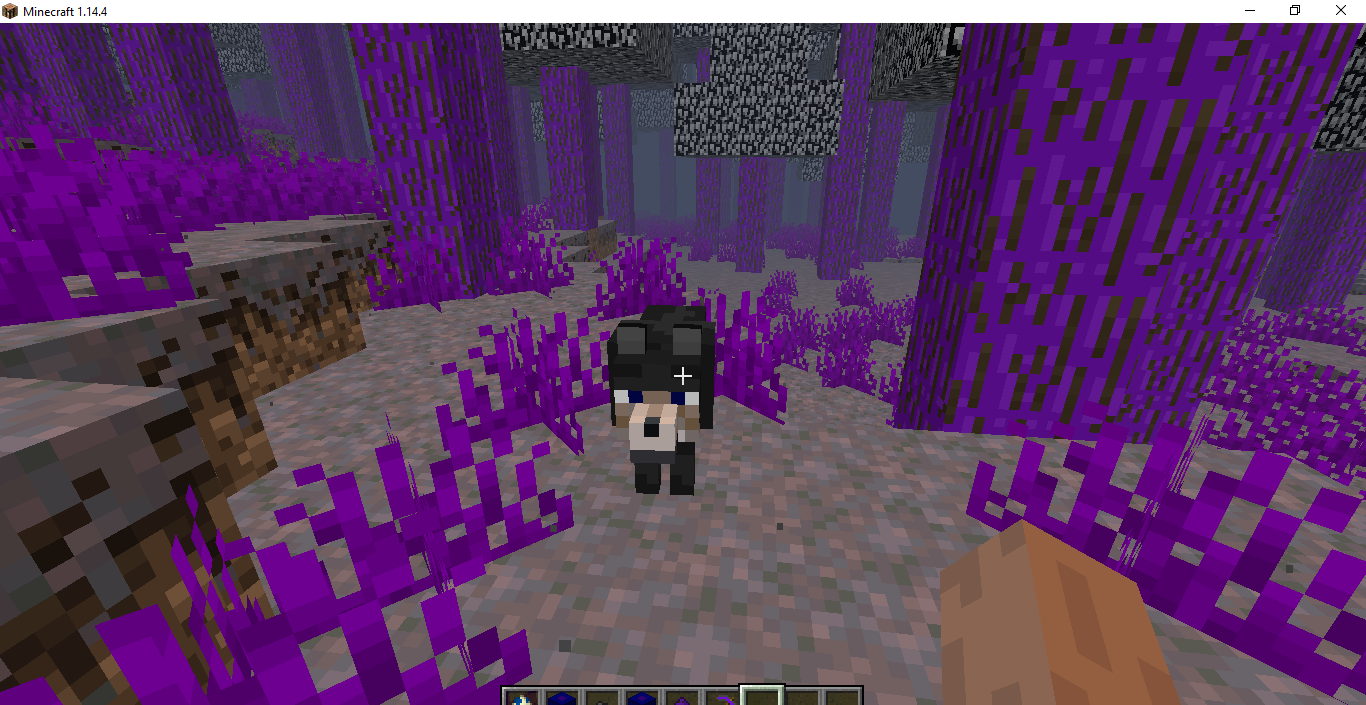 Dark Realm survivor
The dark realm survivor is a passive human that as I stated when I explained the voided plains biome, they accidentally entered the dark realm and somehow made it out only half corrupted. You can trade with them to get the things you need to make the portal to the Dark Realm!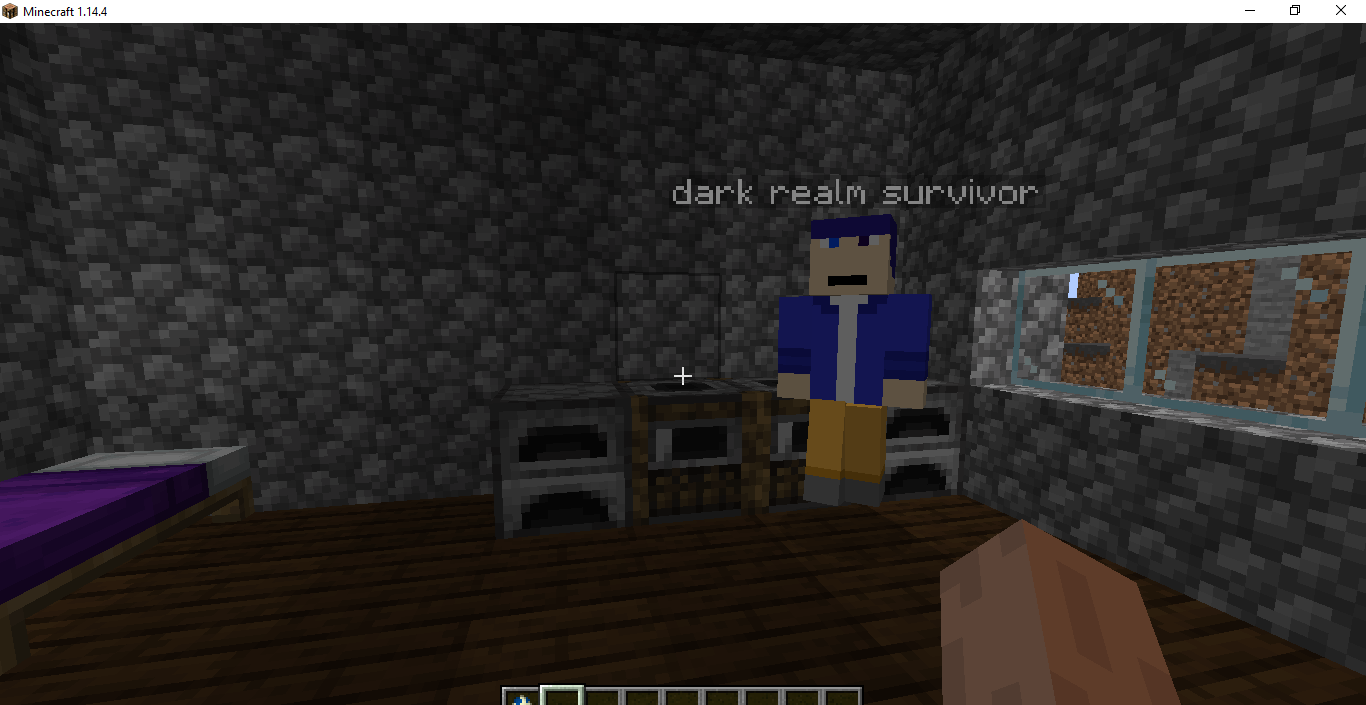 Things being worked on currently
Powerlight of life protection: The Powerlight of Life Protection is a currently an item, however eventually it might keybind that unlocks when the player does a certain thing, that when pressed will do the same thing the item does but better. the item is a ranged item like a bow but it doesnt do damage to anything, when it hits a certain block, depending on the block it is it will spawn a golem made out of the materials from that block. the golem will fight any kind of monster and depending on the material the golem is made out of, its strength differ.
Quest's for the player to do.
new biomes and structures for those biomes.
Progress updates
Made a new biome, the Voided dimension Voided Plains, Voided Plains but in the Voided dimension.
made a new structure that is in its earliest stage, the Powerlight of Life Protection lab
Made earliest stage of Powerlight of life protection
Made the first boss for the mod, Darious: Demon Lord of the Void, the player has to defeat him in order to go to Demora.
When will the mod be available?
The mod will enter its playable early access stage at near the end of May or in the start of June, it depends on how things come along. The only way it will come out for early access is if I make some of the elements that I want to get done that will actually make the mod playable and last at least long enough to have fun for a while until next updates come out. One of the things I want to do to ensure that is make some sort of small objective or quest system that might evolve into a bigger system if you all like it. I will also have at least one or two mini bosses or maybe even a boss that you can fight! And of course another way to make it enjoyable is add some structures and biomes that the player can have fun in as well.
How often will we get updates/news?
You will get update news every week or two maybe even more often then that depending on how much I get done. I will also give out some special news every once and a while if I have any, for example, if someone suggested me a feature they want in the mod that they think would be good to have in it and would benefit it, and I agree and its not impossible for me to do, then I might give a little news stating that I am going to go with that request and add the feature and of course, give credit to the person who gave me the idea in the first place.
Discord for mod:
That's all there is for now, come back soon to see if I added something or not, and don't forget to comment if you have any suggestions/idea's for my mod or put them in the suggestion channel on the discord!