Zomb3Arts
Tree Puncher
Join Date:

7/5/2019

Posts:

12

Minecraft:

ZombArts

Member Details
- The VOID Expansion -
- v0.0.1a -
Hi everyone!
I'm Zomb and I'm currently developing The VOID expansion mod.
What is this mod about?
This mod is mainly focused on adding new game mechanics to make the Minecraft gameplay refreshing and exicting. The main focus is to make the player become a really powerful (yet balanced) and controll the environment around him/her.
Current content
Unwritten Core
- contains condensed magic -
The Unwritten Core is the base item for all the other cores in this mod.
It is quite expensive and the player needs some progress to be able to craft it, but it'll be worth it!
Void Core
- not sure what it is, but it seems to integrate everything it touches-
The void core is the iconic item of this mod. It's the foundation of the current main tools and is crafted like this:
Arguably the diamond blocks are pretty expensive, so I'm still not sure if I'm going to keep it.
The Void Core also has a special feature:
Crafting it with anything else destroys it completely. Here's an example:
This also works for any items/blocks/anything added by other mods
Infusion Core
- infuses stuff into other stuff. magical! -
The infusion core is used to craft lower-tier materials/items into higher-tier ones and can be used for a lot of other stuff, like reverting bones and wood logs, too. It is crafted like this:
As the void core diamond blocks are currently being used, I'm still not sure to keep it or not. Here're some examples of an infusion recipe:
These are not the only ones, currently you're able to also able to infuse items into these materials: Gold, Diamonds, Coal, Nether Stars, Stone, Cobblestone, Iron, Bones, Glass, Ender Pearls, Logs, Emeralds, Strings and much more!
- a core that doesn't seem to stop producing heat -
The Smelting Core is a glowing ball that lets you smelt stuff anywhere you want without requiring a furnace. The recipe for the Smelting Core is the following:
This one is quite cheap for its functionality, but it still requires some sort of fuel. The Core is able to smelt every item that has a smelting recipe, even those from another mods too! Here're some examples:
You might be wondering what the little shard there is, right?
Coal Fragment
- so small it can't even fuel a furnace -
The Coal Fragment is just a boring item that is needed for the smelting core to keep some balance, they're pretty cheap and can be crafted like this:
The Void Blade
After all the basic items lets get to the first tool this mod features:
- A swored forged from... nothing? -
The Void Blade is a really unique item by iteself. The first unique thing is that the texture is mirrored, which means that you hold it like a dagger when holding it in first person mode.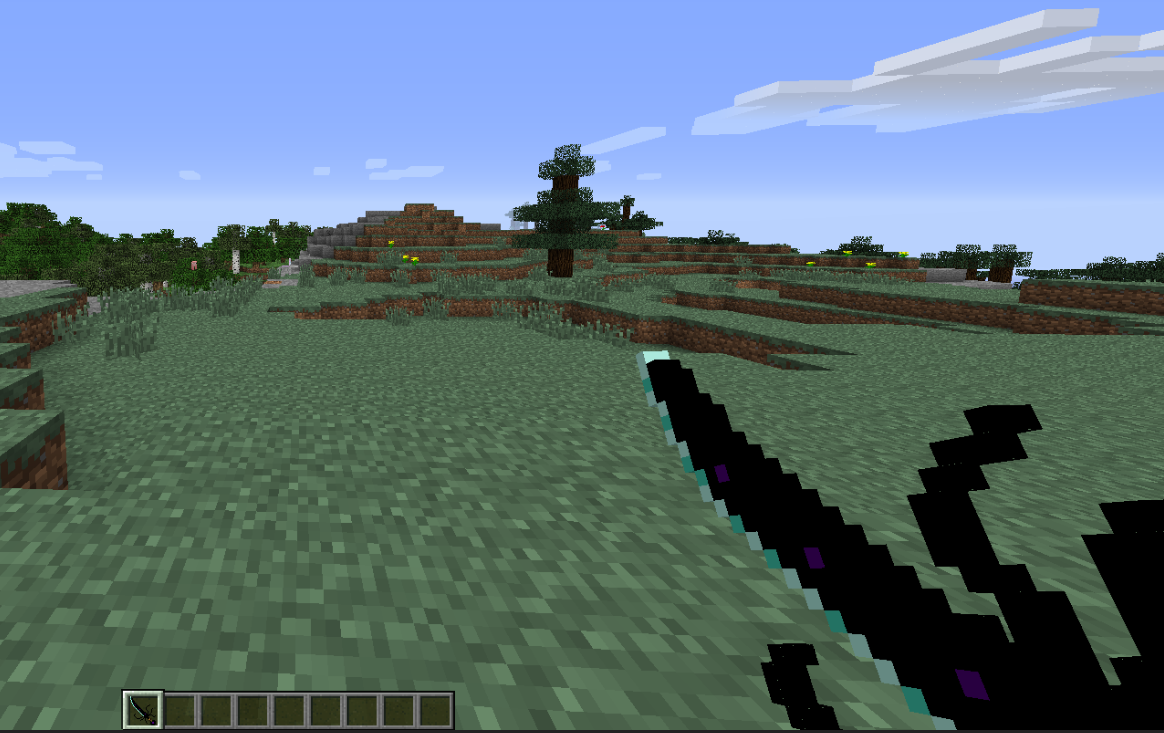 The "tentacles" you can see are also animated, bringing some life into the game
The Sword itself deals 8,25 Damage (4,25) Hearts per hit and has a higher durablity than Diamond. The special things about this sword are:
1. Effects - every time you hit an Enemie the sword makes a mystic sound and add some particles on hit
2. You can charge up the sword to deal more damage! - When you block with the sword it charges up. After about 4 seconds you're granted with Strength I which lasts for 15 seconds. You're also greeted with a nice little animation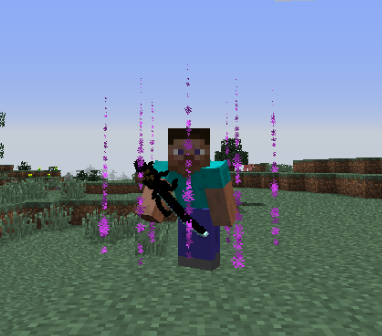 3. It gives other entites the Void Infested effect! - Void Infested is a new effect that damages entities by 2 hearts (!) every second (on level 1) or 0,5 seconds at level 2. You can give other people Void Infested II when you power up your sword and hit them with it.

This sounds all awesome and stuff, but how much do I have to invest to get this sword?
Well, to balance things out this one has to be quite expensive. But is there any way to counter the Void Infestation?
The Void Shield
- it's heavy, but robust -
The Void Shield is used to negate damage dealt by the Void Infested Effect. For it to work you just have to keep it in your inventory. It's crafted like this:
After a certain amount of uses this item will be consumed!
Void Shield Chestplate
- bet this one is going to last long -
The Void Shield Chestplate does what the name says, it also protects you from the Void Infestation, but permanently!
The stats are between the Iron chestplate and the Diamond chestplate, since it's only really made out of iron. But for the extra protection it's worth it
This is everything the mod features atm and there's still a lot of stuff to add!
If you have any suggestions and ideas feel free to leave them down below!
Im going to release the first version of the mod soon.
Stay tuned!