LotuxPunk
The Meaning of Life, the Universe, and Everything.
Location:

Spy

Join Date:

1/2/2016

Posts:

46

Minecraft:

LotuxPunk

Member Details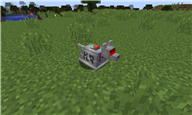 Hey !
I saw the mod with a TARDIS, and I thought there was something missing in Minecraft on Doctor Who, K9!
If you didn't know it K9 is literally the Doctor's robot dog (a bit forgotten in the 2008 season) and so I put myself in the head to create this mod. This is my first mod, but I know java, so it should pass.
What would I need to move forward in the mod?
Any advice? But above all a model and textures for the different elements of the mods (like K9, items, blocks,...)
What will you get for helping me?
Nothing, but you will be quoted in the credits and will be part of the contributors of this little mod! Isn't that wonderful?
For the moment, I just laid the foundations of the mods, nothing is functional, but there are a lot of things planned!
Planned Features
Make K9 from complicated to have materials. - Done
K9 can pick up items,
K9 can defend you, - Done
K9 can serve you as a mini chest - in progress
K9 can be assigned to a task if you do not need it.
K9 can keep you company - Done
K9 may prepare cookies for you
K9 will need to recharge
K9 may become President of the United States
and many other things...
Github repo : https://github.com/LotuxPunk/K9
Download page : https://minecraft.curseforge.com/projects/k9-mod/files
Discord : https://discord.gg/7Ycz4AP