NightKosh
Curse Premium
Diamond Miner
Location:

Saint-Petersburg

Join Date:

3/2/2013

Posts:

859

Minecraft:

NightKosh

Member Details
Hello. I'm going to create a new mod, which should override vanilla fishing system. It'll provide bunch of new fishing catch, which will depends on biome and your position(caves/surface) and type of the liquid(water/lava/modded liquids). All those features will be available for vanilla fishing rod, so it will not be required to craft a special item.
New catch: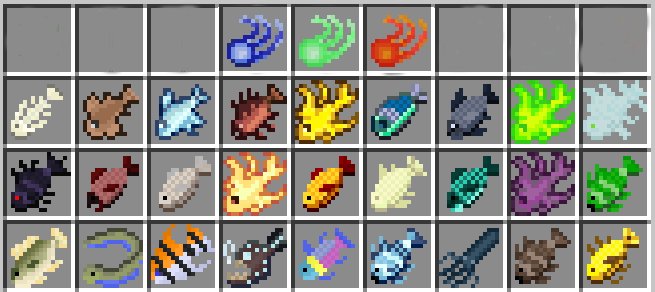 Catch in water in the Overworld:
Junk and treasury catch in the water the same as in vanilla minecraft.
Tier 1 (50%):
- in Ocean and Beach: Blue jellyfish, Angelfish, Squid
- in all other biomes: Cod and Squid
Tier 2 (30%):
- in Ocean and Beach: Puffer fish
- in sandy biomes: Sandy bass
- in snowy biomes: Snowy crucian
- in swamps: Ruffe
- in jungl: Piranha
- in other biomes: Salmon
Tier 3 (15%):
- in Ocean and Beach: Clown fish
- in sandy biomes: Golden Koi
- in snowy biomes: Frost minnow
- in swamps: Mud tuna
- in jungl: Sparkling eel
- in other biomes: Explosive Crucian
Tier 4 (5%):
- in Ocean: Sponge eater
- in other biomes: the same as in Tier 3
- in caves of any biome at depth of 50 blocks: Specular fish
- in caves of any biome at depth of 40 blocks: Cavefish
- in caves of any biome at depth of 25 blocks: Angler fish
Catch in water in the End:
Tier 1 (50%):
- Enderfin
Tier 2 (30%):
- Pearl Bass
Tier 3 (20%):
- Chorus Koi
Catch in lava in the Overworld:
Tier 1 (80%):
- Obsidifish
Tier 2 (15%):
- Magma Jellyfish
Tier 3 (5%):
- Wither Skull
Catch in lava in the Nether:
Tier 1 (40%):
- Nether Salmon
Tier 2 (40%):
- Magma Jellyfish
- Quartz Cod
- Withered Crucian
Tier 3 (15%):

- Flarefin Koi
- Blaze Cod
Tier 4 (5%):
- Wither Skull
At the moment all those features already implemented in my other mod, but I think it will be better to move them to a separate mod. Furthermore I suggest it can be interested for other modders, to provide its own type of catch for thier liquids. So if someone has a suggestions, ideas, advices or requests - you are welcome, just post it here or in the mod Issues page - https://github.com/NightKosh/Advanced-Fishing/issues