xCodecX
Stone Miner
Join Date:

8/22/2016

Posts:

74

Member Details
Hello! this mod thread is going to be very simple as of right now for maximum information provided.
xCodec's Fantastical World Around you is a mod designed to Bring you into a World full of wonder's, as well as Dangers this mod will add in anything from Annoying Goblins, to Magnificent Dragons. it is even planned to add things to the Oceans.
for now, only images will be provided in the main page, and only images of things planned for the First release. All details from the mod will be Provided in the comment section, as people ask for them. please DO NOT ask for the time and/or date/when the mod will be released.
First thing you will need to see these creatures will be the Seeing Stone, the Seeing Stone can be found in dungeon chests, and Blacksmiths right clicking with it, will temporarily give you a new potion effect known as The Sight, you can combine a Seeing Stone with any helmet to permanently have The Sight, The Sight allows you to see any players or mobs who are invisible, this includes creatures from the Fantastical World
WARNING: creatures from the fantastical world CAN and WILL attack you, they can be seen temporarily before attacking, after attacking a few times they will then vanish and come back for another round if you have not killed them, you can see them coming using the seeing stone, which means it is imperative that you get this item rather quickly in your survival world, most if not all drops from these creatures can be brewed into potions of invisibility.
Goblins
Goblins are annoying yet entertaining creatures, they smell like urine, which is prone to give you nausea when one is nearby, goblins will spawn with either leather or chain helmets (10% chance for either 90% for no helmets) and usually spawn with a stone tool which they will use as a weapon (65% chance to spawn with a random stone tool 25% chance to spawn with a stick.) goblins can tear down your house to get to you if it is wooden, if you are killed by a goblin, it will take your weapons or helmet if it is better than its own, for example: a Goblin with a chain helmet on somehow manages to kill you, and you have a diamond helmet, it will drop its own helmet in turn for your diamond one, same goes for tools. goblins can also be heard due to their loud grunts and gargling noises which they make frequently. Goblins eat small animals such as Chickens, Badgers, Rabbits, and Small Ravens.
Hob Goblin: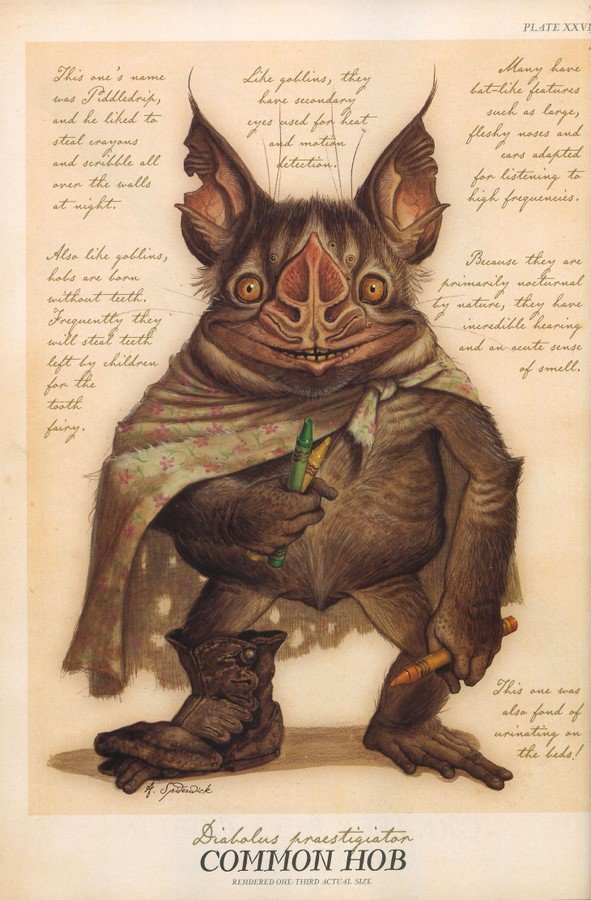 Hobgoblins are unique in the way that humans are unique, some like shovels, some like hats, some REALLY like eating fish, and others enjoy eating birds or even just having company, if you can give a hobgoblin what he wants, it will hang around your house area, upon befriending a hobgoblin it will literally spit in your face, however, by spitting in your face it gives you a gift, the gift of The Sight. if a hobgoblin spits in your face you will have nausea for 2:30 min but you will forever have The Sight. befriending a Hobgoblin is no easy task, however. because 1.) you have to spot it first. and 2.) giving it the items it needs, or enough of the items it needs can be a very large challenge, this is due to their childish, but picky nature.
Cockatrice:
Lessar Dragon, or Long Tailed Wyvern.
Old World Drake, or Grater Dragon.
River Troll, on Land.
River Troll, In Water
i know what you are all thinking,
but codec, how do i protect myself or my animals from the invisible world.
the answer to this question is actually quite simple
first you will need salt, salt is an ore found at the same level as gold. once you have salt, you are almost done, now you will need what is known as "salt Solution" you can get salt Solution by mixing the salt, with a water bottle in a crafting table, salt solution acts the same way bonemeal does but only on the block you place it on, after using your salt solution you will be given the water bottle back, once you place salt solution on the ground it will place what is known as a toadstool, a circle of toadstools can create a unbreakable forcefield around your house only visible by the invisible world, creatures like goblins, trolls, ogres, dragons, wyverns, and most others will never be able to enter, however you are limited to a block radius of 1000 blocks, this may sound like a lot, however when you are building a large build, be mindful not all of it is guaranteed to be able to fit within a toadstool circle/square
see? all you need is some water and a little mining, how quaint...
How to Apply for Modeler, or Coder:
1.) Place Your Name Down in the Comments
2.) Send Links to some of your work.
3.) say please and thank you
Last edited by
xCodecX
: Sep 8, 2016
Please check out my mod, which is based on the Spiderwick Chronicles book series, NOT the movie.
http://www.minecraftforum.net/forums/mapping-and-modding/minecraft-mods/wip-mods/2736508-wip-xcodecs-fantastical-world-around-you-need-an
i am a... Weavile?

i Support Sea Expansion
http://www.minecraftforum.net/forums/minecraft-discussion/suggestions/2734184-sea-expansion
i Support Summoners
http://www.minecraftforum.net/forums/minecraft-discussion/suggestions/2736792-necromancer-or-summoner#c1