JTK222
Curse Premium
Iron Miner
Join Date:

1/23/2012

Posts:

269

Minecraft:

JTK222

Member Details
Hey guys,
I think everybody knows that situation:
You are building something and need to fill a large area but you are in Vanilla and don't want to setup a Bukkit/Spigot Server with World Edit?
Well this Mod solves this Problem all you need now is to press 3 buttons and the area will be filled!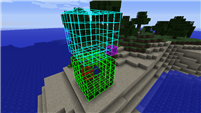 Look at attachments for full resoulution.
What does this mod exactly do?
It makes it possible to save 3 different locations for the vanilla /clone and /fill commands.
And makes it also a bunch easier to use them in Commands!
Oh and the best thing its only Client Side!
This means you can use this even on a Vanilla server but you need the Permissions for the commands!
Functions:
Look into the Controls there should be a few new Keys.
Set Position 1:
Sets the first Position of your selection.
It takes the Block you are currently looking at (8 Block Radius might be buggy at corners because it only checks a block each 1/2 block).
If there are no Blocks it will just take your current Position.
Set Position 2:
Same as "Set Position 1" but only for position 2... you don't say
Set Target:
This key sets the Target position for the /clone command.
The Block stuff is the same like for Position 1 and 2
but if position 1 and 2 are set it will also highlight the area that will be replaced trough /clone.
Reset all from above:
Just Shift while pressing any of the buttons above to remove the position.
Clone:
Clone just lets you send this command: "/clone pos1 pos2 target force force"
force will be replaceable in future as I am planing to add a Gui for that.
Fill:
Fill executes you the command: "/fill pos1 pos2 <Block in your Mainhand> <Meta from Block in your Mainhand>"
replace and other will also be addable trough a Gui in Future Versions.
If your Mainhand is empty it will just fill the area with air.
Expand into facing direction:
Expands your Selection into the direction you are facing.
Decrease into facing direction:
Decreases your Selection into the direction you are facing.
Download:
Source linked on download Page!
A & Q:
What is planed for this mod?
There are a few things for example the Guis to customize the commands a little bit more.
And maybe a client Side /undo command but as it might be problematic with servers I am currently not aiming at it.
I have an suggestion where can I post it?
You can just post them in this Thread
Does this mod need to be Installed on the Server too?
No it doesn't, its client side only and it will stay client side only as I wan't to make it as easy to setup as possible.
Last edited by
JTK222
: May 21, 2016