HypnoticMeerkat
Join Date:

2/15/2015

Posts:

1

Member Details
If you're a fan of the Anime or Manga Fairy Tail then you might like this mod that i am currently working on. So far the Mod is very bare. This is my first mod but I will update as frequently as i can.
Planned Features
Custom Celestial Spirits
A Magic System
More Gate Keys(Silver and Bronze)
Custom Enemies
Celestial Spirit Realm
Guild Marks
Below are the Guild marks currently they do not do anything.
.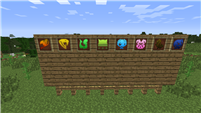 12 Celestial Gate Keys
The Celestial Gate Keys have some function they spawn certain vanilla mobs. They will eventually summon custom spirits from the show.
Like I said this mod is very bare and is the first one i have ever made so criticism (constructive or not) would very much be appreciated.