DrCyano
Curse Premium
Obsidian Miner
Join Date:

9/11/2011

Posts:

1,215

Minecraft:

Synechocystis

Member Details
Power Advantage





Hi everyone! My latest mod project is a mod to add power systems to Minecraft 1.8 (kinda like BuildCraft). So far, I have a functional proof-of-concept mod with 2 machine blocks and 1 cable block. You can put redstone in the generator, connect it to a powered furnace, and then smelt items in the furnace by transferring power from the generator. For debugging purposes, punching a block makes it tell you how much energy it has in a chat message. The GUI needs a lot of work still. As of version 0.0.4, there's now some new blocks for handling fluids.

Update:
New version 0.0.4. I've added a new crafting system (shaped furnace recipes), complete with NEI display, but I have not actually used this feature for anything yet. I've also made PowerAdvantage require the Base Metals mod, because those metals will be needed to craft stuff in Poqwe Advantage (when I get around to adding recipes).

The Exciting new feature is fluid handling. I've added copper pipes for transferring fluids, a drain block for collecting fluids, and discharge block for dumping fluids. The series of images below show me moving a pool of lava using these blocks:
Before:


During: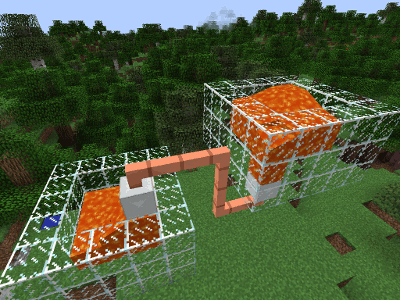 After:



More screenshots: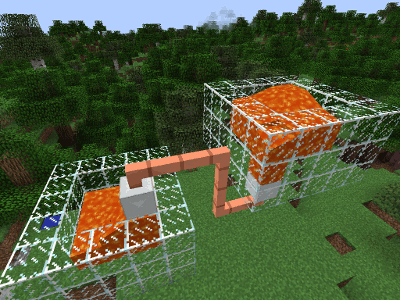 Download it and see for yourself: github.com/cyanobacterium/PowerAdvantageAPI/releases/tag/v0.0.4
Source code: PowerAdvantageAPI

It is also my goal to make it as simple as possible to create add-on mods for this mod (hence the API designation). However, there's a lot of work to do to achieve these goals. So I'd like to get your opinion on a few things:

1. What are the most important/useful machines to have in Minecraft?

2. What kinds of power sources do you want in Minecraft? (e.g. electricity, steam-power, redstone, etc.)

3. What kine of visual theme do you think it should have? (e.g. steam-punk, heavy industry, improvised, post-apocalyptic, futuristic, etc.)

4. If you are a mod maker, what features would it be most important for you to be able to control? (e.g. energy type, update interval, NBT format, etc.)
Update:
No longer WIP!!! Get Power Advantage and Steam Advantage to fulfill your coal-fired dreams. There will (soon) be an official forum post in the mods section for this mod.
Last edited by
DrCyano
: May 17, 2015