Ghoulreaper9
Tree Puncher
Join Date:

7/19/2014

Posts:

33

Member Details
Bad Mojo Mod [Forge]
Welcome to the Bad Mojo Mod! Briefly put, this mod incorporates many features I found enjoyable in my past Minecraft experiences and features I felt would enhance current gameplay to be more rpg like.
"But x feature already exists in y mod in this z patch". I have seen mods implement similar/exact stuff in the past/present only to then disappear a few patches later. While they were good and heaps of fun for their times, I found it really annoying to see things I enjoy disappear hence I decided to make my own version of them. If the item would fit well with this mod why not have it included.
At any rate this mod is in-dev for now and I invite you all to follow and become a part of the journey as I keep you all updated on new functionality that is added. Hopefully soon we can reach a beta/alpha where balancing can be applied.
Aimed alpha release date was
21/12/2014
but now 2015 due to set backs.
Gameplay
When you begin a new game, you will receive a Bad Mojo Catalogue. Begin by opening the catalogue and fulfilling the tasks in one of the category types (Exploration, Combat, Farming, Machinery, Magic, Sky Islands and Pillaging). As you fulfil tasks, you will unlock and reveal new items that can be purchased through the catalogue. If you lose the Bad Mojo Catalogue, simply type /badmojo and one will drop from the sky.
What is Mojo?
Mojo is the currency of this mod. It is used for spell casting, purchasing items from shops and collected by doing many different things in minecraft.
The hierarchy for mojo is:
Green Mojo = 1
Blue Mojo = 9
Yellow Mojo = 81
Red Mojo = 729
They are craftable in a crafting table. E.g. 3x3 green mojo = 1 blue mojo.
Categories
Although you may need a taste of what this mod has to come, the following items/blocks are unlockable through the bad mojo mod catalogue. They are hidden from view until unlocked and so the next few sections are true spoilers. Continue if you need more info on what is in the mod.
Exploration
Items that are useful when exploring Minecraft's landscapes.
Wallet (Item)
Stores Mojo when picked up.
Mini Crafting Table (Trinket)
Converts the player crafting table from a 2x2 to a 3x3.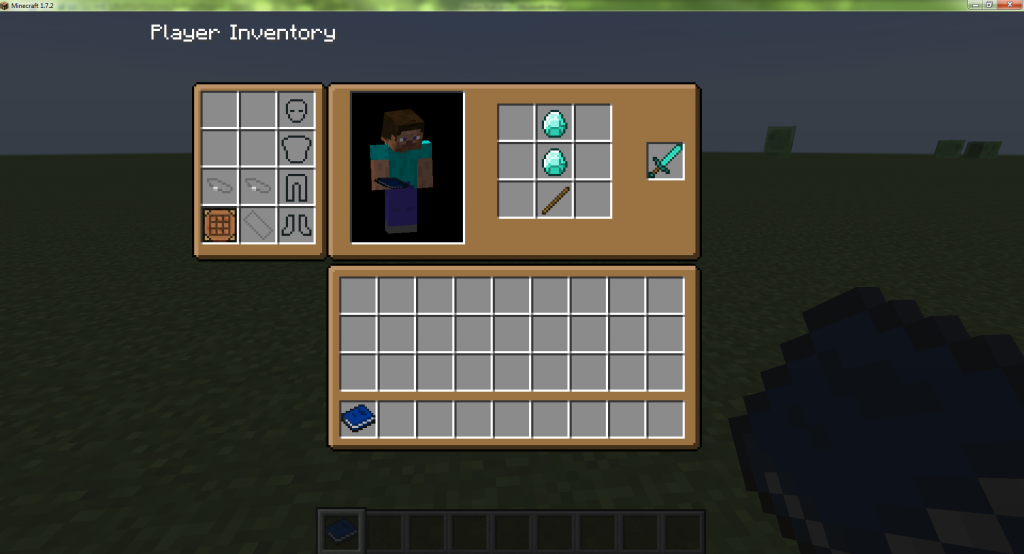 Mini Furnace (Trinket)
Adds a furnace that is powered by mojo per second to the player inventory.
Home Stone (Item)
Returns you to your spawn(set with bed)
Watch (Trinket)
Shows the game time in digital format on your screen. So 16:32 for example.
Quick Equip Armour (Item)
When shift right click is pressed, opens a gui that lets you store an armour set. When right clicked without shift, it will switch the armour equiped with the items in the Quick Equip Armour.
Combat
Heroes Bow
Arrow Trinkets only apply their effect when using this bow.

Fire Arrows
Ignite enemies on fire when hit by arrows.

Ice Arrows
Freeze a patch of ice when collided with water.

Light Arrows
Place a torch when landing at a location.

Quiver (Back)
2 slots in player inventory for holding your arrows.

Iron Quiver (Back)
4 slots in player inventory for holding your arrows.


Farming
Sprinkler (Block)
Waters a 5x5 space around this block.
Scarecrow (Block)
Causes mobs to run away when near this block.
Seed Satchel (Item)
3x3 inventory slots that can store seeds. When the item is used on tilled soil, it will plant a seed from the satchel.
Machinery
Mailbox (Block)
Every day, random mail comes from your civilians. They could contain items or just be a report on what they would like to see. You are also able to send mail to players that have logged in before on the server. The next time they log onto the server, the mail will be delivered to them.
Fireworks Bench (Block)
A gui for a block that allows you to set up a fire works display through a 'timeline system'; at a certain time of day or season at the cost of mojo each time, the display is fired.
Of course mojo is increased depending on the amount of features selected and rockets fired.
Set information like:
- the frequency that each rocket is lauched.
- the color of the explosion
- the size of the explosion
- basically anything that fireworks do right now.
Bank Chest
Stores 9 tabs of chest size storage, allows the player to store experience and allows the player to access their ender bank.
Might be a bit of an overpowered concept at the moment but can tweek it later on when the mod goes beta/alpha
Slot Machine
Yes, video game gambling. Input 1 mojo, have a low chance of winning the big bucks.
3 creeper faces = explosion on player that damages entities. really low chance of a creeper head.
3 zombie faces = either 3 zombies spawning on player or 3 rotten flesh spawned on player. really low chance of a zombie head.
3 skeleton faces = either 3 skeletons spawning on player or 3 bones spawned on player. really low chance of a skeleton head.
3 green mojo = 3 green mojo.
3 iron bars = 3 iron bars and 5 blue mojo.
3 gold bars = 3 gold bars and 5 yellow mojo.
3 diamonds = 3 diamonds and 10 red mojo.
Vending Machine
Supplies a collection of soda drinks. Costs mojo to purchase from it.
Sales Shelf
Civilians will approach this and consider a purchase based on their needs.
Storage Crate
Your store keepers will gather items from here and place them in Sales Shelves to restock them.
Revitalizing Container
Repair Items that are placed within the container. Restores fossils to their original state as well.
Magic
Invisibility Cloak (Trinket)
While equipped, the player is invisible. Drains 2 mojo per second from a wallet, otherwise does not work.

Frog Mask (Helm)
Wearing this allows you to understand animals (They will say things in a dialog box). A happy animal (in its own perfect conditions) will give a green mojo when right clicked.

Particle Alchemy (Item)
Item with a gui that allows the player to amplify a tools effect.
1 gui slot for utility (hoe, pick, axe) 3 gui slots (xyz axis) for mojo power level at front. (pick example, 1 blue mojo is a burst of 8x1x1 tiles destroyed. 1 yellow mojo is 1x1x16). 3 slots (xyz axis) for mojo power level in opposite direction.
It's probably really confusing but will make more sense when implemented. Think Equivalent Exchange 2's destruction catalyst with more customizability.

Water Rod
Has a meter that can be used to fill with water. Emits more and more water particles as the meter fills. If charged and released at max on ground, water will be placed. If it collides with an enemy, causes them to be knocked into the sky by the amount of water in the rod. The rod has a chance of not filling with water when clicked on a body of water.

Fire Rod
When used, summons a fire orb that spins around the player. When the orb collides with an entity, it will catch fire.

Sand Rod
Raises sand to above ground until it reaches the next layer below. Raises the next layer below to the top floor.

Ore Shuffle (Item)
Right click a coal ore and replace it with a random ore. Can still be coal ore and has only one use.

Summoning Tome (Item)
Binds the DNA of a mob to this book. For mojo, you will be able to summon that mob. Only binds to the book, if you lose the book, the saved ids are gone.

Mushroom Curse (Item)
Transforms a cow into a mooshroom, grass into mooshroom grass, tree into a large mushroom.

Voodoo Doll (Item)
First right click a mob, then right click to place doll on floor. Hurting the doll will hurt the mob that it was bound to. Only works if the victim is nearby, otherwise will say inactive above dolls head.

Cursed Crown (Helm)
Wearing this will cause you to gain a random debuff every 3 seconds. Yellow mojo is dropped per kill from monsters. Crown cannot be removed without a blessing from a cathedral.

Voodoo Staff (Item)
Binds this item with a voodoo doll. When used, you can bind functions to the staff. For example, create new voodoo doll, unbind victim, switch positions between the doll and the victim, transfer debuffs, transfer buffs.

Imbuer (Block)
Like enchantments but for bad mojo mod items. Some items that arent imbued can be used infinitely. When imbued, they gain enhanced properties but will recieve a durability.


Sky Islands
Pillaging
Extended Armour Slots
This list will be updated as the mod develops.
Trinkets
Provides enhancements to items used by the player

Rings
Provides bonuses to slaying mobs and skills that are being trained upon.

Belts
Used for providing additional slots to your inventory.

Back
This item will appear on your back (I'm thinking wings/quiver)
Panning and Gem Slots
Upon crafting swords/armour, the player will have a chance of gaining an empty socket or two for the item.
Gems fulfil the role of filling the socket. They provide bonuses to the item when it is in use.
In order to obtain gems, simply step into water with a bowl and right click to open up the panning menu.
Once the menu is open, place dirt into the inventory slots (one per slot) and rapidly move the slider from left
to right to make the dirt more consistent. As soon as the consistancy is achieved, pour the water to reveal any
gems in the batch of dirt you placed.
Pillaging
Throughout the world, structures will spawn with randomized rooms and pathways to a boss room. Upon reaching the entrance the player will have the option to respawn the structure to contain a different combination of rooms the next time they enter. It is important to note that while in the structure, you won't be able to break blocks so adventure based here.
Dungeon Type 1: Sprites Abode
Deep within an enormous tree lies a terrifying imp. With its magic it will watch its intruders succumb to the entangled insides of its tree home. Can you find and defeat the imp while claiming its homes hidden treasures?
Player Towns
Throughout the world, civilians can be pursuaded by being hit by a mayor staff to join your empire. Your empire will be in a customisable in a tile based gui.
There are three tiers that the player may advance through. These are very WiP, though they give a rough idea of the direction I am going with this aspect of the mod.
The First Tier
Town Hall
Allows the player to upgrade to a tier 2 mayor staff, unlocking more buildings.
Farm
Nearby houses that are occupied by Civilians will cause a civilian to harvest and plant seeds. They will collect seeds from a harvest chest and place harvested food into the chest. If the chest is full, villagers won't work.
Small House
2 people can occupy this house.
Mine
Civilians work at this tile and fill the chest with randomly generated ores base on rarity and the skill of your miners. More civilians means faster ore generation. 4 people max per mine.
Barracks
Civilians can change their class to a soldier here.
Fountain
Decoration Building.
Locked Section
Prevents the tile from being regenerated therefore allowing you to be able to build your own building here within the city. You have to confirm each time you want to change this tile to another building. If you select yes, you will everything that was built in the locked tile space.
The Second Tier
Tower
Civilians can be trained to be archers here.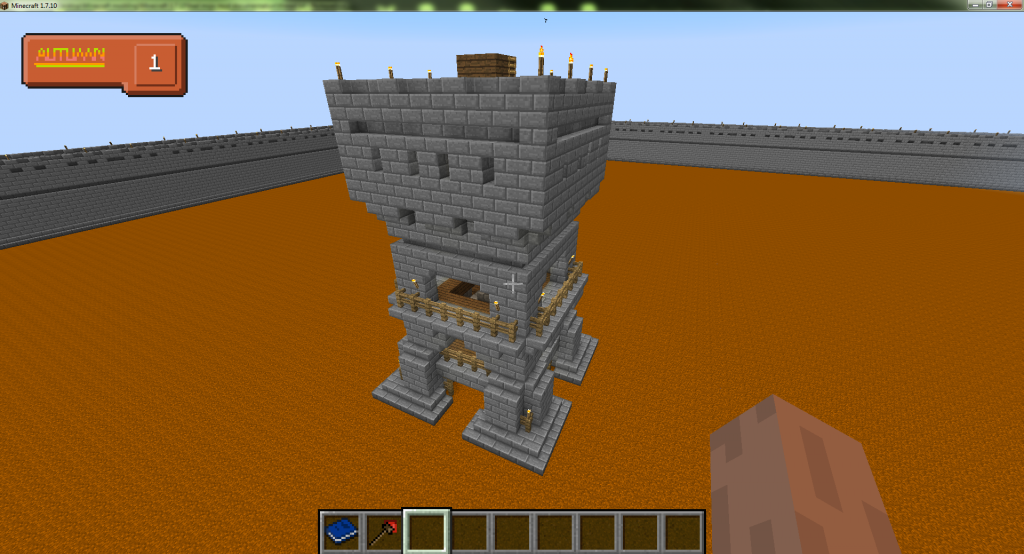 Cathedral
Civilians can be trained to be archers here.
Research Centre
The next tier is upgraded here as the first upgrade. Other upgrades to the town such as faster Civilian mining for the cost of a lot of paper and a "chance to enable" system.
Barn
Stores animals.
Stables
Stores horses and allows your civilians to be upgraded to a mounted class.
The Third Tier
Festive Tree
A tree that changes the way it looks every season.

Fairy Fountain
Obvious LoZ reference but a must since I first began modding 2 years ago to create a LoZ type mod. Restorative water that give you regen is found here.

Black Market[Maybe because it would be a real big job]
Buy and sell anything here instantly at a preset price (Think transmutation table from equivalant exchange 2). Mobs that drop nothing but aim to hurt will spawn here making it a hassle to be around for too long. Also a bad idea to place it near civilian populace.
Opening a shop
Civilians's have preferences for foods. If you place items that they prefer in the shop, they will purchase it for a good price (mojo of course).
Town Civilians
They will live and work in your town. They are important because they can be trained into unique classes that will aid you in different tasks.
There are also different races/genders for civilians. This is purely for aesthetic purposes with the exception of the elders who can only be merchants.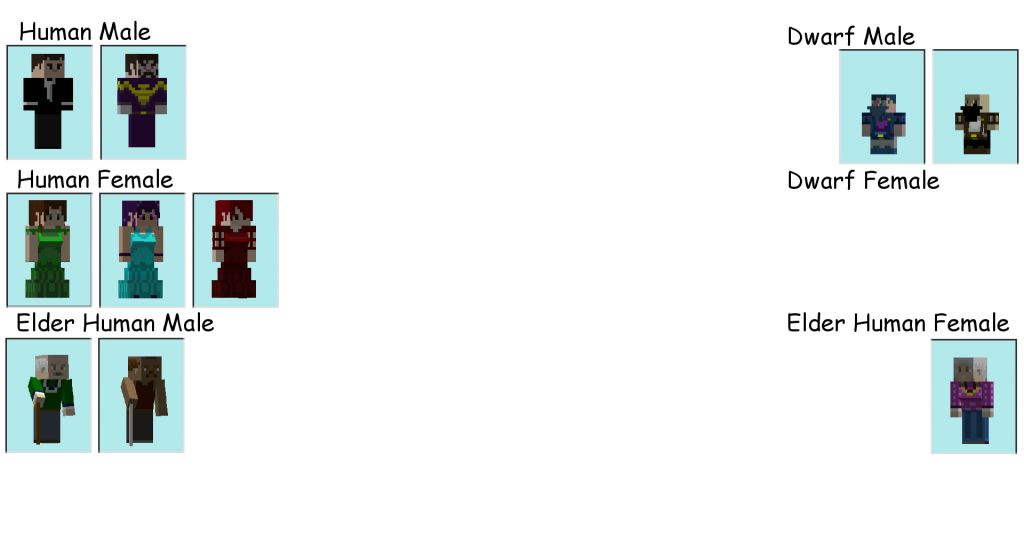 Base Classes
These are the jobs that the civilian will be able to undertake. There are 3 rankings (copper, silver, gold) that are earned by performing as the class (e.g. Soldier ranks up by hurting things whereas the healers rank up by healing.).

Merchant
Restocks items. If there is a storage chest nearby, the civilian will restock all shelves with item types that were sold. A shelf will keep track of the item type last stored for each rack.

Soldier
Melee Combat companion. Will attack nearby monsters. Can be commanded to follow, patrol, or await orders.

Archer
Ranged Combat companion. Will attack nearby monsters. Can be commanded to follow, patrol, or await orders. They can also be assigned to towers where they will watch over the city.

Healer
Healing companion. Will heal all friendly/passive mobs while they are not at full health. This includes animals and villagers(testificates). Can be commanded to follow, patrol, or await orders.
Meta Classes
Upon reaching rank gold in a class, the civilian will remember their progress. If the civilian reaches two ranks of gold (one from a seperate class), the following classes will be made available.

Paladin (healer + soldier)
When hitting a mob, it will slightly heal nearby friendly mobs including the player.

Mage (healer + archer)
Casts debuffs on enemies that you attack.

Brigand (soldier + archer)
If an enemy is killed by the Brigand, they will drop mojo.
Mounted Classes
In a tier 2 town, the player will be able to build a stables. At a high cost, a horse can be trained for a selected civilian. This unlocks the following classes for them.

Knight (Soldier version)
Mounted unit who can move faster. Gives the civilian more health.

Cleric(Healer version)
Mounted unit who can move faster. Gives the civilian more health.

Ranger (Archer version)
Mounted unit who can move faster. Gives the civilian more health.
Stat Leveling System
On release I hope to have 5 different stats available to level.
Mining Stat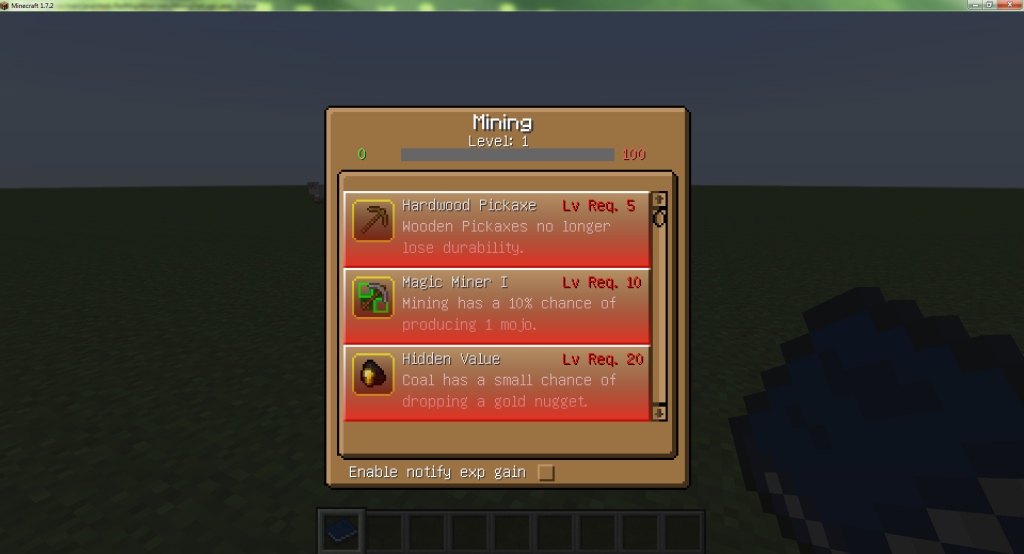 Leveled by breaking stone with a pick. More exp gained if ore is smelted.
See image for sample perk types.
Farming Stat
Leveled by harvesting max level crops.
Sample types of Perks:
Double the harvest: lv60
More Seeds: lv10


Panning Stat
Leveled by panning in certain areas at certain panning levels.
Sample types of Perks:
Eye for gold: Gold nuggets drop more frequently: lv 20
Gravel: Allows the user to sift gravel. Drops the same as dirt but can drop stone, cobweb, iron ore, coal, and flint: lv 30


Herblore Stat
Leveled by identifying plants and unidentified items such as seeds and fossils.

Different types of unidentified seeds will be available during different seasons.

Sample types of Perks:
Extract Potion: Removes the ingredients of a potion. Potion is placed in gui.: lv 15
Identify Potential: Turns dirt to grass, sand to sandstone, cobblestone to stone.: lv 99
Pillaging Stat
Leveled by opening chests, triggering traps, defeating bosses.

Sample types of Perks
Key Rings: Keys are no longer stored as items, they are stored as icons.: lv20
True Sight: Increased range for Trap Detector.: lv 80
Seasons
Seasons was a feature I remember enjoying alot in 1.2.5 with farming mods. I also think that crops should be only available when the season allows them to be.
Summer
The default world tints are used here.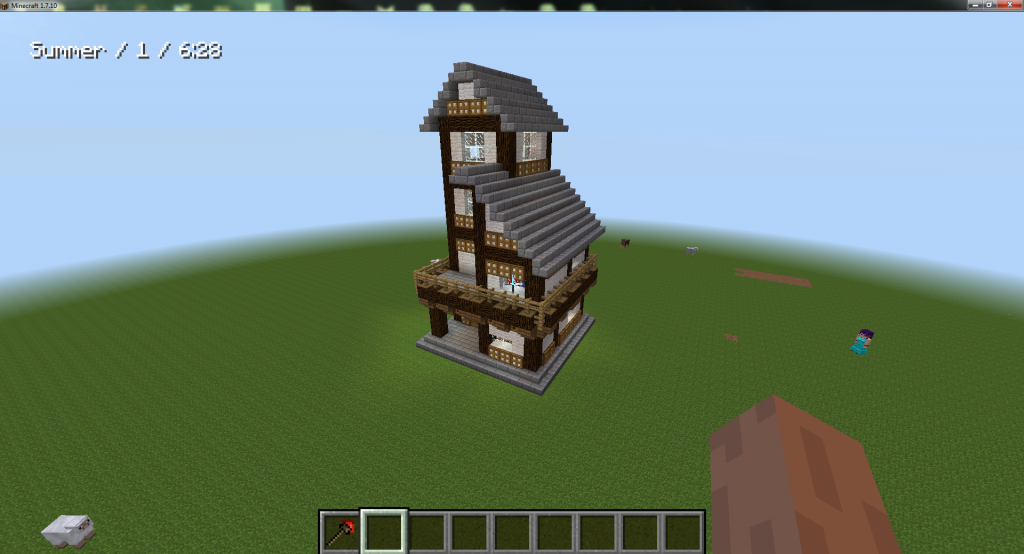 Autumn
The grass starts to die in this season and the grass + trees recieves an orange-yellow-red tint.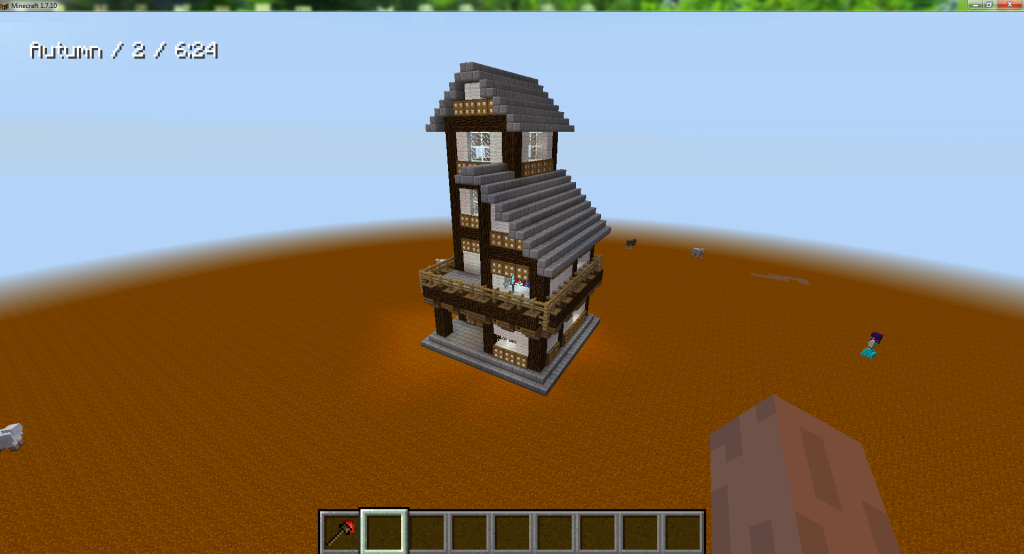 Winter
Snow will fall on the first day. This applies to only certain biomes. Biomes like desert and jungle aren't going to snow because that would be strange. We can expect to see plains and forest biomes have the effects. All snow will also melt in these affected biomes once the season is no longer winter.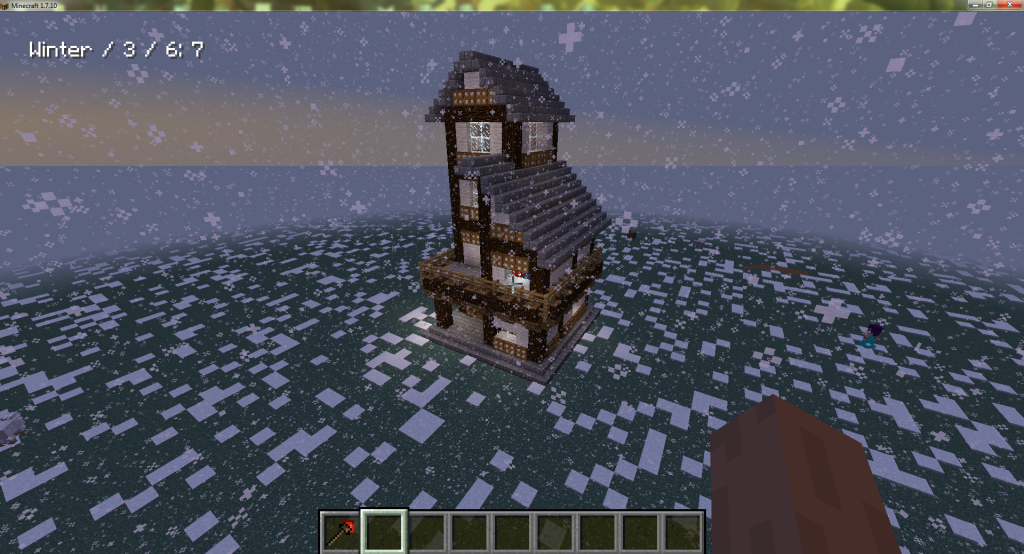 Spring
No image yet because theres nothing new yet ready to show. I am expecting to spawn a large amount of flowers into the world when the world changes season.
License and Mod Pack information
Author: Ghoulreaper9
Date: 7/09/2014

All textures and models that were created for the intension of completing this mod belong to the Author.
As such, you are not permitted to reuse these assets for any project unless permission is recieved from the Author.

Modpacks
You have permission to include the mod into a private mod pack that you can distribute to your friends with the understanding that:
- They (the people that you distribute to) understand that this mods license applies to them as well.
- That anyone who recieves this mod is not permitted to upload this mod in any form online for public use including public mod packs without the permission of the Author.
- It is also understood that the most recent license applies over any older licenses.

Videos
You have permission to upload videos/media of you playing the mod, reviewing the mod, etc.
Modding future
I realise that some features may appeal to people more than other features. It would be cruel to say "if you want seasons, you have to have everything else this mod has". With this in mind, the initial mod will be the Bad Mojo Mod, and then I will create simplified and feature specific mods that can be downloaded seperately. E.g Bad Mojo: Seasons Mod, Bad Mojo: Farming Chef Mod, etc.
I'd also like to help others with problems they are having with mod development. So I'll be on the look out anything I can help with once this mod is done
Currently working on
- In game guides page for tutorials on how to play.
- Fire Rod (complete)
- A pricing of all blocks and items (modded and unmodded) system
- First Pillaging Dungeon("Sprites Abode")
- Dungeon room connection calculations
- Dungeon Keys
- Fire Trap Block
- Schematics for rooms that connect to other valid rooms.
- Panning Stat Unlockables Icons
- Pillaging Stat Unlockables Icons
- Traps spawning in dungeons
- Rotate buildings in your town.
- Corn Crops
- Branches for the external wall of the sprites abode. (done)
- Load and store loading structures on server side (for lag reduction when spawning lots of buildings) (still needs more work on lag reduction for large structures)
- Update thread to include latest information and banners.