IceMinecrafter1
Tree Puncher
Join Date:

6/1/2012

Posts:

32

Location:

Dank and dark room

Minecraft:

Iceminecrafter

Member Details
W.I.P Mod Fixes fixes and more fixes
Oil has been fixed, pretty much completely, the underground versions will now drop solid versions of the oil which will later be able to extract the oil from them, not quite done yet, and some other things have been fixed
Integration Update
Having so many things needed to do in each mod, I decided to combine them into one, and rename it, so all further modding from the other pages will be here, rather than trying to push an update for three mods, while having only one at release stage, I'm currently working on the mobs for Isacc and putting them in here, I have a machine semi-working for the metal side, and have been requested to do some other things which will be added in the future, updates on the magic may be awhile, while i get my head around creating projectile entities that are actually visible, having Pre Public Exams coming up next week I wont have much time to work on it, ontop of working on servers so it might be slow on pushing an integration update, especially renaming the files.
1.8 Forge modding unlikely to happen for awhile, so I will continue working in 1.7.10 with new Ideas I came up with and planned for the mod
Plans for the future: With the mod, I plan on adding in different setup's for creating resources and survival, so different sections, making the game more like the middle ages, with smithing, aditional crops and trees, better fishing; e.g physical fish mobs aswell that can be hunted, herbs and other small plants that can be used to make healing items, wild game; e.g deer and birds, that can be hunted for meat or skins, randomly generated small towns with custom villagers that will trade with you, and have a market, roads that increase movement speed when standing on them, a heat system (possibly), seasons, clothing, woodworking, apiaries, and other such things
Modpacks: I give permission for anyone to use my mod in their modpack, if its on a webpage or such please reference this post for my mod, it would be much appreciated.
Herbs: All the herbs have a chance of their effects activating, except for the Herbal tea Currently as a place-holder, all herbs can be found in tall grass rarely
Aloe vera - Short fire resistance Arnica flower - Removes slowness debuff Ginger root - Removes nausea debuff Peppermint - Instant health I Peppermint oil - Removes poison debuff Peppermint tea - Removes hunger debuff Tea Tree oil - Removes weakness debuff
Herbal tea - Gives regeneration III for a short period
Crafting:
Peppermint Tea:
Peppermint oil:
Herbal tea:
Currently as I have other plans for them, Tea tree oil is not obtainable, and so neither is Herbal tea
Ores and Ingots: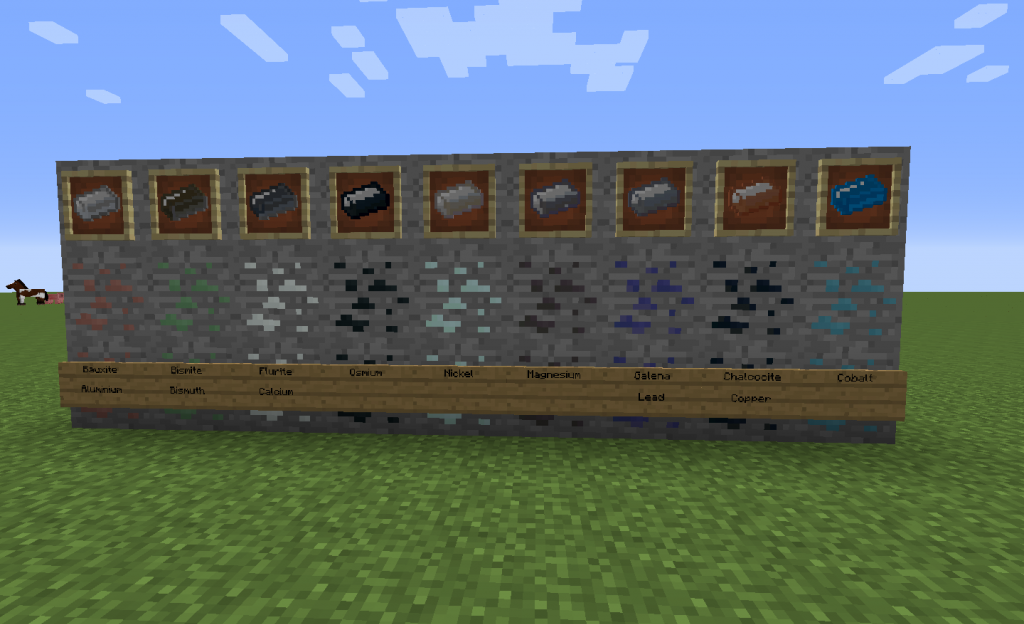 From Left to Right, Aluminium (ore Bauxite) Bismuth (ore Bismite) Calcium (ore Flurite) Osmium (ore Osmium) Nickel (ore Nickel) Magnesium (ore Magnesium) Lead (ore Galena) Copper (ore Chalcocite) Cobalt (ore Cobalt)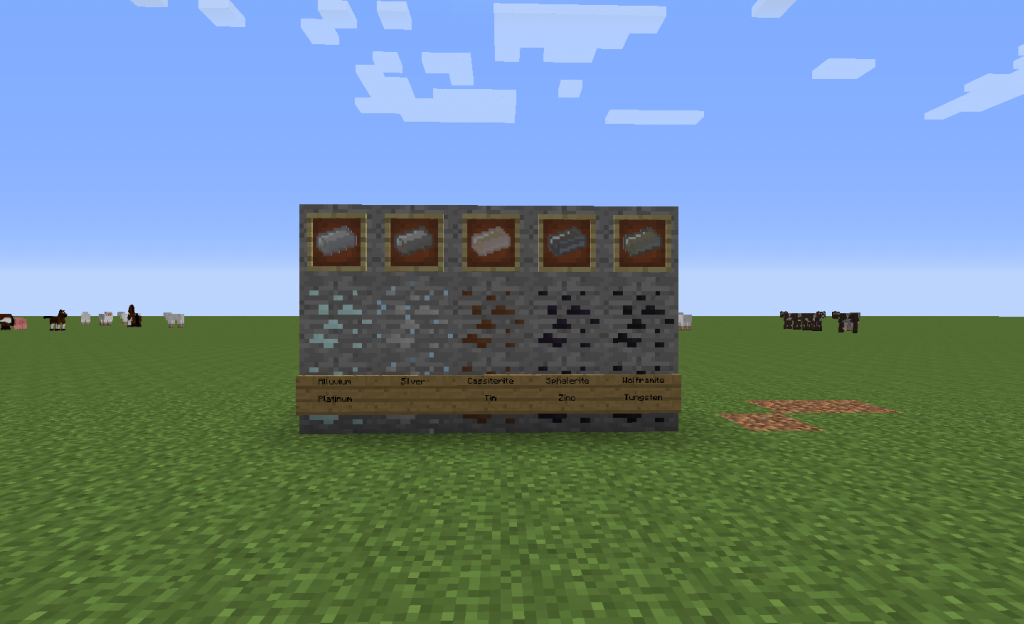 From Left to Right Platinum (ore Alluvium) Silver (ore Silver) Tin (ore Cassiterite) Zinc (ore Sphalerite) Tungsten (ore Wolframite)
Added tools and armour to go with the ingots for each set. crafting recipies work like vanilla crafting for now, ore generation works. added alloy cast yet currently has no use, crafted with clay in a mine-cart shape for the raw cast, then has to be furnaced to be used in future updates when it is implimented. all armor and tools currently have the same stats as iron tools yet enchant-ability maybe slightly higher. new sets of tool and armor may currently be useful in modpack's so you don't have to waste resources such as iron and other materials to create armor and tools.
The basis of the mod which im waiting for the update for 1.8 forge is as to create a large setup with forging and casting, having different types of forge's, with byproducts and other such things such as welding and mould making to add realism, and the new update changes the way blocks and other code works in minecraft, so its easier to wait so i dont have to re-do all the work in coding it
Fixed crafting bugs (typo'd in the code) Added Healing herbs
Downloads:
Fixes update #1
https://mega.co.nz/#!WslAiAbJ!H9ZZfQSRtwRC6e274U9uniP0iX4kmz2F16gkbul71e0
Old builds: