Jad
Obsidian Miner
Join Date:

11/12/2011

Posts:

1,288

Member Details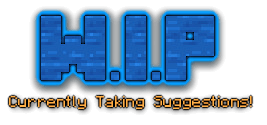 Basically this mod has EVERYTHING, I mean EVERYTHING. So much that this mod should be a modpack! Currently, there's nothing, so I am taking suggestions!
Just post your idea below, I will confirm it. Maybe ask you for a bit more detail, then voila!
Forge and all is not updating, I think. So for now suggestions!

Nyan Cats that will poop rainbows - Quojil
Ridable ponies - Quojil
Sexy trees? - Quojil
Ridable Creepers (new model) - camham49
Monkeys (maybe) - camham49
Fish - camham49
Tables - camham49
Obsidian/Emerald Tools - camham49
Bananas - camham49
Monkey Trees (maybe)
-
camham49
Naturally spawning forts
-
camham49
More wood types (yes, but still thinking about monkey trees)
-
camham49
Steve (Or Stevette) <- Theres gonna be like hobos and all
-
camham49
Origami Birds (maybe)
-
camham49
Launchpads - Gaming_addict
Letter Blocks - river58
Bugs - river58
Ants - river58
Diamond Bricks - river58
Gold Bricks - river58
Iron Bricks - river58
Wood Bricks - river58
Lapis Bricks - river58
Emerald Bricks - river58
Laptops/Computers
-
camham49
New Zombies (Such as burnt Zombies,Cow Zombies,Sheep Zombies and Chicken Zombies)
-
camham49
Gravestones(maybe just gravestones)
-
camham49
Godly Creepers(maybe)
-
camham49
Basalt(Volcano Block)
-
camham49
Masks(For a kinda Payday feel)
-
camham49
Hidden Blades(maybe)
-
camham49
Pigmen that spawn in villages and plains - Hayden644
Mojang mobs, would add Notch, Jeb and Dinnerbone etc. - Ecl1ps3
-A use for emeralds and lapis
-
Ecl1ps3
-A derp dimension or biome complete with derp mobs and weird trees
-
Ecl1ps3
-New potions (maybe)
-
Ecl1ps3
-Worthless mobs (maybe)
-
Ecl1ps3
-Add herobrine (maybe)
-
Ecl1ps3
-Exploding Chickens (maybe)
-
Ecl1ps3
-Flying cows (maybe)
-
Ecl1ps3
-BUTTER!
- Ecl1ps3
-More food like sushi and such (maybe)
-
Ecl1ps3
Maybe make i dunno... eggs cookable into fried eggs - TrainerWaffle
Whales (maybe)
-
TrainerWaffle
Chairs for aesthetics
-
TrainerWaffle
Skyscrapers as a randomly generated structure but rly rare (maybe)
-
TrainerWaffle
SWEET TARTS!
-
TrainerWaffle
troll that has a blast radius of an overcharged creeper that explodes randomly (very unlikely, but maybe)
-
TrainerWaffle
Love these ideas guys!
I would also like to point out not ALL of these will be in the final product.

MOD - modification, plugin, a piece of software that interfaces with the Minecraft client to extend, add, change or remove original capabilities.MOJANG - Mojang ABOWNER - Jad Chehimi, Original author of MiscellaneousCraft. Under the copyright terms accepted when purchasing Minecraft (
http://www.minecraft.net/copyright.jsp
) the OWNER has full rights over their MOD despite use of MOJANG code.USER - End user of the mod, person installing the mod.
THIS MOD IS PROVIDED 'AS IS' WITH NO WARRANTIES, IMPLIED OR OTHERWISE. THE OWNER OF THIS MOD TAKES NO RESPONSIBILITY FOR ANY DAMAGES INCURRED FROM THE USE OF THIS MOD. THIS MOD ALTERS FUNDAMENTAL PARTS OF THE MINECRAFT GAME, PARTS OF MINECRAFT MAY NOT WORK WITH THIS MOD INSTALLED. ALL DAMAGES CAUSED FROM THE USE OR MISUSE OF THIS MOD FALL ON THE USER.
Use of this MOD to be installed, manually, NOT automatically. and is given to the USER without restriction.
This MOD may only be distributed where uploaded, mirrored, or otherwise linked to by the OWNER solely. All mirrors of this mod must have advance written permission from the OWNER. ANY attempts to make money off of this MOD (selling, selling modified versions, adf.ly, sharecash, etc.) are STRICTLY FORBIDDEN, and the OWNER may claim damages or take other action to rectify the situation.
This mod is provided freely and may be decompiled and modified for private use, either with a decompiler or a bytecode editor. Public distribution of modified versions or modpacks will be DENIED, so don't bother.

And that's it..

Guaranteed a few weeks (or less) after 1.8 is released
Sorry, but no.
Because I'm busy enough making this mod and I have lots of school to work on I simply do not have the time and patience to assist you on your minecraft modification.
Who currently has given
55
suggestions and 27 accepted!